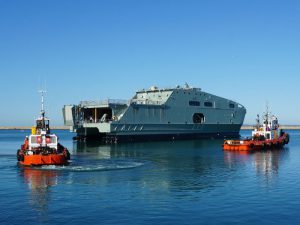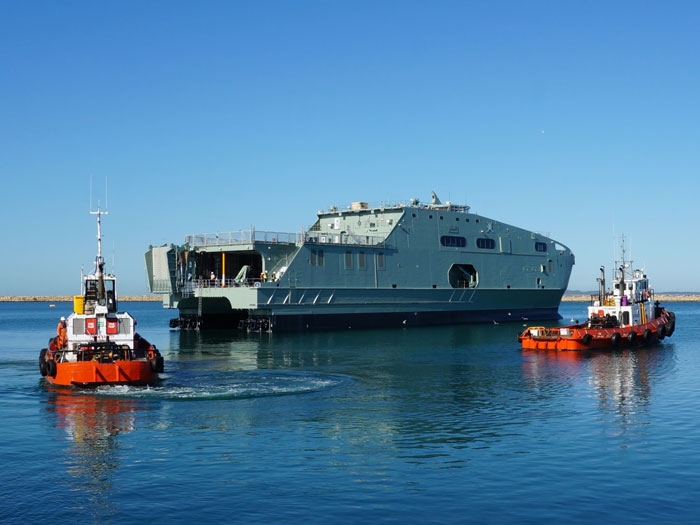 Hull 390 — the future RNOV Al Mubshir — entered the water on schedule after 13 months of construction and fit out.
Based on the proven Expeditionary Fast Transport (EPF) platform — previously known as the Joint High Speed Vessel (JHSV) — being built for the U.S. Navy at Austal's Mobile, AL, shipyard, the HSSV offers a range of capabilities to support naval operations, including helicopter operations, rapid deployment of military personnel and cargo, search and rescue operations, humanitarian aid and disaster relief missions.
The shipbuilder was awarded the US$124.9 million contract for the design, construction and integrated logistics support of the two Omani HSSVs in March 2014 and construction commenced in August 2014.
This first HSSV will now complete final fitout before sea trials, prior to delivery to the RNO early in 2016. The second HSSV is under construction and is on schedule for completion in mid 2016.
Austal Chief Executive Officer Andrew Bellamy said the on-schedule launching of the first HSSV demonstrates Austal's proven capability to design, construct (and support) large, multiple naval vessel programs.
"From our defense portfolio, Austal is currently contracted to deliver ten 127 m frigate-sized Littoral Combat Ships and ten 103 m Expeditionary Fast Transport (EPF) vessels to the United States Navy – as well as two OPV-sized 72 m High Speed Support Vessels, here in Western Australia for the Royal Navy of Oman," said Mr. Bellamy.
"Our track record here in Australia and overseas clearly supports Austal's strong proposition that we can effectively and efficiently deliver the Australian Government's Future Frigate and Offshore Patrol Vessel programs," he added.