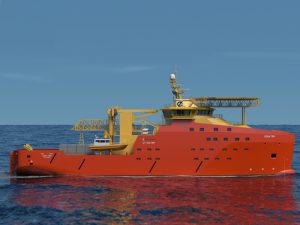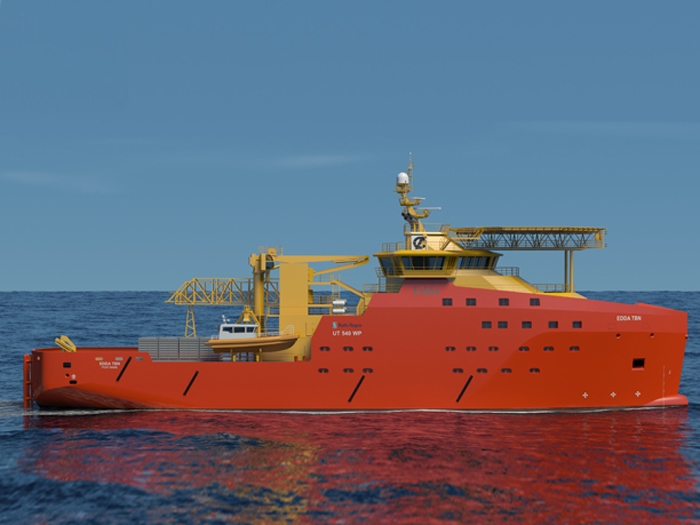 The vessel will service a five year contract from DONG Energy that will see it act as a mother ship for wind turbine technicians as they perform maintenance work on Race Bank Offshore Wind Farm in the U.K. The contract will commence September 1, 2017 and includes an option for a five year extension
"This contract enables us to expand our business into the renewable energy sector," says Østensjø Rederi CEO Johan Rokstad. "It has been the strategy of Østensjø Rederi to diversify our operations. Thus, we are pleased that DONG Energy has awarded us this exciting opportunity in a sector we believe will have further demands for similar vessels in the near future."
The vessel is the twelfth ordered from Astilleros Gondan by Østensjø Rederi. It will be designed and equipped by Rolls-Royce and will be the first to be built to a new UT 540 WP ship design from Rolls-Royce developed specifically to support operations in shallow waters at offshore wind farms.
"We have worked closely with Rolls-Royce to develop a design we believe will be well suited to servicing the specific operational demands of supporting offshore wind farms," says Mr. Rokstad. "We look forward to continuing this good cooperation in carrying the project through to completion."
The ship is designed with a high focus on seakeeping capabilities, excellent station keeping performance, improved comfort and safety on board, and reduced fuel consumption.
As well as designing the vessel, Rolls-Royce will supply the diesel electric main machinery, consisting of frequency controlled electric driven azimuth thrusters, super silent mounted transverse thrusters, DP2 dynamic positioning system, power electrical system, deck machinery, and the latest generation Acon automation and control system.
Helge Gjerde, Rolls-Royce, President Commercial – Marine, said, "We are delighted that Østensjø Rederi and DONG Energy have chosen the new Rolls-Royce UT 540 WP design against intense competition. As more wind farms are built further from shore and in more demanding conditions we see opportunities to use our extensive offshore experience to diversify into an exciting new market."
The new build is a DP2 Service Operation Vessel with high station keeping capacities. 60 single cabins of high standard can accommodate up to 40 wind turbine technicians in addition to a marine crew of 20. A motion compensated gangway system with an adjustable pedestal will be installed to ensure safe operations and optimal uptime. Special areas and functions of the vessel are made in accordance with the charterer`s requirements. The 81.0 m long vessel, with a beam of 17.0 m, will work out of Grimsby, U.K.
"The Service Operating Vessel will be an important step to ensure safe and efficient operation of wind farms far from shore, starting with Race Bank windfarm, and we are convinced that DONG Energy will benefit from Østensjø Rederi's long experience in conducting safe operations in an offshore environment," says Jens Jakobsson, Senior Vice President for Wind Power Operations in DONG Energy