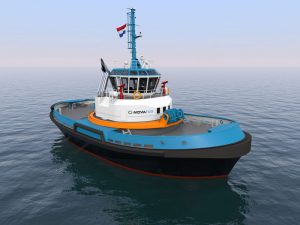 Additionally, Multraship has also agreed a deal with Damen for a new state-of-the-art ASD 3212 tug as part of its planned fleet expansion
Construction of the CRTs will begin immediately. The hulls of the vessels will be built by German shipbuilder Theodor Buschmann GmbH in Hamburg, with final outfitting carried out by Damen Maaskant Shipyards in Stellendam, the Netherlands. Delivery of the Bureau Veritas-classed vessels is scheduled for first-quarter 2017.
The Carrousel towing system consists of a towing point on a straightforward steel ring, freely rotating around the superstructure of the tug. According to Novatug, a towing load simply cannot capsize a Carrousel tug and the tug's own hull profile can safely be used for generating braking and/or steering forces, based on the lateral resistance of the hull through the water and given the kinetic energy present in the moving tow and/or the current.
In the CRT, this towing system is combined with the advantages of the RAVE Tug (Robert Allan Ltd. – Voith Escort) jointly developed by naval architectural consultancy Robert Allan Ltd. and Voith Turbo Marine. The unique characteristic of the concept is the longitudinal alignment of two Voith drives, delivering very precise and improved force generation characteristics.
The CRTs have an overall length of 32 m, and a bollard pull of minimum 70 tonnes. Propulsion is via two Voith thruster units and two ABC main engines of 2,650 kW operating at 1,000 rpm. Free running speed is over 14 knots at 5,300 kW.
The CRT's combination of low operational costs, speed of action and enhanced control over the tow can provide major advantages over conventional tugs, for example by widening or even removing tidal and/or weather windows for certain ports.
Novatug will offer the Carrousel Rave tugs on the basis of long-term bareboat charters, basically a financial or operational lease construction, an arrangement proven in other capital-intensive industries such as aviation. Its customer for the first two units is its parent, Multraship.
Leendert Muller, managing director of Multraship, says, "Safety is always our overriding objective, and that it is why we have opted wholeheartedly to produce the Novatug CRT. This new tug design, for the first time, eliminates what has always been the most significant threat to safety in towing – the risk of capsizing under a tow load. The benefits in terms of efficiency and flexibility, meanwhile, are also enormous."
Carrousel Rave Tug
ASD TUG
The new state-of-the-art ASD 3212 tug acquired by Multraship — the Dutch-flag, LR-registered Multratug 31 — was built at Damen Song Cam, Vietnam. A sister vessel to Multratugs 19, 29 and 30, it will operate mainly in the Western Scheldt area. It has a maximum bollard pull of 83.2 tonnes and a maximum speed of 15 knots.
The 453 gt vessel is powered by two Caterpillar 3516C engines and has two Rolls Royce Azimuth thrusters and a 2,800 mm-diameter controllable pitch propeller.The vessel's deck layout features a hydraulically driven escort double drum winch forward and single drum aft, and a 25 mt deck crane. There are two one-man cabins, four two-man cabins, a mess room and galley.