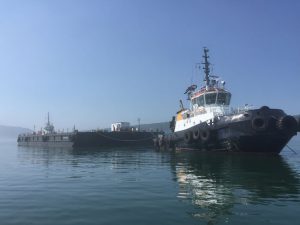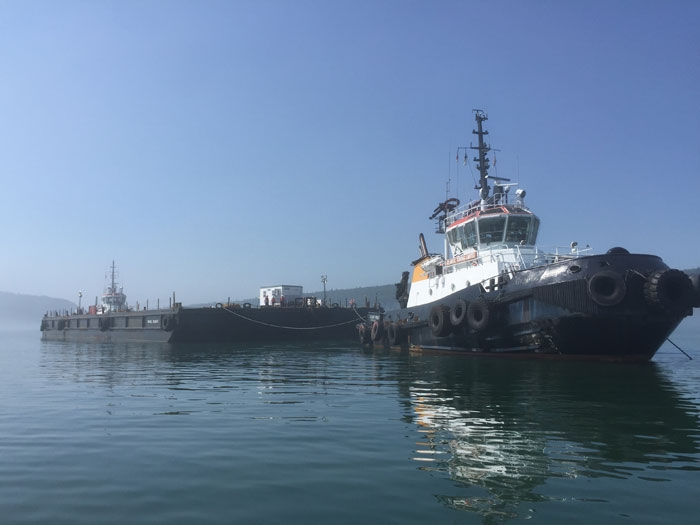 Cape Sharp Tidal is a joint venture between Emera Inc. and OpenHydro, a DCNS company, which aims to deploying a fully grid connected 4MW tidal array in the Bay of Fundy in 2015. The project has the potential to be one of the world's first multi-megawatt arrays of interconnected tidal turbines, initially providing energy to over 1,000 customers in Nova Scotia. Longer term, the project is looking towards delivering 300 MW of tidal turbine generated power to Nova Scotia in the next decade.
The Atlantic Towing contract covers the provision of specialized services including harbor and terminal towage, ocean and coastal towage, barging services, and offshore support such as anchor installation. These services, as scheduled, will employ up to 28 seafarers currently working for Atlantic Towing.
Three Atlantic Towing ASD tugs—the Atlantic Hemlock, the Atlantic Bear and the Atlantic Spruce— and the Irving Beaver Barge, will support the project in the strong Bay of Fundy ocean currents.
In addition to anchor and cable installation, the tugs will transport two 1,000-tonne tidal turbines on their journey from Pictou to the Minas Passage on a purpose-built 1,150 tonne capacity OpenHydro barge, the Scotia Tide.
Once in position, the tugs will maneuver the barge and turbine while crews lower the turbine to the seabed and connect the cables to the Nova Scotia power grid.
The subsea cables, on-shore transmission lines and power infrastructure belong to the Fundy Ocean Research Centre for Energy (FORCE) in Parrsboro.
"We're pleased to be working with the skilled crew of Atlantic Towing on the marine operations for Cape Sharp Tidal," said James Ives, OpenHydro's Chief Executive. "The company shares our commitment to safety and offers real-life experience in the Bay of Fundy that will help us achieve this ground-breaking project."
"We have safely operated in challenging sea conditions like the strong Bay of Fundy currents and tides for more than 50 years," said Gilles Gagnon, Atlantic Towing Vice President and General Manager. "Working on the Cape Sharp Tidal project is a perfect fit for our local team's expertise and capability."
Other Nova Scotia companies are also providing services and expertise to the Cape Sharp Tidal project. In May, a $25-million contract was awarded to Aecon Group Inc. and naval architect firm Lengkeek Vessel Engineering. Two hundred and fifty Aecon employees are currently building and assembling the turbine components and the Scotia Tide barge in its facilities in Dartmouth and Pictou while Lengkeek, based in Dartmouth, earned the contract for barge design. In July, Chester-based Hawboldt Industries was awarded a $4.6-million contract to design and manufacture three heavy lift winches for the barge.