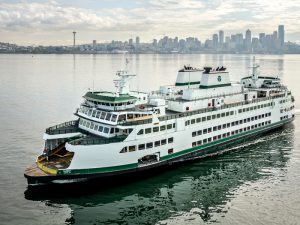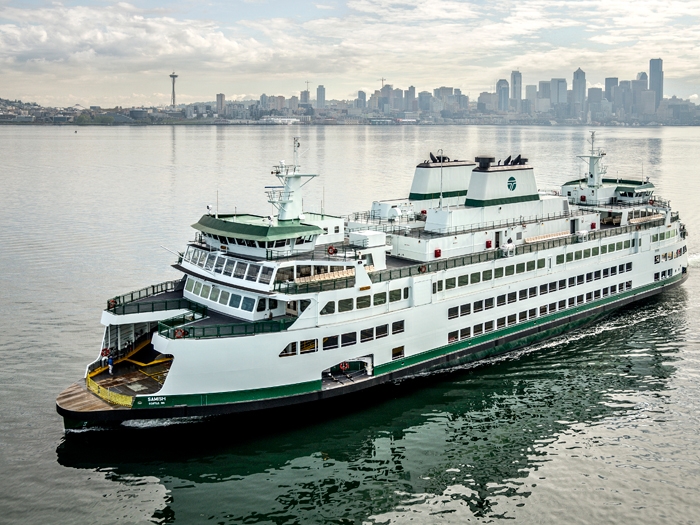 The agency last week signed a Notice to Proceed giving shipbuilder Vigor Industrial the go ahead to get started on work on the fourth vessel in the 144-vehicle capacity ferry series and work will begin in January.
The new ferry is funded through the Connecting Washington transportation package which is being paid for through a hike in state gasoline taxes.
WSF is building the Olympic Class ferries to replace some of the fleet's oldest vessels. The Olympic Class design is based on the Issaquah class, the most versatile vessel in the WSF fleet.
Two of four are in service, the third will be complete in 2017 and the fourth is scheduled for completion in 2018.
The first vessel, Tokitae, joined the Mukilteo/Clinton route in June 2014. The second, Samish, was put into service on the Anacortes/San Juans Island route in June 2015. Chimacum, the third ferry, will replace one of the older vessels on the Seattle/Bremerton route in 2017.
"Our top priority is keeping the ferry system safe and reliable for the millions of commuters, freight haulers and travelers who depend on us every year," said WSF Chief of Staff Elizabeth Kosa. "Thanks to state lawmakers and critical funds from Connecting Washington, we are able to meet some of the ferry system's most urgent needs, including building this new ferry."
Like the other vessels in the class, the fourth ferry will be built at Vigor Industrial, supporting about 500 jobs at Vigor's Seattle shipyard and contractors around the region.
The budget to build the vessel is $122 million, and delivery is scheduled for mid-2018.
The Washington State Transportation Commission is leading a public process to determine the fourth ferry's name.
Olympic Class ferries are equipped with the latest emergency-evacuation and fire-suppression systems, two Americans with Disabilities Act-compliant elevators, and wider car-deck lanes that provide more room for passengers to access their vehicles.
The vessels' hull design reduces wake and provides better fuel efficiency, while cleaner burning engines reduce emissions.
The first two Olympic Class ferries were delivered on time and under budget. The third vessel, under construction at Vigor, is on schedule and under budget and will be assigned to the Seattle/Bremerton route in early 2017.