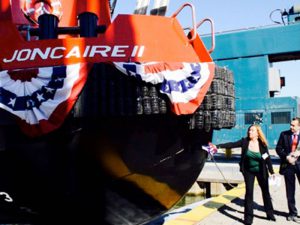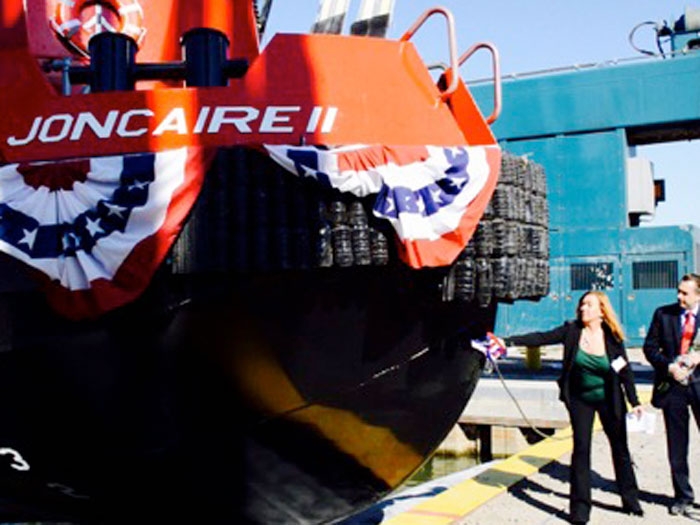 The sponsor of the Commissioning Ceremony was Karen W. Penale, Real Estate Administrator – Western Region, New York Power Authority – Niagara Project.
Breaking the traditional bottle of champagne, she declared "I name this tugboat Joncaire II. May God bless here and all who will sail on her."
Joncaire II and its sister vessel will be used to service winter operations at the Niagara Power Plant in Buffalo, NY. They will augment and replace aging vessels that are used for the installation, removal, and maintenance of the Lake Erie-Niagara River Ice Boom and for various associated marine construction projects.
Construction for the first tug began last April. The second tug is scheduled for delivery in late-2017.
The new tugs are specially reinforced with heavy stems and shell reinforcement for operations in seasonal ice. The design of the conventional drive tugs includes elevated pilothouses for improved visibility when maneuvering and a spacious work deck aft to facilitate ice boom connections.
In 2010, Great Lakes Shipyard built the New York Power Authority's new 80′ x 34′ Ice Boom Operations Barge, which incorporates a Terex 80-ton pedestal mounted lattice boom crane.
KEEL LAYING
The tug commissioning was followed by a separate ceremony, marking the keel laying of a new 3,400 H.P. tugboat to be built for Regimen de Pensiones y Jubilaciones del Personal de la Empresa Portuaria Quetzal, Guatemala, Central America. Representing the owner at the ceremony was Eduardo De Jesus Paiz Lemus, Presidente Junta Administrador.
Congresswoman Marcy C. Kaptur, U.S. Representative of the 9th District of Ohio, the principal speaker, commended the Company indicating that "We are fortunate to have a company like Great Lakes – their industry is the gift that keeps on giving. They are [through their education programs] passing on skills to the next generation, who will keep this country great."
Congresswoman Kaptur also paid compliments to the company's team – paying special recognition to Ronald C. Rasmus, President of the Great Lakes Group.
She highlighted the significance of the achievement, "To create here, in the heart of America, a shipyard; a place that faces global competition every day, is no small achievement. It is extraordinary. Look at all of the suppliers that benefit from your efforts."
The tugboat is being built under a contract awarded this August. It will be another of the company's HandySize Class 3,400 HP twin-screw tugboats and will be used for harbor towing operations in Puerto Quetzal; a growing commercial cargo, container, and cruise port on the Pacific coast of Guatemala.
The buyer, Regimen de Pensiones y Jubilaciones del Personal de la Empresa Portuaria, is a pension benefits plan for port employees and retirees who operate a commercial tugboat service in the port under a Port Authority franchise for the purpose of ensuring future retirement benefits.
Representing the Regimen at the ceremony was Eduardo De Jesus Paiz Lemus, Presidente Junta Administrador, who inscribed his signature on the keel plate declaring that "The keel has been truly and fairly laid."
The HandySize Class tug was designed by Jensen Naval Architects & Marine Engineers, Seattle, WA.
Set for delivery next year, the tug is specifically designed for harbor work and coastal towing. It is 74-feet long with a beam of 30 feet, and a design draft of 11.5 feet. It is to be built to American Bureau of Shipping (ABS) standards and its Cummins QSK-50 main diesel propulsion engines, each rated at 1700 BHP@ 1600 rpm meet US EPA Tier III emission regulations delivering superior fuel economy, durability, and reliability.
In recognition of the significant achievement for a U.S. domestic shipyard in competitively concluding a foreign sale, the U.S. Department of Commerce's International Trade Administration and the U.S. Embassy, Guatemala City, was represented at the ceremony by Antonio Prieto, Sr. Trade Specialist, who was credited by the company with facilitating the transparent negotiations and sale.