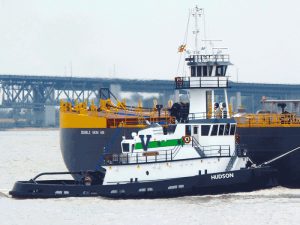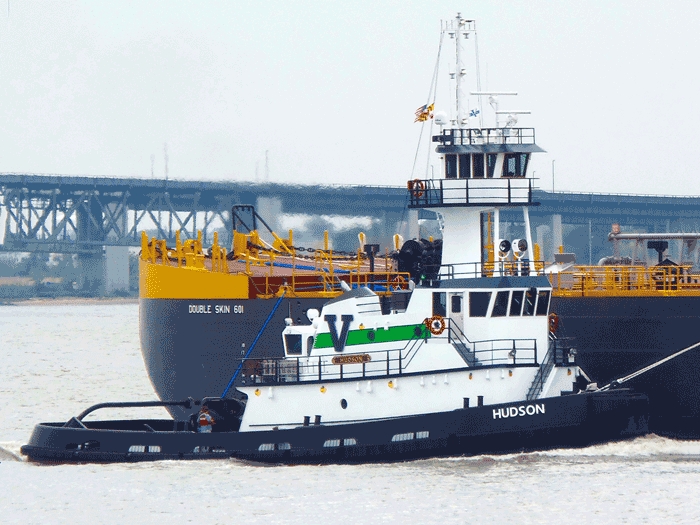 Engineering company GTT has more than 50 years' experience in the design of membrane cargo containment systems, but one project underway right now in Orange, TX, is quite unique. That's because it's the first Liquefied Natural Gas (LNG) bunker transport barge in the United States.
One of 118 GTT projects currently underway worldwide, the tank barge is taking shape at Conrad Orange shipyard, Aziz Bamik, General Manager of GTT North America, told delegates at Marine Log Tugs & Barges 2016 Conference & Expo held last month in Seattle. While Conrad has decades of experience building all types of tank barges—dirty oil, products, chemicals, and LPG—this is the first time that it is building a vessel with one of GTT's Mark III Flex membrane tank technology. Following a certification process, Conrad signed a license agreement with GTT back in January 2015 to construct the Mark III Flex.
Designed to operate in inland waterways, bays, harbors, and U.S. coastal waters, the new 2,200 m3 tank barge will be used to refuel TOTE's two 3,100-TEU LNG-powered containerships. The barge will travel about a mile from its mooring facility to fuel the two Orca Class containerships, which operate out of the Port of Jacksonville, FL to San Juan, PR. The barge is designed not as an Articulated Tug Barge unit, but rather to be towed by hawser wire, pushed or maneuvered by hip, says Bamik.
In anticipation of increasing demand for LNG as a marine fuel, Bamik also mentioned to the conference audience that GTT North America was working with Conrad on a larger Articulated Tug Barge unit that will have a capacity of 4,800 m3, with two GTT Mark III Flex Cargo Containment System tanks. The 319 ft x 62 ft barge would have cold LNG delivery with onboard reliquefaction.
COMING DEMAND FOR LNG
The interest in LNG as a marine fuel seems to have waned in the U.S. with the drop in the price of oil. As of today, five vessels burn LNG as fuel in the Jones Act market. Besides TOTE's two containerships, the Harvey Power, the third in a series of six dual fuel Platform Supply Vessels for Harvey Gulf International Marine, New Orleans, recently entered service in the Gulf of Mexico under charter for Shell. Next year, Crowley Maritime will take delivery of two Commitment Class Container Roll-on/Roll-Off (CONRO) ships for Puerto Rico. Those are being classed by DNV GL. All the other Jones Act LNG fuelled vessels are being built to ABS class.
Additional LNG Ready classed tonnage delivered or being built by General Dynamics NASSCO in San Diego and Philly Shipyard Inc. in Philadelphia could grow the LNG-fueled Jones Act fleet if converted in the future. TOTE is also converting its two Orcas Class RO/RO ships for Alaska service in Singapore.
Globally, there are about 77 gas-fueled vessels in operation and another 79 confirmed newbuildings as of March 2016, according to Anthony Teo, Technology and LNG Business Development Manager, North America, DNV GL. "There are about another 50 LNG Ready vessels have been contracted," Teo told delegates. He said that DNV GL estimates there will be 360 LNG fuelled vessels in operation by 2020.
The widespread adoption of LNG as a fuel, Teo pointed out, was is being hindered by the lack of gas fuel bunkering facilities in ports.
A panel of naval architects, liquefied natural gas reliquefaction technology providers, and regulators discussed more in-depth the current hurdles hindering the expansion of the adoption of LNG as a marine fuel for the tugs and towboats in the Jones Act market.
Panelist Rafael Riva, Marine Business Development Manager, ECA, Lloyd's Register pointed out that the technology was well proven in Europe. The first LNG tugs, for example, were built in Turkish shipyard Sanmar for Norway's Bukser og Berging AS and have been in service for Statoil AS since 2014. The DNV GL class tugs are equipped with lean burn gas engines from Rolls-Royce and Rolls-Royce azimuthing thrusters.
The LNG powered propulsion systems does require more space. The Shearer Group's Engineering Manager Joshua Sebastian, PE, mentioned the complexities of integrating the necessary fuel tank, piping, and control systems required to burn LNG on the smaller towboat platform. Sebastian's company, naval architectural firm The Shearer Group, has been contracted for the conversion of a 65-foot-long conventional diesel-powered towboat to burn LNG.
LNG-powered tugs also require small volumes of fuel with a dedicated delivery solution. Fueling can be accomplished either via tanker trucks, shore LNG storage tanks, portable gas fuel tanks or ship to ship or barge to ship transfer.
Panelist John Dwyer, Officer in Charge, Marine Inspection/Chief, Inspection Division at USCG Sector Puget Sound, provided the regulatory view on the development of LNG as a marine fuel in the U.S.
The U.S. Coast Guard has issued a number of policy letters and guidance on the design and operation of ships using LNG as a marine fuel, as well as ships and facilities transferring LNG as fuel. The U.S. Coast Guard has addressed designs and facilities on a case-by-case basis.
Waller Marine's Beau Berthelot pointed out that his company has worked on a number of refueling solutions. Waller Marine, for example, has been granted an Agreement in Principle (AIP) by ABS for a new liquefied natural gas (LNG) and regasification articulated tug barge concept. The vessel has the ability to load LNG from existing LNG terminals, liquefaction facilities or traditional LNG carriers and transport the LNG to existing tanks, traditional LNG carriers, trucks or marine vessels using LNG as a fuel. The barge also is equipped for regasification of LNG directly to a pipeline or to a power plant. An additional feature will be the use of natural gas as a fuel in the dual fuel engines of the tug to drive the tug-barge unit.
The benefit of the LNG Articulated Tug and Barge Regas Vessel (ATB RV) is that it allows LNG to be moved and delivered more efficiently on a small-scale basis in locations where large LNG infrastructure would be cumbersome, costly and time consuming.
Another possible solution for small footprint applications mentioned by panelists David Grucza, Director, Drilling and Marine U.S., Siemens, and Michael Walhof, Sales Director, Distributed LNG Solutions, Dresser-Rand, a Siemens company, was Dresser-Rand's LNGo system is a modularized, portable natural gas liquefaction plant. This point-of-use production plant is a standardized product made up of four packaged skids: a power module, compressor module, process module and a conditioning module. The natural gas consumed powers the unit and is also used as the process refrigerant to eliminate complexity and maintenance.
SHIPYARDS CONTINUE TO BE BUSY
Meanwhile, U.S. shipyards continue to book orders for conventionally powered harbor tugs and Articulated Tug Barge (ATB) units. The continued orders for ATBs, in particular, are in response to transport refined products in the U.S.
Just last month, Gunderson Marine, Portland, OR, secured an order to build two 82,000 bbl, 430 foot-long oceangoing tank barges for Harley Marine Services, Inc., Seattle. The tank barges will be part of an ATB unit.
Gunderson last built a barge for Harley Marine in 2009. Construction on the barges will begin this year, with delivery of both vessels set for the second half of 2017.
As of press time, Harley Marine Services was negotiating with a Gulf Coast shipyard for the construction of the ATB tugs that would be coupled to the tank barges being built by Gunderson.
Over the past nine months, Gunderson Marine has delivered two 578 ft ATB oceangoing barges for chemical and oil service for Kirby Offshore Marine.
For its tank barges, Kirby Offshore Marine took delivery of two 10,000 hp ATB tugs from Nichols Brothers Boat Builders, Whidbey Island, WA. Speaking at Marine Log Tugs & Barges 2016, Nichols Brothers Boat Builders President & CEO Gavin Higgins said that ATBs enjoy several cost advantages over coastal tankers when it comes to moving refined products. Crew costs are far less, nine crew vs. 18 crew. Additionally, ATBs are more ship shape, offering speed advantages over towed tank barges.
The shipyard has also signed a contract with Kirby for two line haul tugs, as well as two 8,000 hp ATB tugs based on a design by naval architect Robert Hill of Ocean Tug & Barge Engineering. The companion tank barges are being built by Vigor.
FINCANTIERI BAY SHIPBUILDING
Fincantieri Marine Group's Fincantieri Bay Shipbuilding (FBS), Sturgeon Bay, WI, has delivered the Articulated Tug Barge unit (ATB) Barbara Carol Ann Moran and the 110,000-barrel ocean tank barge Louisiana to Moran Towing Corporation, New Canaan, CT.
The 5,300-HP, 121-foot ATB tug Barbara Carol Ann Moran is certified ABS Class +A-1 Towing Service, +AMS, and is equipped with state-of-the-art navigation and communications technology. The Louisiana is 468 ft x 78 ft.
The ATB unit will work the East Coast of the United States and the Gulf of Mexico.
This is the shipyard's third delivery to Moran under a 2014 contract, with a tank barge delivered in May of 2015, and another ATB—the tug Leigh Ann Moran and tank barge Mississippi—delivered December 1, 2015.
VANE BROTHERS SERIES AT ST. JOHNS
Vane Brothers, Baltimore, MD, continues to invest in new tonnage. It has a long running newbuild program at Chesapeake Shipbuilding in Salisbury, MD, where it is constructing a series of 3,000 hp ATB tugs and has now added the second of eight 4,200 horsepower tugboats from St. Johns Ship Building, Palatka, FL.
The new tug, Hudson, is the second of Vane's Elizabeth Anne Class, under construction at St. Johns Ship Building. Lead vessel of the class, the Elizabeth Anne, was delivered in January, while the third in the series, the Baltimore, is set for completion this summer.
The new tug will be paired with the Double Skin 601, the first in a new series of 55,000 bbl barges and will be followed later this year by the Double Skin 602, both built by the Conrad Deepwater South Shipyard in Amelia, LA.
"Our ongoing fleet construction program ensures that we have state-of-the-art equipment available to service all of our customers' needs with the utmost safety and efficiency," says Vane Brothers President C. Duff Hughes.
Designed by Frank Basile, P.E., of Entech Designs, LLC, Vane Brothers' Elizabeth Anne Class tugboats are close cousins to the Basile-designed Patapsco Class tugboats, 15 of which were produced between 2004 and 2009.
Measuring 100 feet long and 34 feet wide, with a hull depth of 15 feet, the model bow Hudson is powered by two Caterpillar 3516 Tier 3 engines, each generating 2,100 horsepower at 1,600 rev/min. Two John Deere PowerTech 4045, 99 kW generators deliver service power to the boat, while a third John Deere 4045 teamed with an Allison transmission drives the chain-driven Intercon DD200 towing winch. The Elizabeth Anne also has Reintjes marine gears supplied by Karl Senner, LLC, Kenner, LA.
The Hudson features the latest in solid-state, Simrad electronics and handsomely appointed, mahogany upper and lower pilothouses, as well as spacious accommodations for up to seven crew members.
Meanwhile, the Double Skin 601 is configured and outfitted in a nearly identical fashion to the most recent 55,000 bbl Vane Brothers barges that were delivered in 2015 by Indiana-based Jeffboat Shipyard. Like them, the Double Skin 601 is equipped with an 8,600 BTU thermal fluid heating system, vapor control system and cargo tanks coated with International Interline 994 Epoxy Novolac. However, the Double Skin 601 has a raised forecastle bow design, which provides additional reserve buoyancy.
The DS-601 and its sister, the DS-602, are both fitted with two fixed boom pedestal cranes each, Model F1-65, with a 65-foot boom length supplied by Techcrane International, Covington, LA.
Primarily tasked with towing petroleum barges engaged in the North Atlantic coastwise trade, the Hudson has joined the Elizabeth Anne among more than 20 vessels that are part of Vane's Delta Fleet, based in Philadelphia. The DS-601 is also a new Delta Fleet member.
NEW TUG FOR SEA VISTA
In early April, BAE Systems Southeast Shipyards, Mobile, AL, launched the first of two 12,000 hp ATB tugs for Sea-Vista ATB, LLC.
One of the interesting features of the tug M/V Sea Power is that it has two independently controlled and operated hydro-dynamic Van der Velden Barke rudders. Independent Proportional Steering will allow the rudders to be actuated either independently or synchronized. The rudders were supplied by Dutch company Van der Velden Marine Systems (VDVMS) in conjunction with its U.S. representative Ships Machinery International, Inc. (SMI).
Van der Velden says that tank tests showed that rudder design was extremely effective for this type of vessel. This ATB tug will have enhanced maneuverability and excellent course keeping stability. The efficiency provided by this high technology rudder solution will result in significant savings over the life of the vessel.
The 43m x 14m ATB tug, with a draft of 6.75m, is designed by Seattle-based Guido Perla and Associates, Inc. (GPA). The tug's power is supplied by two 4,640 kW main engines and three 250 kW main generators, with a standby emergency generator of 150 kW. The vessel uses a pin connector system between the tug and the barge and fully complies with ABS Under 90 m Rules, Maltese Cross A1 AMS ACCU Towing Vessel, SOLAS, USCG Subchapter I.
"We are pleased that our client selected this state of the art rudder system for their new vessel," said SMI Vice President Arthur Dewey, and "we are confident that their faith in Van der Velden rudders will be rewarded over the long haul." Van der Velden reports that the Sea Power is the only vessel of its kind in the U.S. at present time.
The tug will have exceptional maneuverability, with two independently controlled and operated hydrodynamic Van der Velden Barke rudders. Independent Proportional Steering will allow the rudders to be actuated either independently or synchronized.
Van der Velden has done a lot of work to facilitate the installation of these rudders into a hull and worked closely with Guido Perla Associates Inc. and BAE Systems to assure a smooth transition from initial design to final installation.
GPAI Chairman Guido Perla commented, "Van der Velden provided excellent technical support and on time delivery of design documents that helped us develop the engineering and design for the installation of their steering system. Their coordination with our staff was prompt and to the point. We appreciated their support."
Van der Velden says that the key driver behind the Barke rudder is its innovative and sophisticated progressive high lift design, offering unsurpassed maneuvering and course-keeping performance, as well as smooth operational comfort. The progressively operating flap linkage system is contained in a fully enclosed, grease-lubricated Barke housing. This results in minimum wear on the linkage components and eliminates the problems caused by contact with floating objects.
Another set of Barke high-lift rudders will be installed on a second ATB tug before this summer.
BARGE FOR PROVPORT
Conrad Shipyard, Amelia, LA, recently delivered a 300-foot long x 72-foot wide rake/box barge with a deck rating of over 6,000 pounds per square foot to ProvPort, Providence, RI, according to naval architect JMS Naval Architects, Mystic, CT. The crane barge design allows for the easy loading and unloading of cargo from ships to the dock or from ship to ship.
JMS Naval Architects, Mystic, CT, engineered and designed the crane barge for the State of Rhode Island that will be used for stevedoring operations at ProvPort Inc.
ProvPort is a nonprofit public-private partnership, formed in 1994, which owns and operates the municipal port of the City of Providence, RI. ProvPort is New England's premier deep-water multimodal facility for international trade and domestic distribution and one of the busiest ports in America's northeast.
JMS designed the barge to carry and operate the facility's 440-ton Liebherr LHM 550 mobile harbor cranes. The barge is ABS classed A1 with notation "Deck Barge," uninspected and unmanned. JMS also created the technical specification documents to utilize for the solicitation of shipyard bids and provided owner's representative services during the construction of the barge at Conrad Industries.
The contract was funded by the State of Rhode Island's Transportation Investments Generating Economic Recovery (TIGER) II grant program award managed by the Rhode Island Commerce Corporation. The grant was created by Congress in the 2010 Transportation Appropriations Act and allowed the purchase and installation of the barge and two high performance harbor cranes. The new stevedoring equipment will modernize and enhance the port's ability to continue its existing bulk material operations while expanding its capabilities to accommodate container operations; thus alleviating demand on the Port of Boston—the only existing container port in New England. The new crane barge will be critical for the port which has relied on 30-year-old rented crane barges that have been prone to breakdowns and have been out service for prolonged periods. The crane barges are estimated to remove on average 1,000 trucks per week off the northeast corridor highway system—one of the most congested in the country.
NEW HARBOR TUGS FOR BAYDELTA, MCALLISTER
Jensen Maritime, Seattle, is designing tractor tugs for both U.S. East Coast and West operators. One is for Vessel Chartering LLC, a wholly owned dividsion of BayDelta Navigation. The new tug is powered by a pair of 3,385-horsepower Caterpillar 3516 EPA Tier 4 engines and is the third tugboat designed by Jensen Maritime with engines meeting EPA Tier 4 requirement.
The tug was designed without ballast tanks, eliminating the need for ballast water discharge and therefore ballast water treatment systems. To maintain proper trim, the vessel will transfer fuel, as necessary.
The tug is being built by JT Marine Inc. shipyard in Vancouver, WA, for delivery in second quarter 2017.
Jointly developed by Vessel Chartering and Jensen, the 110-ft x 40 ft tug has the ship assist and escort capabilities of smaller harbor tugs, while delivering the improved towing performance and increased range of larger ocean-going tugs.
The design offers the flexibility to support ship escorts, assists and towing, with the escort capability being enhanced to provide support for assisting the large, 18,000 TEU containerships expected to make an increasing number of West Coast port calls.
With an electrically powered, double drum tow winch aft by Rapp USA and an electrically powered hawser winch forward by Markey Machinery as deck machinery, the vessel will be capable of a 93-to-95 short-ton bollard pull. Both winches' electrical power will remove any chance of a hydraulic oil spill on deck.
The tug is designed to carry up to 123,000 gallons of fuel, 4,300 gallons of fresh water, and up to 4,500 gallons of urea, which is used in the main engine exhaust Selective Catalyst Reduction (SCR) treatment system used to meet EPA Tier 4 emissions requirements.
On the East Coast, McAllister Towing, New York, NY, has contracted with Horizon Shipbuilding, Inc., Bayou La Batre, AL, to build it two new 100 ft x 40 ft new escort tugs.
The tugs will be powered by 3516E EPA Tier 4-compliant Caterpillar engines with Schottel SRP4000FP propulsion units producing 6,770 hp and 80 metric tons bollard pull.
The tugs will be the 31st and 32nd tractors and the first Tier IV tugs in McAllister's fleet.
They will be ABS classed Maltese Cross A-1 Towing, Escort Service, FiFi 1 and Maltese Cross AMS.
The hull has been designed by Jensen Maritime for enhanced ship docking abilities in addition to direct and indirect escorting and the tugs have been designed and simulator tested to assist new Post-Panamax and Ultra-Large Vessels.
Towing machinery will include a Markey asymmetric render-recover winch on the bow and a Markey tow winch with a spool capacity of 2,500 ft of 2¼ in wire on the stern.
MARCON BROKER FOR NEW DESIGN TUG
Purple Water Ltd. has appointed Marcon International, Inc., Coupeville, WA, as exclusive broker to handle the shipyard licensing for construction of an innovative new tug in the Americas.
Called the Giano tug, the compact double-ended tug has a high displacement tunnel hull form, two large structural keels and a straight-line controllable pitch thruster configuration designed and built solely for ship handing.
With intuitive in-line handling controls, the tug can produce 55 tonnes (70 tonnes) of bollard thrust and pull in all directions at full power with true 360 degree maneuverability, while maintaining a 0 degree list – plus a side-stepping speed of 7 knots – from full ahead to full speed sideways in 10 seconds.
The tug works equally well from the bow or stern and is fitted with 75 tonne escort winches fore and aft.
The design is claimed to has the highest stability numbers of any escort tug afloat, not only in its own 24 m compact class, but also compared with the 32 m escort terminal class.
Two separate engine rooms, a separate generator room and a double hull with integral "W" heavy duty fendering and patented underwater fenders provide a high level of safety, and allow the tug the unique capacity to side thrust and push at full power without listing, while assisting vessels in confined spaces
The Gianotug design is patented over 40 countries.
After four years of research and development, the first tug of this class, is now available in Italy for shipowners and shipyards interested in licensing and building the design to inspect and experience a "hands-on" demonstration of the tug's capabilities.
Built by Chinese shipbuilder Guangdong Bonny Fair Heavy Industry, the 25.75 m x 13.02 m x 5.20 m depth / 5.30 m Giano is powered by twin 1,678 kW CAT 3512C-HD diesels developing a total power of 4,562 HP at 1,800 RPM.
A Schottel SRP-3000 azimuthing drive with a controllable pitch prop is mounted in a straight line at each end, with the tunnel hull specifically designed to eliminate propeller interference.
Topside access and ultra-short shaft lines allow for main engine removal in a few hours.
The U.K. flagged Giano is classed LR +100A1, Escort Tug, FiFi-1 (2,400 cu.m/h) with water spray, Unrestricted – MCA WB Area 1 (up to 150 miles from safe haven). While this first vessel has a 55 tonnes bollard pull, the unified design allows for both 55 tonnes and 70 tonnes bollard pull versions to be built.