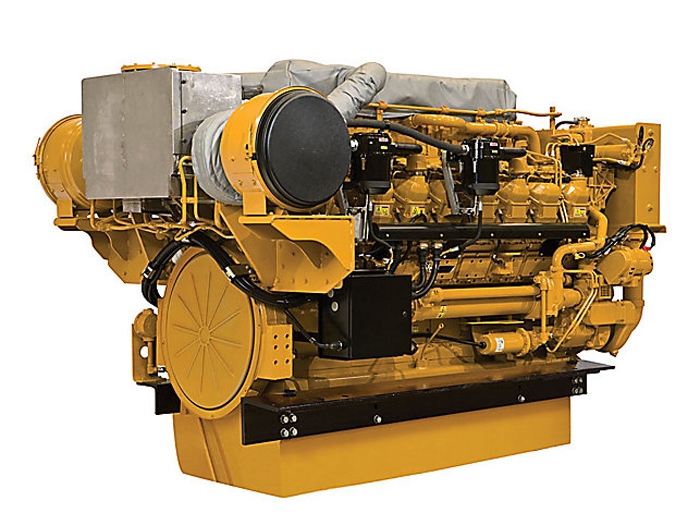 When Harley Marine decided to build the new line haul boat, the Earl W. Redd, for towing up and down the U.S. Pacific Coast, the company wanted a proven power platform that would meet the new emissions requirements.
Over the years, Harley Marine has successfully operated line haul tugs powered by Cat 3500 Tier 1 and Tier 2 propulsion engines. Cat dealer Peterson Power suggested two 3516E engines —a flexible power solution that addressed both Harley Marine's need for power and the upcoming Tier 4 regulations.
To meet the Tier 4 Final emissions standards coming in 2016, each of the two continuous duty 3516E engines—individually rated with a 10% horsepower increase of 2,682 hp at 1,600 rpm—is paired with a selective catalytic reduction (SCR) aftertreatment system, using DEF (diesel exhaust fluid) a urea-based solution, to reduce NOx emissions in the exhaust.
"Harley Marine should save over $1 million across a 15-year lifecycle on total fluid consumption (diesel plus DEF) costs for this newbuild compared to an equivalent Tier 2 powered vessel. They are able to deliver an increased level of performance due to the higher power rating with increased efficiency," says Ryan Darnell of Caterpillar's Large Power Systems division. "That's a direct result of engine fuel efficiency improvements that our SCR technology allows us to make by reducing NOx downstream of the engine combustion process."
Harley Marine has a long-standing relationship with Caterpillar Marine, including parts and service support from dealers across the United States.  In addition, Cat Financial has provided construction and ownership financing for multiple Harley Marine vessels— including the Earl W. Redd.
"Harley Marine appreciates that they can get the whole package from one source," says Brent Nelson, a Caterpillar Marine territory sales manager who works closely with Harley Marine. "Caterpillar Marine is able to bring together multiple parties to make sure the design and installation is exactly what they need."
For this particular vessel, that includes not just Harley Marine, but also Diversified Marine, Peterson Power, the naval architect and Cat engineers back at the factory. Caterpillar says that everything is now on track for the Cat engines to be delivered to the shipyard in April 2016, with vessel construction complete in October of that year.