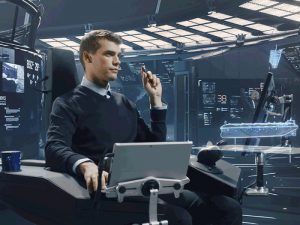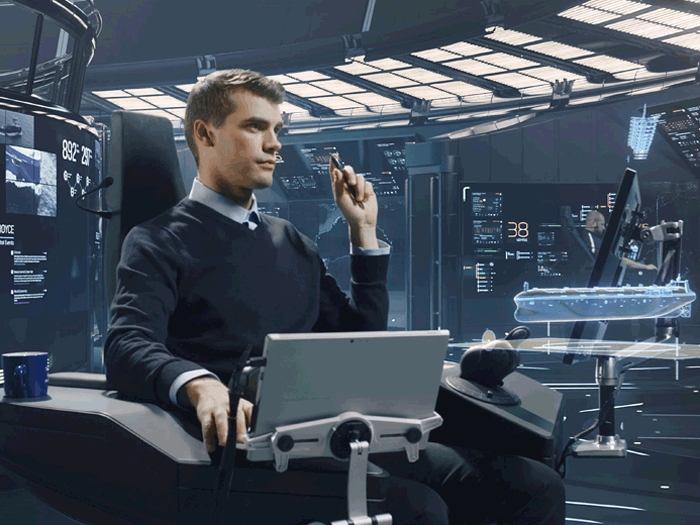 Looking like a teaser for an upcoming Star Trek movie, a six-minute video posted by Rolls-Royce last month lays out its high-tech vision of unmanned cargo ships and the future of shipping.
At the heart of that vision is a sophisticated, cutting-edge, land-based control center with interactive smart screens, voice recognition systems, and 3D holographic images of the ship and its equipment. An officer sits in a command chair before the "OX global wall," which provides a worldwide overview of shipping traffic. Flying drones launched from the unmanned ship are the operator's eyes in the sky to monitor navigation, security, weather and inspect the ship itself.
In the video, Rolls-Royce envisions a small crew of 7 to 14 people that will monitor and control the operation of a fleet of vessels across the world.
Last year, Rolls-Royce announced it would lead the Advanced Autonomous Waterborne Applications Initiative—a new EURO6.6 million project to explore, develop and design autonomous ships.
Tekes, the Finnish Funding Agency for Technology and Innovation, is providing the funding for the project, which will run until the end of 2017.
The Advanced Autonomous Waterborne Applications Initiative (AAWAI) brings together expertise from academia and industry. The participants include Finnish academic researchers from Tampere University of Technology, VTT Technical Research Centre of Finland Ltd, Åbo Akademi University, Aalto University, and the University of Turku. Besides Rolls-Royce, industry participants include NAPA, Deltamarin, DNV GL and Inmarsat.
Iiro Lindborg, Rolls-Royce's General Manager, Remote & Autonomous Operations, Ship Intelligence, says, "unmanned and remote-controlled transportation systems will become a common feature of human life. They offer unprecedented flexibility and operational efficiency." Lindborg says the research "aims to understand the human factors involved in monitoring and operating ships remotely. It identifies ways crews ashore can use tools to get a realistic feel for what is happening at sea."
The video is the final stage of research that will inform the design and construction of a project demonstrator before the end of this decade.
An effective remote operations center is essential to the company's plans to develop autonomous and remote controlled vessels.
Eija Kaasinen, Principal Scientist at VTT Technical Research Center of Finland Ltd., points out that unmanned ships doesn't take humans out of the picture totally. "Unmanned ships need to be monitored and controlled and this will require entirely new kinds of work roles, tasks, tools and environments. The future shore control center concept has been designed by emphasizing the user experience of the human operators. By focusing on the operators' point of view, it is possible to introduce meaningful, pleasurable and engaging new roles for the ships' shore control center professionals."
The research was undertaken by VTT and University of Tampere research centre TAUCHI (Tampere Unit for Computer Human Interaction) in collaboration with Rolls-Royce. It explored the lessons learned from other industries where remote operation is commonplace, such as aviation, energy, defense, and space exploration.
It uses the InnoLeap approach, a VTT and Rolls-Royce-developed initiative for concept design and presentation of academic studies in a graphic format that is based on trend and user studies, co-innovation, scenario stories and visualizations.
On April 5, in Helsinki, Finland, Rolls-Royce will reveal separate research findings, which it believes will set the direction for the development of remote and autonomous shipping.
Remote and autonomous ships are one of three elements of the company's Ship Intelligence strategy, a portfolio of products and services – comprising health management solutions, optimization and decision support, and remote and autonomous operations – which intended to enable customers to transform their operations by harnessing the power of big data.
Rauli Hulkkonen, Tekes, Chief Advisor, thinks the project is a "fantastic opportunity to establish the Finnish maritime cluster as the world leader in maritime remote control technology."
Esa Jokioinen, Head of Rolls-Royce's Blue Ocean Team, says, "We are excited to be taking the first concrete steps towards making remote controlled and autonomous ship applications a reality."
The Rolls-Royce Blue Ocean team is responsible for R&D of future maritime technologies.
Rolls-Royce is not alone in investigating the feasibility of unmanned ships. The European Commission has just completed work on project MUNIN (Maritime Unmanned Navigation through Intelligence in Networks) to develop concepts for unmanned ships. The EURO3.8 million MUNIN project focused on a dry bulk carrier concept, which typically carry cargo point-to-point on long, uninterrupted deep-sea voyages.
The goal of the projects is to reduce crew costs, lower environmental impact, and reduce the number of collisions. Human error plays a role in about 80 percent of maritime accidents.
MUNIN says that the issues of cyber attacks and pirates are a cause for concern. "However, software systems as well as ships can be designed and built providing a very high resilience against digital and physical attacks."
HUNTING SUBS BY DRONE SHIP
Drones have been used effectively on the military side for years for surveillance, reconnaissance, and military strikes. Last month, the Defense Advanced Research Project Agency (DARPA) reported that its Anti-Submarine Warfare (ASW) Continuous Trail Unmanned Vessel (ACTUV) program has designed, developed and constructed an entirely new class of ocean-going vessel—one intended to traverse thousands of kilometers over the open seas for months at a time, all without a single crew member aboard.
The ACTUV technology demonstration vessel was recently transferred to water at shipbuilder Vigor Industrial, Portland, OR, and conducted speed tests in which it reached a top speed of 27 knots (31 mph/50 kph).
The ACTUV would be used to track quiet diesel-electric submarines.
The vessel is scheduled to be christened on April 7, 2016, with open-water testing planned to begin in summer 2016 off the California coast.