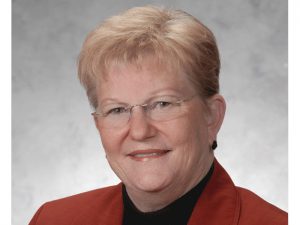 MARINE LOG recently had an opportunity to sit down with Lynne Griffith, the new Assistant Secretary of Washington State Ferries. In the fall of 2014, Griffith became the first woman to hold the position and is responsible for guiding the 1,900 employees that work at the iconic Washington State Ferries to meet their operational, budgetary, and safety goals.It's no small task: Washington State Ferries is the largest ferry operation in the U.S., carrying about 22 million passengers annually and about 10 million vehicles between 20 different ports in and around Puget Sound.
Some of the key challenges Griffith faces are renewing the WSF fleet—which has an average age of about 35 years old— modernizing the system's terminals, and investing in new IT systems to improve efficiency and communications with riders. Like most state-run agencies around the country, the Washington State Department of Transportation was hit hard by the recession, which means a loss of revenue and cuts to services across the board. About 70 percent of the ferry system's operations are funded by the fare box. By comparison taxpayers in New York fund the entire cost of the Staten Island Ferry.
Although she doesn't have a maritime background, Griffith is well suited for the role with 35 years in the transportation industry, including her role as CEO at Pierce Transit in Washington State, where she had to face similar budgetary constraints and operational challenges."I've always been connected to public service or serving members of the public through transportation. It's not quite like the movie, Trains, Planes, and Automobiles, but I've really done planes, trains, buses, and boats," jokes Griffith.She started her professional career at 18 working at a small airline. "I used to dispatch airline equipment from parts of the network within the airline. It was just like dispatching buses or getting crews and vessels ready to go in the morning. There's a very strong similarity in terms of the technical aspects of getting the mode of transportation ready to serve the public."
Griffith was invited to participate in the selection for the new WSF head by the state Secretary of Transportation 2014. "But I said no. I couldn't see the connection. I was getting ready to retire." What changed Griffith's mind were two high profile ferry incidents. The first was in July 2014 when the 2,500-passenger, 202-vehicle ferry Tacoma lost power on the Seattle-Bainbridge Island route, which caused lengthy delays for passengers crossing Puget Sound.The second occurred on August 15, 2014, when hundreds of Seahawks fans flocked to the ferry to attend a preseason game at CenturyLink Field. After setting sail for Seattle, the Cathlamet had to return to the Bremerton dock to unload 484 passengers because of fears of overloading. However, an official state inquiry ordered by Washington State Department of Transportation Secretary Lynn Peterson found that the vessel was not overloaded, but rather that the count was wrong due to a faulty counting device.
"After those incidents, it dawned on me that Washington State Ferries needed to focus on its operations. And that's my background—operations. Whether it's the airline industry or the transit industry, I have always been on the operating end." Griffith knew she could help. She contacted the state and threw her name back into the hat.Hired back in September 2014, Griffith knew she had to quickly become deeply engaged in the organization in order to assess what exactly needed fixing. That meant learning what agents do at the terminal, deck hands on board, captains in the pilothouse and engineers in the engine room.
"That was the first smart thing I did. The willingness of employees to be candid and open with me really helped me understand what's working, what's not working, so that wherever I was going to apply to my leadership role in this organization, I was going to apply it to the right areas. They helped me tremendously to understand where the attention is needed."As part of the learning process, she took ordinary seaman training. "That was a real eye opener in terms of just how tough their jobs are. They have to be prepared for everything from fire fighting to CPR."
"As a leader, you have to understand what your employees do and how good they have to be at their jobs, and what their needs are." Griffith says that insight provides her with the valuable raw knowledge to inform state legislators where funding is needed whether it is for training, maintenance or new hires."It is hard to sell, that message, when you are in a distressed financial environment. Of course, everyone in the public sector has been grappling with that for a very long time. The recession is long over, but to rebuild that capacity … is a big climb up a very steep ladder," she adds.
A high priority for Griffith has been a renewal of the aging fleet, as well as renovations to two of the system's busiest terminals. Washington State Ferries signed a Notice to Proceed giving shipbuilder Vigor Industrial the go ahead to get started on work on the fourth vessel in the 144-vehicle capacity, Olympic Class ferry series and work will begin this month.
The new ferry is funded through the Connecting Washington transportation package, which is being paid for through a hike in state gasoline taxes.
WSF is building the Olympic Class ferries to replace some of the fleet's oldest vessels. The Olympic Class design is based on the Issaquah class, the most versatile vessel in the WSF fleet.
Two of four are in service, the third will be complete in 2017 and the fourth is scheduled for completion in 2018. The first vessel, Tokitae, joined the Mukilteo/Clinton route in June 2014. The second, Samish, was put into service on the Anacortes/San Juans Island route in June 2015. Chimacum, the third ferry, will replace one of the older vessels on the Seattle/Bremerton route in 2017.
The budget to build the vessel is $122 million, and delivery is scheduled for mid-2018."I actually think that the build program needs to move on beyond the Olympic Class. Right on the back of the group of new vessels, we have a whole group in our existing fleet that is going to hit 60 years old. We need to be thinking about how we are going to pursue those replacements. What are those vessels going to look like? Are they the same Olympic Class vessel or are they going to be different. We are going to have to think about the funds for those vessels, so we don't have an interruption in the build program."
"Technology changes so quickly. Do we need to build ferries that last 60 years or should they be something else? Vessels that are built to last 60 years are more expensive to construct. I don't know what the answer is, but we have to open ourselves up to thinking about those things." She notes that some of the older vessels will have to be retained as surge or back up capacity. 
WSF, however, will have to compete with the Coast Guard, Navy, and a number of commercial operators for access to regional shipyards, whether it is for drydockings or dockside repairs. Griffith is working closely with Matt Von Ruden, the new Director of Vessels at WSF, on innovative ideas to improve operations.
"Anything from expanding engine room training to collaborating with our shipyard partners in finding solutions for getting our vessels in for inspection or for those big fixes."Looking at it as a newcomer, I don't think that replacing every terminal, building every new vessel or adding to the fleet is financially feasible right now. The mistake is that we report that we can do more and more and more without the funding dynamics changing.
"The public is never going to tolerate that much tax. So how can we be smart? What technology can we use? What practical design can we use that gives people what they need?"If you look at it differently and open up your mind—we're already thinking about different types of fuel that could offer savings for the state if there would be a fuel spike again down the road, about how we can fix and modernize terminals instead of rebuilding at the maximum cost—we can get there with a balance of what the public thinks is acceptable and what we can afford."
Griffith sees her port engineers, captains, deck hands, and mates as a valuable source of new ideas. "We have one staff chief who thought of an idea to save about $2 million per year just on his route." That involved modifying operational practices as the ferry came into dock. Instead of using all engines before docking, using just three engines to slow the vessel as it approaches the dock, then two engines when docking. The practice cut the amount of fuel burned.
She also worked with the union to provide more transparency in the service's Ferry Alerts. With more informative alerts, riders can now make better decisions on whether they should go to the dock or find alternate routes during service disruptions.  "If we don't give enough information, we just made an angry customer." says Griffith.
While Washington State Ferries has shelved the idea of converting one of its older vessels to hybrid propulsion, it is moving ahead with the idea of burning Liquefied Natural Gas (LNG) as a marine fuel. Griffith would prefer incorporating the technology into a newbuild, but sees the benefits of converting an existing vessel to burn LNG."There is a lot of apprehension about LNG. There have been questions about whether converting a vessel is practical. What I see is that our experts are going to learn something in that process. We will learn about logistics and how the vessels would be fueled so that, if we make a major investment in a new vessel, we would be a little bit smarter."
Besides renewing its fleet, WSF also needs to attract new blood to its organization. Griffith points out that the average age of pilot house personnel is 65 and the average age of engine room personnel is 55. "We need a mentoring program right now before we lose the talent. We need to work with local maritime schools and conduct an outreach to local mariners.
"The state does not pay competitively to the private sector. We have to build a package of information to convey the idea of why they should come to work for us. Some of the key benefits of working at Washington State Ferries, however, is that employees have an improved quality of life; the ability to go home at night to their families and long-term security."