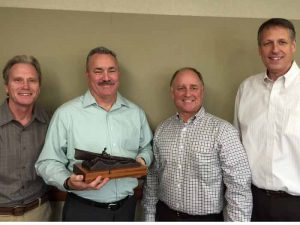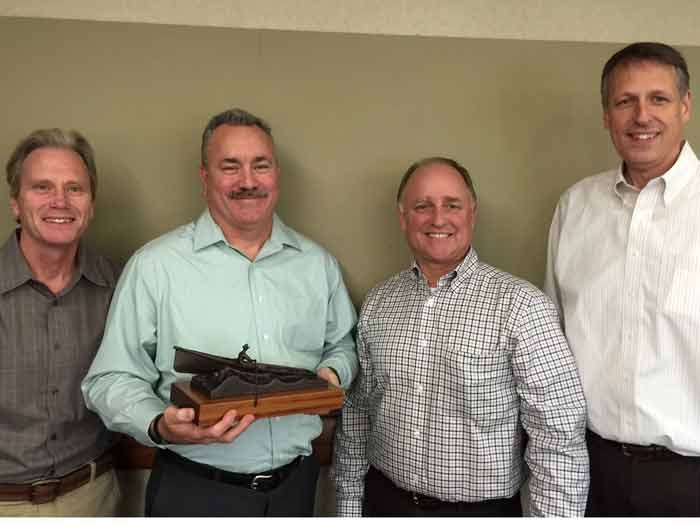 Crowley's Chairman, President and CEO Tom Crowley Jr., the grandson of the company's founder, presented the award before more than 70 employees and senior leaders including two past recipients of the award, Bruce Harland, vice president, marine solutions, and Craig Tornga, vice president, government relations.
Mr. Ridge, a 30-year Crowley employee, was selected for the award because of his reputation for high performance. In his nominating letter, Crowley's Captain Rod Jones, general manager, marine services, wrote: "David has proven his competence, loyalty and exemplary performance time and again, both aboard the vessels and in the office. Whether commanding Crowley assets half-way around the world or facilitating a training seminar in Valdez, his commitment to the core principles of safety, integrity and high performance have never waned. He projects an aura to those around him that not only instills confidence in his ability, but also trust in his judgement – a tireless and effective manager, who demonstrates daily the leadership skills he has honed over years of decision making in stressful situations."
Mr. Ridge joined Crowley in 1984 as a mate, subsequently working aboard a variety of vessels operated by the company, including oil and cargo barges, offshore towing tugs, and ship assist and tanker escort tugs. In 1986, he was assigned master for Crowley's military support service operating out of Sasebo, Japan, before transferring aboard Crowley's harbor ship assist and tanker escort tugboat fleet in San Francisco Bay in 1987. He continued working aboard company tugs until 1996, when he changed roles again, as master of tow operations of Crowley's 450 series barges transiting U.S. West Coast oil terminals. He came ashore as port captain in Seattle in 2005, and was later assigned to manager, marine operations, in Valdez, Alaska, for the ship assist and tanker escort contract with Alyeska SERVS in 2007. In 2014, he was promoted to his current position of director, marine operations, in Valdez.
"It's not often that we see a tug captain come ashore," said Mr. Crowley, on presenting the award. "It's a difficult transition … I can't think of a more difficult place to work [than Valdez.] Dave has taken a true leadership role there … in making sure the customer has confidence, that we are there to get the job done and to work with a great team. I congratulate him on his efforts."
"I am honored to have received this award, but the recognition really should go to my team," said Mr. Ridge. "Crowley is the most unique and worthwhile company I have ever had the pleasure of working for and it's the people I work with who make me who I am. I share this award with them."
The Thomas Crowley Award was created in 1985 and only 60 of the company's more than 5,300 employees have received the award which symbolized by a limited edition bronze sculpture, which depicts company founder Thomas Crowley ferrying goods to and from ships on San Francisco Bay in the early 1890s.