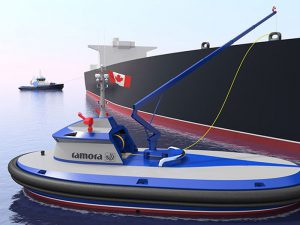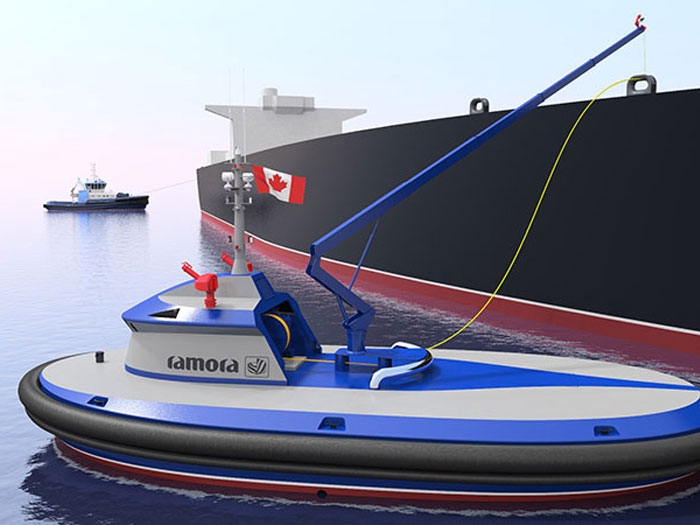 Drone technology is also finding applications in the maritime industry for the same reasons.
"We see opportunities to use robotics to reduce the danger to crews posed by riskier tug operations, and to reduce costs in some cases," says Mike Fitzpatrick, President & CEO of Vancouver-based naval architectural firm Robert Allan Ltd. "Control and digital communication technologies developed for drones used in other sectors have reached the point where its transfer to our industry is completely feasible, and is perhaps overdue. These technologies have been used in smaller autonomous surface vessels (ASVs), autonomous mine trucks, autonomous underwater vehicles (AUVs) and aerial drones for years."
Robert Allan Ltd. (RAL) has just unveiled an autonomous tug concept called the RAmora. The first in the company's TOWBoT (Tele-Operated Workboat or Tug) series, the RAmora 2400 is a versatile towing platform designed primarily for ship assist and berthing operations. With a bollard pull of 55 tonnes, the RAmora 2400 features a hybrid propulsion system and ample battery storage capacity to enable extended operation even in potentially hazardous environments such as LNG terminals or fire-fighting situations.
The RAmora is operated remotely by a captain on a command tug using a console equipped with live video and other positioning information.  "It is also possible," explains Fitzpatrick, "for the RAmora captain to operate RAmora away from the console by a bellypack controller when in close visual range."
The control system design was developed in partnership with International Submarine Engineering of Port Coquitlam, Canada, and is derived from proven remotely operated vehicle, autonomous underwater vehicle and surface vessel applications.
RAmora is fitted with Voith Schneider Propeller (VSP) drives arranged in a fore/aft configuration and its hull form, designed for high stability and good seakeeping performance in waves, is the product of extensive development work including CFD and towing tank testing. Yet, being a TOWBoT with no need for a conventional wheelhouse, crew accommodations, domestic systems or lifesaving equipment, RAmora is simpler and more compact than any conventional tug of comparable performance.
Other features incorporated into the RAmora include off-ship fire-fighting (fi-fi) capability classed to "Fi-Fi 1", two 1,200 m³/hr fire monitors supplied by electrically-driven fire-fighting pumps, a crane boom that can be optionally fitted with a smaller 600 m³/hr fire monitor and camera.
RAmora can be used for ship handling operations that can put crew at risk, for operations at terminals where ship handling may be required in emergency  situations in hazardous environments, or as a fire fighting asset that can work in close proximity to a toxic fire, or in a restricted space, for extended periods with no risk to crews.
But don't expect the RAmora to appear in the market overnight. "While the core control and communication technologies are mature," cautions Fitzpatrick, "there is a lot of work to be done to get to the point where industry, class and regulatory authorities are completely satisfied that safety and reliability meet or exceed what is presently achieved with conventional tugs for the type of ship handling operations that RAmora is intended for. That process could take several years, and we need to be realistic about that. On the other hand, building a prototype RAmora could be done in as little as one to two years since there are no major technological obstacles. We see it as more of an exercise in integrating existing technologies. In many respects, without the normal outfitting required for a crewed tug, RAmora is simpler to build and has considerably fewer systems."