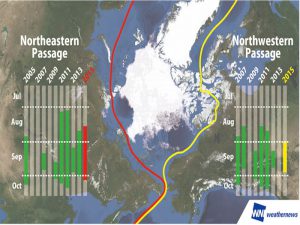 It's one more indicator that one effect of climate chang will be to see more commercial shipping activities in the arctic.
The Global Ice Center (GIC) at Weathernews says that the northeast passage along the Russian coast has been open to shipping traffic since August 18, and the northwest passage across North America has been opened from September 1, making this year the first since 2013  that both passages have been open .
The GIC defines "open" as conditions free of ice in all passages, based on satellite observation
The northeast passage is expected to stay open until early October, with the northwest passage closing by late September, thus making it possible for commercial vessels to enter the icy region.
This year, ice in the Arctic Sea is melting at a fast pace, already reaching the third-lowest extent observed in the two routes, However, information available on conditions in two northern sea routes is still scarce, so Weathernews is planning the launch of the WNISAT-1R satellite.