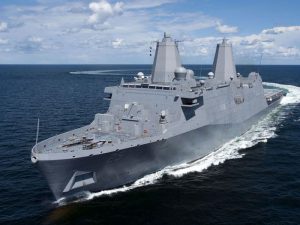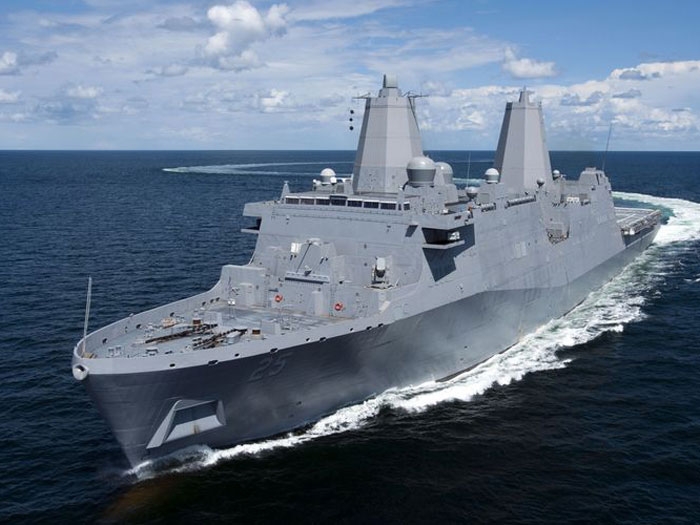 .
According to defense media, BIW will get the additional destroyer under a "hull swap" agreement in a 2002 MOU between the Navy and its two largest shipbuilders that, among other things, reportedly included an agreement that, should a twelfth LPD be ordered,a fourth DDG 51-class ship or equivalent workload would be awarded to BIW.
Apparently, that's likely to happen and that destroyer will be DDG 127, once Congress comes through with the funding.
However all that works out, the funds awarded Huntington Ingalls under the contract announced today will be used to purchase long-lead-time material and major equipment, including main engines, diesel generators, deck equipment, shafting, propellers, valves and other long-lead systems.
"This funding demonstrates the priority the Navy places on Ingalls getting started on this important ship," said Ingalls Shipbuilding President Brian Cuccias. "Our shipbuilders have made great strides in the LPD program, and we are performing well. Building LPD 28 is key to maintaining a reliable supplier base and leverages our hot production line, enabling our team of shipbuilders to build this ship and future amphibious warships as efficiently and as affordably as possible."
Ingalls' 10th San Antonio-class LPD, John P. Murtha (LPD 26), was the most complete and lowest-cost LPD when launched, with many key systems finished months ahead of the shipyard's historic best in the program.
Though LPD 28 will be substantially similar to its predecessors, it won't have quite the same appearance. Gone will be the towering enclosed masts that had been built at HII's now-closed Gulfport, MS Composites Center of Excellence facility, in their place will be open masts similar to those on the DDG 51 destroyers.
The 684-foot-long, 105-foot-wide LPD 17 class ships are used to embark and land Marines, their equipment and supplies ashore via air cushion or conventional landing craft and amphibious assault vehicles, augmented by helicopters or vertical takeoff and landing aircraft such as the MV-22 Osprey. The ships support a Marine Air Ground Task Force across the spectrum of operations, conducting amphibious and expeditionary missions of sea control and power projection to humanitarian assistance and disaster relief missions throughout the first half of the 21st century.