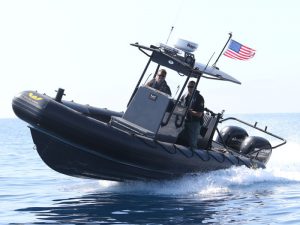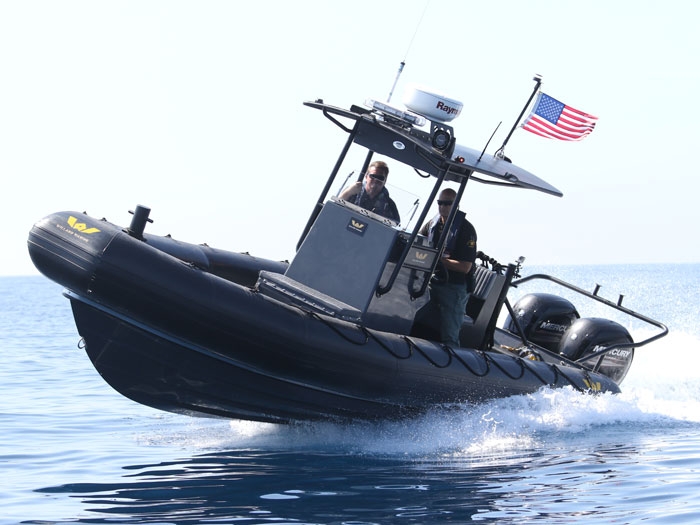 The nearly 24 foot long and 9-foot wide RHIB is designed with a deep-V hull for maximum stability in the roughest sea conditions, and delivers 300 horsepower from twin 150 Mercury four-stroke engines.
The 40-ounce polyurethane WING inflatable collar has reinforced rub-strakes to reduce risk of boat damage upon boarding and stability during weight shifts.
For protection from the elements, there is an aluminum T-top over the ergonomic center console, which features cup holders, a weather-protected laptop compartment, and an aft-folding windscreen that is safe and convenient for one-person crews
Willard Marine designed the Mission Pro 730 based on the 7-meter RHIB it has provided to the U.S. Navy for 35 years.
Interviews with law enforcement and first responder professionals underscored the need for a durable vessel that would withstand the test of time and lower the total cost of ownership, which is what the Navy and other military branches have required of Willard Marine for decades.
As requested in these interviews, the Mission Pro 730 also provides substantial dry storage and multiple options like tow-posts, gun lockers, communications gear, electronics packages, boat colors and graphics.
"For 35 years, Willard Marine has built strong, dependable vessels for American and international militaries around the world," said Ulrich Gottschling, president of Willard Marine. "We are proud to offer first response professionals a genuine mission-proven boat like the Mission Pro 730 that they can depend on for optimum performance and minimal maintenance year after year."
Built to USCG and ABYC specification standards, the Mission Pro 730 can be customized to an agency's unique mission requirements and performance specifications.
Willard Marine is the exclusive builder of commercial vessels originally designed by SeaArk Marine and Crystaliner. Based in California with facilities in Maryland and Virginia, Willard Marine is ISO 9001:2008 certified and the sole American manufacturer of SOLAS rescue boats.