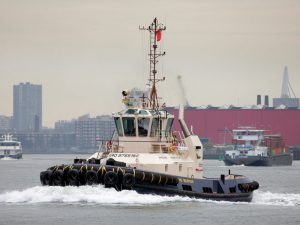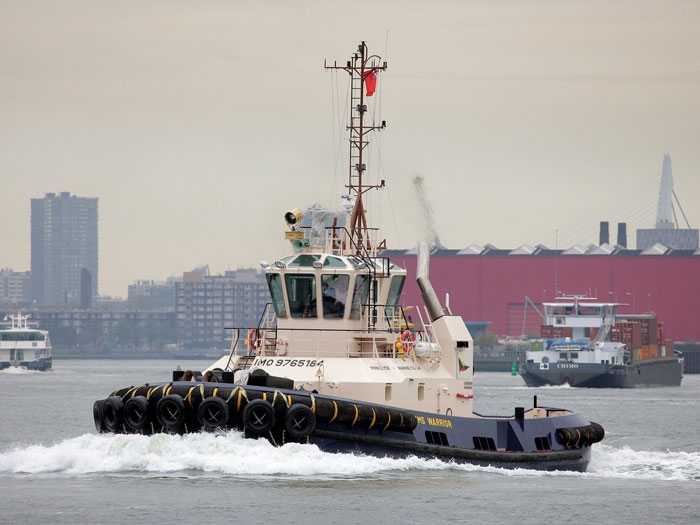 The Damen ASD 2310 has been named CMS Warrior and joins a 12-strong fleet of tugs and crew tenders at the company.  It has a 52-tonne bollard pull ahead. Classed by Bureau Veritas, the new tug has modern and spacious accommodations for six crew.
"Warrior is a highly versatile vessel, suitable for all kinds of jobs, with proven quality. This means the overall total cost of ownership is very reasonable," says Hamish Munro, Director Clyde Marine Services.
Established in 1913, Clyde Marine Services has a long history of working with Damen vessels that dates back to the mid eighties, when the company bought a Damen Pushy Cat. The fleet includes Damen Stan Tugs 1906 and 1907, as well as two Stan Tug 1's.
"We have continually invested in modern tugs. After the Damen Pushy Cat, more Damen vessels followed based on our positive experience," says Mr. Munro.
The company's five harbor tugs service all ports on the River and Firth of Clyde, including Campbeltown. It also has a coastal tug, Bruiser, operating in the Clyde/Belfast/Liverpool area.
Mr. Munro comments that since 1913, four generations of his family have steadily directed and expanded the business into tugs, ferries, passenger tenders, charter cruise vessels, and to provide the vital harbor services of boatmen and riggers.
"Our fleet of vessels provide mooring, boarding and towing services around the clock, assisting ship movements within the Clyde area," he says.
Clyde Marine services' fleet includes six passenger/crew tenders ranging in capacity from 20 to 250 persons. Tendering operations include cruise liners, Royal Navy and Royal Fleet Auxiliary vessels, shipbuilding trials and shiprepair parties.
The company has been providing harbor service boatmen and mooring gangs since its beginnings in 1913. All of the boatmen are fully licensed skippers, examined and certificated to MCA Boatmaster License standard, who assist ships in the most exposed and difficult situations, and during all kinds of weather conditions.