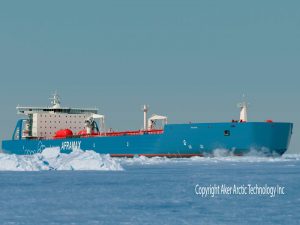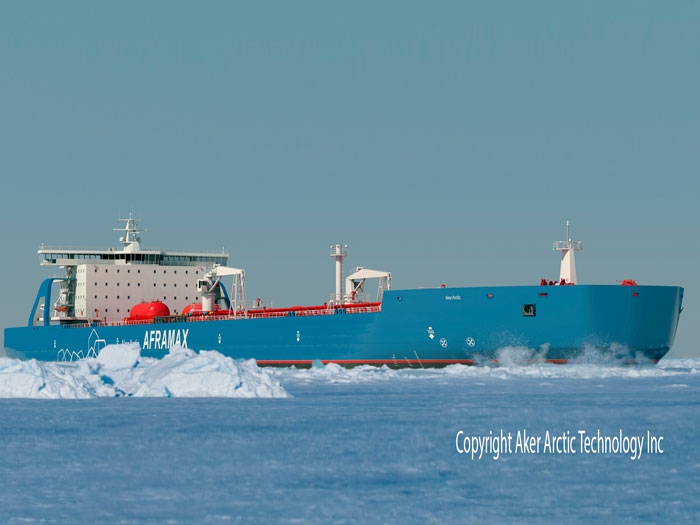 The concept ship combines Deltamarin's expertise in affordable, energy efficient cargo vessels with Aker Arctic's arctic vessel expertise to deliver cost efficient and reliable tanker operation both in open water and in ice.
The Arctic Aframax tanker is intended for crude oil and oil product transports. It is strengthened to ice class PC5 level (equals approximately Russian Maritime Register of Shipping category ARC6) and is capable of continuously breaking thicker than one-meter level ice.
It can operate on the Northern Sea Route during the extended summer months, and with assistance even longer. During the winter months the vessel can operate in other sub-arctic sea areas such as the Baltic Sea or Sakhalin.
Deltamarin's experience in designing cost efficient cargo vessels with track record of hundreds of contracted vessels is utilized in minimizing the newbuilding and operating costs.
According to Deltamarin's Director of Ship Design, Markku Miinala, and Aker Arctic's Project Manager, Riku Kiili, "the design integrates optimized ice breaking and open water performance as well as the latest energy efficiency features applied together with the Polar Code requirements. This unique combination results in an affordable building and improved transport economy by cost efficient operation. The design can be fine-tuned according to the customer's wishes."
The bow and hull shape of the vessel combine the optimum balance of open water performance with icebreaking capabilities. The specially designed hull strengthening improves safety in operations in the arctic waters. The hull is equipped with an Ice Load Monitoring System, which measures ice loads from the hull and provides online support to the officers ensuring safe operations. The system will also help the shipowner in the long term by analyzing the data and creating information for the optimal operations.  The emphasis has also been on winterization for cold climates in all aspects of the concept design.
The vessel is equipped with two CP-propellers and shaft lines directly coupled with slow speed diesel engines. The vessel can also be fitted to run on LNG with dual fuel engines. Further there is a possibility for two bow thrusters and shaft PTO/PTI (Power Take Off / Power Take In) systems.  A special focus has been on developing an improved command bridge, where the new Aker Arctic ARC Bridge Concept was used. The visibility from the bridge is excellent in all directions and good ergonomics including access and passages to command posts is created.
Arctic Aframax 118,000 DWT Crude Oil Carrier
Main Dimensions:
Loa                   266.0 m
Lbp                   258.1 m
Breadth             46.0 m
Depth                22.5 m
Draft, design      14.8 m
Hull and Performance:    
Ice class     PC5/RMRS Arc6 level
Ice breaking capability     1 meter continuous
Economical open water speed     13.5 knots