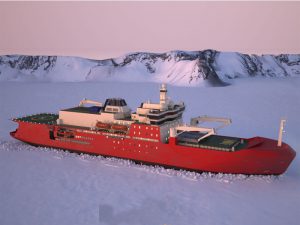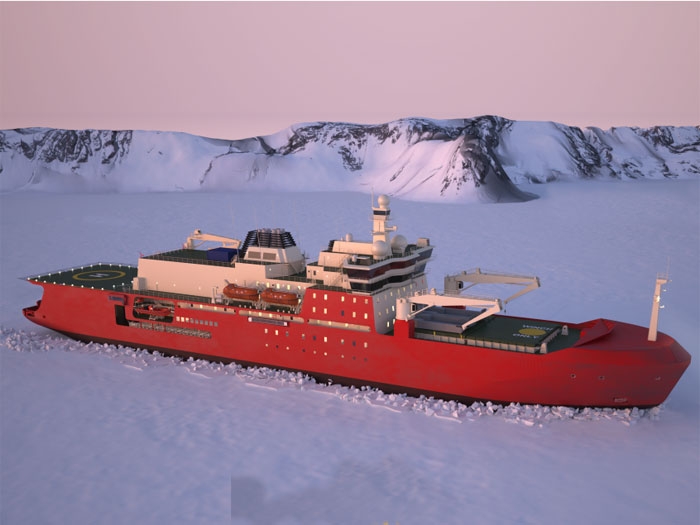 Computer–generated images and video of the new ship were showcased October 29 at an event attended by Prime Minister Malcolm Turnbull MP, at the AAD's headquarters in Kingston, Tasmania.
The icebreaker, designed by Danish naval architect firm, Knud E. Hansen, will be built by DMS Maritime's subcontractor Damen Schelde Naval Shipbuilding at Damen's Galati, Romania, shipyard with commissioning expected in October 2019. DMS Maritime would then operate and maintain the vessel in support of the Australian Antarctic program on a long-term basis.
Replacing the Aurora Australis, which has been in service since 1989, the new icebreaker will be faster, larger, stronger and offer increased endurance.
According to a fact sheet released by the Australian Antarctic Division, the new icebreaker will have an icebreaking capability of 1.65 meters at 3 knots compared to the existing vessel's 1.23 meters at 2.5 knots.
The vessel will supply Antarctic research stations with cargo, equipment and personnel, and will serve as a research ship with extensive laboratory facilities on board and a multi-beam bathymetric echo sounder to enable seafloor mapping,
The vessel is expected to accommodate 34 DMS Maritime crew and up to 116 AAD scientific personnel, and has the ability to embark up to four helicopters, two landing craft and a dedicated science tender. Its physical specification is expected to be 156 m in length and 23,400 tonnes displacement.