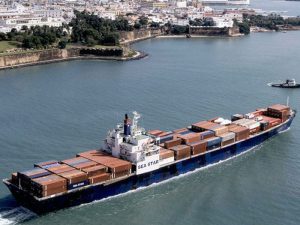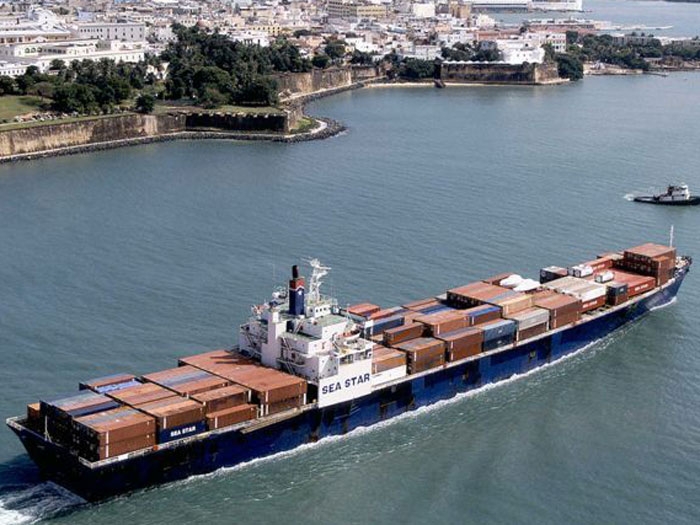 The El Faro, a 790-foot roll on, roll off, cargo ship, departed Jacksonville, Florida, Sept. 29, en route to San Juan.
At about 7:30 a.m. Thursday, watchstanders at the Coast Guard Atlantic Area command center in Portsmouth, VA, received an Inmarsat satellite notification stating the El Faro was beset by Hurricane Joaquin, had lost propulsion, and had a 15-degree list. The crew reported the ship had previously taken on water, but that all flooding had been contained.
No further communications have been received from the vessel
A Coast Guard HC-130 search and rescue crew from Air Station Clearwater, Florida, spotted the life ring 120 nautical miles northeast of Crooked Island, Bahamas. A Coast Guard MH-60 helicopter crew recovered the life ring and confirmed it belonged to the missing ship.
Search and rescue crews have searched more than 30,000 square-miles since Thursday.
Sea conditions in the search area yesterday were reported to be 20 to 40-feet with winds in excess to 100 knots. Visibility for search and rescue flying between 500 and 1,000 feet was reported to be less than one nautical mile at times.
Tim Nolan, President of TOTE Maritime Puerto Rico, issued the following statement regarding ongoing efforts to locate and communicate with the El Faro and her crew:
"This morning TOTE Maritime Puerto Rico's second ship, the El Yunque, and a contracted tugboat reached the area between the last known vicinity of the El Faro and the location that the Coast Guard recovered a life ring yesterday and carried out a visual survey.
"The two vessels discovered a container, which appears to be from the El Faro, and observed what appears to be an oil sheen.
"At this time there has been no sighting of the El Faro or any life boats.
"TOTE Maritime Puerto Rico and the Coast Guard remain focused on the continuing  search for the crew.  The contracted tugs as well as other vessels transiting the area are also keeping a lookout for any sign of the ship.
Our thoughts and prayers remain with the 33 individuals aboard the ship and their families.  They are our number one priority."
A Coast Guard pilot searching for the missing containership, near the eye of hurricane Joaquin, recounts the weather conditions Oct. 3, 2015. The Coast Guard has been searching since Oct. 1, after losing communications with the El Faro.
U.S. Coast Guard video