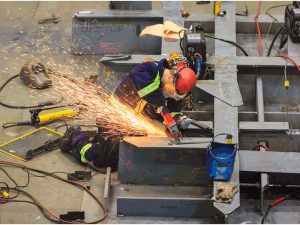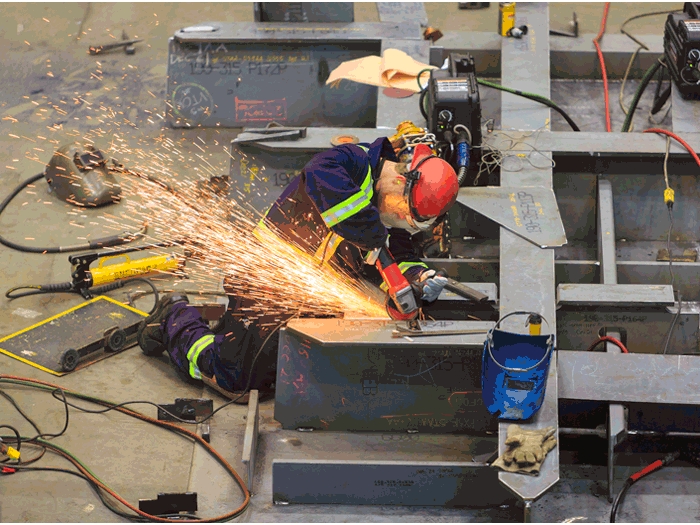 Oil and gas E&P generates billions of dollars worth of business annually for shipyards in the form of newbuilds, conversions, and ongoing repairs and maintenance. With the downturn in oil, however, much of that business has dried up and forced shipyards that depend on the oil patch to rethink their strategy. Many are repositioning themselves to pursue other markets or are undertaking capital investments in their facilities to be more efficient and competitive.
There's no better example than VARD Holdings, one of the world's largest shipbuilding groups, whose portfolio is heavily focused on offshore oil and gas. Amid losses of NOK1.29 billion (about $148 million) VARD said last month it would preserve its core expertise and skilled employee base and use its existing shipyard capacity until an eventual recovery in its core market. Among the areas it was pursuing were the offshore wind and aquaculture markets. It will also work more closely with its major shareholder, Fincantieri, to support the cruise vessel and offshore patrol vessel sectors.
NORTH AMERICAN SHIPYARDS INVEST, DIVERSIFY
While operators in the Gulf of Mexico have cold stacked many of their vessels, Galliano, LA-based Edison Chouest Offshore, one of the world's largest offshore support vessels operators, announced last month that it would invest $68 million in opening a new shipyard in the Port of Gulfport, MS. The shipyard, called TopShip, LLC, will operate at the former Huntington Ingalls Composite Facility, which was acquired by the Port of Gulf Port last March.
The new yard was made possible through an incentive package from the Mississippi Development Authority that would help bring TopShip to the port and create over 1,000 jobs, according to Jonathan Daniels, Executive Director and CEO of the Mississippi State Port Authority—the job creation would prove a significant boost to the local economy.
Lawmakers approved an $11 million package through the Mississippi Major Economic Impact Authority—with $10 million going to discretionary funds and $1 million allocated for workforce training. Additionally, the Port has said it would provide $25 million in Katrina-CDBG funds for infrastructure improvements.
ECO already operates shipyards in the U.S. and one in Brazil: North American Shipbuilding, Larose, LA, LaShip, Houma, LA, Tampa Ship, Tampa FL, Navship in Brazil, and Gulf Ship which is also in Gulfport. Most of ECO's fleet has been constructed at one of its yards.
Having been born in Mississippi, Gary Chouest, ECO President and CEO expressed his gratitude towards the state for the opportunity to provide quality service to its customers, and help the community thrive.
"We are indeed excited about the opportunities to grow TopShip in a business friendly state, one where we can reach out into the community to recruit various skill sets, developing a quality workforce that will allow TopShip not only to compete locally, but also globally," said Chouest. "With the help of the state of Mississippi, we will modify our TopShip facility to become one of the safest and most efficient shipyards in the nation, building Chouest pride for our employees."
Mississippi's VT Halter Marine, too, has seen how investing in its facilities can help business. Over the last 10 years, VT Halter has invested over $100 million to upgrade its three facilities in Mississippi. This includes expanding beyond the newbuild business with a $13 million investment in a new drydock and repair facility back in 2015, the addition of a blast and paint facility; and the purchase of a 76,000 ft2 climate-controlled warehouse.
The investments have not only allowed growth into the repair business, but also made VT Halter Marine more efficient in its newbuild projects, enabling it to meet the growing demands of the increasingly popular Articulated Tug and Barge (ATB) market. Most recently, VT Halter completed the second of two 250,000 bbl ATB units for Bouchard Transportation (see this month's CEO Spotlight); and currently is preparing the delivery of the second of two 130 ft, 6,000 hp ABS class ocean towing ATB tugs for Bouchard.
VT Halter Marine is also currently building two 2,400 TEU LNG-powered combination ConRo ships for Crowley Maritime Corporation's liner services group. El Coquí and Taíno will operate in the Jones Act trade between Florida and Puerto Rico and will offer a 38% reduction in CO2 emissions per container. The ships will be delivered by VT Halter Marine in 2017.
Another yard that has benefited from the use of Liquefied Natural Gas (LNG) as a marine fuel is Conrad Industries. The last few years has seen Conrad Industries, Inc., Morgan City, LA shifting its business approach and diversifying its portfolio—among the shipbuilder's offerings, it builds tugs, ferries, ocean tank barges, liftboats and specialty barges. In 2015 the yard's orderbook received a much-needed boost with new construction contracts, including the history-making construction of the first LNG bunker barge for the North American market.
Currently under construction at Conrad's Orange Shipyard, Orange, TX, the 2,200 m3 capacity bunker barge is being built for WesPac Midstream LLC. Designed by Bristol Harbor Group, Inc., Bristol, RI, and built to ABS class, the barge when delivered later this year will serve TOTE's Marlin class containerships—Isla Bella and Perla del Caribe, both built at General Dynamics NASSCO. Those LNG-fueled ships are already operating in the Jacksonville to Puerto Rico trade.
It was also certified by GTT to construct the special LNG containment system on the LNG transport bunker barge.
The shipbuilder has also broadened its offerings further with the expansion of its Deepwater South facility in Amelia, LA. The 52-acre site has enabled Conrad to build large articulated barge units. Currently there are eight tank barges under construction at Deepwater South—ranging from 55,000 bbl to 83,000 bbl capacity.
Conrad says that Deepwater South will undergo a wide range of improvements this year including the addition of a new fabrication and assembly building—which will allow for the uninterrupted construction of hull modules year round; and a new Panel Line Building—expected to begin operations this April. The Panel Line Building will be equipped with an automated welding system, a stiffener fitting gantry to automate the fit-up of stiffeners on the panels, and an 8-headed automated stiffener welder—allowing for the shipyard to process 350 tons of steel per week.
THREE NEW FAB BAYS
C&C Marine and Repair, Belle Chasse, LA, is focusing on increasing efficiencies to maintain its competitive advantage. The yard recently added three new fabrication bays giving C & C an additional 115,000 ft2 for the construction of boats and barges; and a fabrication area of 230,000 ft2.  
Over the next few months, the yard plans to order two additional transporters (it currently has two capable of moving 600 tons) with a capacity of 830 tons, bringing the total capacity of its transporters to 1,430 tons. This, says New Construction Manager Matthew J. Dobson, will create new opportunities for the yard, and enable C & C to begin taking orders for the fabrication of new 30,000-barrel barges and allow it to transport larger vessels to land for repair projects and paint jobs.
The yard currently has 29 new construction vessels under contract including three 6,600 hp towboats, one 280 ft PSV, one 270 ft cutter head barge, sixteen tank barges and eight deck barges of various sizes.
EXPANDING INTO LARGER VESSELS
Back in 2014, Metal Shark Boats, Jeanerette, LA, was already a successful builder of aluminum vessels, but it had its sights on the construction of vessels up to 90 ft in length and larger, as well as expansion of its portfolio to include steel. It also signed a technology agreement with Damen that would allow it to build offshore patrol boats up to 165 ft in length.
With the development of the new shipyard in Franklin, LA, Metal Shark, now employs 230 workers between its boat yards, and is among the busiest boatbuilders in the U.S., currently producing a number of 38 ft, 45 ft and 55 ft Defiant class vessels and constructing large orders for the U.S. Coast Guard, U.S. Navy and multiple agencies across the U.S. It also delivered a sophisticated 75 ft multiple purpose port security fire boat to the Port of South Louisiana.
EYE ON THE CARIBBEAN MARKET
For St. Johns Ship Building, diversification of its portfolio and the markets it reaches will propel its next evolution. The small shipyard, which has been under private ownership since 2006, recently delivered the first Elizabeth Anne class of towing vessels to the Vane Brothers Company. The tug is the first in a series of eight the Palatka, FL-based yard is building for the operator. At press time the second vessel was in the water and the third was about to be launched.
St. Johns Ship Building's yard sits along the St. Johns River—giving it the unique advantage of being on the East Coast with access to both the Gulf of Mexico and the Caribbean—and its because of its location St. Johns has been able to produce such a diverse portfolio. From OSVs to tugs (a new market for the builder), to coast guard vessels and cargo ships, St. Johns' 100 acre facility and its 150 employees are at the ready to take on any project.
St. Johns Ship Building President Steven Ganoe says that because the yard doesn't solely rely on the oil and gas market it has been able to keep business steady during the downturn in the oil and gas market.
Ganoe says the shipyard is keeping tabs on the Caribbean market to see how it develops in the wake of the easing of restrictions on Cuba travel—and determine how St. Johns can help meet any growing demand in that specific market. In the meantime, the shipbuilder continues to make improvements to its facility—having recently added an 18,000 ft2 assembly shop and a Messer CNC 80 ft table to help make production more efficient.
REBORN AS WORLD MARINE
Earlier this year it was announced that World Marine LLC—owned by the Teachers' Retirement System of Alabama and the Employees' Retirement System of Alabama—had bought all of Signal International's assets including its full service and heavy fabrication facilities in Mobile, AL and Pascagoula, MS.
According to the Chapter 11 plan of liquidation, World Marine is seeking to become a leader in the ship repair and ship construction market.
World Marine assures that its experienced team—led by Dick Marler—can handle all types of vessels, but the company will place a high focus on new construction, and the repair and conversion of ocean going vessels and offshore drilling rigs—serving the energy, government and commercial marine markets.
World Marine's construction and repair facilities include three drydocks—a 22,000-ton Panamax class, a 4,200-ton, and a 20,000 MT heavy lift. The company says its future plans include pursuing the emerging LNG market for the construction of bunker barges and transfer vessels.
NEW DRYDOCK AT COLONNA'S
A decade after the American Civil War ended, Colonna's Shipyard was founded by Charles J. Colonna. Now, 140 years later, the yard continues to operate and develop with the times.
The shipyard currently occupies over 100 acres of land in the Berkley section of Norfolk, VA, and has water access to over 3,000 ft of vessel berthing space and a lift capacity to accommodate vessels up to 850 long.
Colonna's is also home to the largest Travel lift in the U.S.—with a capacity of 1,000 metric tons.
As part of its future improvement plans, Colonna's expects to purchase an additional 25 acres across the street from its main entrance, and add a new floating dry dock.
A few months ago, the Governor of Virginia, Terry McAuliffe, announced that the yard would undergo a significant expansion, with Colonna's investing over $30 million to expand its operations in the City of Norfolk. The expansion would include a new larger drydock, dredging and improvement work to the channel and bulkhead work, and the creation of 51 jobs to the area.
The new floating drydock, which will be named the Charles J., will have a lifting capacity of 11,500 metric tons, an overall length of 595 ft and an inside width of 108 ft. The Charles J. is expected to be fully operational in early 2017 and will accommodate a variety of vessel types including ferries, tugs, barges, containerships, OSVs and several type of government vessels.
Colonna's CEO Tom Godfrey, said the capital investments would "allow Colonna's to continue to provide quality services to both commercial and government customers throughout the region."
NEW DRYDOCKS, AT BAE, DETYENS, BAY SHIPBUILDING
Meanwhile, South Carolina-based Detyens Shipyards recently took delivery of its new floating drydock. Built by Corn Island Shipyard, Grandview, IN, the 400 ft x 108 ft drydock will enable the yard to provide a more cost-effective service to smaller tonnage vessels.  
According to Detyens, in the past, smaller vessels would have to piggy back in the yard's larger graving dock—now with the addition of the smaller dock, it can provide drydock services to vessels up to 11,000 DWT.  The new dock sits along the yard's F Pier, which recently underwent upgrades that included the addition of shipyard services, additional lighting, and dredging of 30 ft.
On the U.S. West Coast, BAE Systems is investing $100 million to build and install a second, larger drydock at its San Diego shipyard. Currently under construction in China, the 950 ft drydock will have a lifting capacity of 55,000 long tons and is expected to support the expansion of the Navy ships homeported in San Diego, which are expected to increase by 20 from 60 to 80 by 2020, according to BAE's Director of Communications, Karl Johnson. BAE Systems is among the leading providers of maintenance and modernization services of the U.S. Navy.
Portland, OR, Vigor Industrial has been aggressively growing its business through the acquisition and merger with several other regional shipyards, including Kvichak Marine Industries, Seattle, WA.
In 2014, Vigor's Portland yard began operating its new $50 million drydock, the Vigorous. It has been consistently booked since, supporting hundreds of jobs and attracting work that could not have previously be performed in the region, according to Vigor's Athena Maris.
Vigorous, with a lifting capacity of 80,000 long tons, is 960 ft long with an inside width of 186 ft and has taken on several repair work projects including the repair work on cruise vessels, and most recently, this past summer, on repair the hull of the multipurpose icebreaker on charter for Shell, the MSV Fennica.
The addition of Vigorous at the Portland yard, enabled Vigor to also reinvest in some of its existing assets. Specifically, Vigor was able to upgrade and transfer one of Portland's drydocks to its Seattle facility. In Seattle, the drydock Vigilant will be used to perform repair work on the recently awarded Structural Enhancement Drydock Availability (SEDA) Projects. There, the U.S. Coast Guard cutters Bertholf and Waesche will both undergo significant structural enhancement work, system upgrades and maintenance.
Beyond that Vigor is placing capital investments efforts on its environmental stewardship—this includes working on a comprehensive storm water management system at its Portland facility and a shallow-water estuary to help increase the survival of young salmon and steelhead trout on their way to the ocean at its Seattle facility.
On the Great Lakes, Fincantieri Bay Shipbuilding (FBS) parent, Fincantieri Marine Group (FMG), has invested more than $33 million in capital improvements to increase manufacturing capabilities at its facility in Sturgeon Bay, WI. FMG is currently in negotiations to acquire additional property adjacent to the shipyard to further expand its serial production capabilities.
FBS has completed its new Pipe/Outfitting Building & New Welding Center and added a new floating dry dock that has a total lift capacity of 7,000 long tons. The versatile dry dock can be sectioned off, with a 216 ft section and a 432 ft section.
It has completed the expansion of its Fabrication Building and has added a new Beveling Plasma Burning Machine, 200-ton Yard Transporter, IMG Micro Panel Line, and 1000-ton CNC Press.
Back in 2012, FBS added a 45 ft x 47 ft "megadoor" to the south end of its Fabrication Building 311 to allow larger vessels to be built indoors and moved outside for launching and a Manitowoc 300-ton capacity Model 2250 Crawler Crane.
FBS employs 600 to 800 full-time shipyard professionals and expands its workforce to 1,100 to 1,200 using temporary and contract workers during the Winter Fleet repair season.
FBS currently has under construction six tugs and seven barges of ATB design. Accompanying photo shows the ATB tug Barbara Carol Ann Moran and the ocean tank barge Louisiana at the shipyard.  As we reported back on February 22, the shipyard has 14 vessels undergoing a wide range of repairs and repowerings for the Great Lakes Winter Fleet.
SAN DIEGO BOATBUILDER GETS BIGGER, GREENER
Vigor, however, isn't the only shipbuilder looking to help the environment. San Diego based Marine Group Boat Works will soon break ground on a $1.5 million green initiative that will see the yard install a solar panel system compliant with the state of California's Solar Initiatives.
The addition of solar power comes during one of the company's most exciting periods, says Marine Group Boat Works' (MGBW) Leah Yam. MGBW, which has two yards in San Diego and one in San Jose del Cabo, Mexico, recently completed a $2.5 million renovation to its deepwater floating docks system, and will install the final set of docks this spring—making it fully ready for in-water repairs on vessels up to 420 ft in length.
Among MGBW's most recent repair and retrofit projects is the $19 million refurbishment of the Golden Gate ferry M.S. San Francisco and the conversion of two high-speed aluminum Sub Chapter K San Francisco ferries for the Water Emergency Transportations Authority.
Beyond its repair business, MGBW is also making a dent in the new construction market. Since launching its new construction division in 2008, the shipyard has increased its employee numbers by about 195%, employing 185 workers. Currently, MGBW has five 60 ft aluminum dive boats under construction for the U.S. Navy—the contract calls for the construction of 16; and most recently delivered the first in a series of steel workboats to Japan—two additional boats are on their way, and twelve are on the production schedule, says Yam.
CANADIAN YARDS INVEST FOR NSPS
The end of 2014 saw the completion of Seaspan's Shipyard Modernization project. Funded entirely by the shipyard, the $155 million project helped transform Seaspan's Vancouver Shipyards into one of the most modern yards in Canada.
The two-year project included the addition of four new fabrication buildings—housing a sub assembly shop; panel shop with panel line; block assembly shop; pre-outfitting shop; paint and blast shop; and Canada's largest (300 tonne) permanent gantry crane.
The expansion was integral to meeting the newbuild project requirements for the Canadian Coast Guard and the Royal Canadian Navy.
Vancouver Shipyards is currently building the first Offshore Fisheries Science Vessel (OFSV) under the National Shipbuilding Procurement Strategy (NSPS) for the Canadian Coast Guard. The 208 ft x 52.5 ft OFSV will help support scientific and ecosystem research critical to the economic viability and health of the region's marine environment. At press time, 30 of the 37 blocks of the OFSV were under construction.
Seaspan also invested an additional $15 million at its Victoria Shipyards, upgrading its facilities with the addition of a new operation center that, according to Seaspan, would help support testing, trails and commissioning new federal vessels.
At press time, there were nine vessels undergoing refits and drydock work at one of Seaspan's yards—including the 94 ft Canadian Coast Guard vessel Siyay with is undergoing a nine-month midlife modernization refit.
Keeping the future in mind, Seaspan is also investing in its workforce. Seaspan employs 1,500 employees across its three shipyards—Vancouver Shipyards, Vancouver Drydock, and Victoria Shipyards.
In 2015, the shipbuilder received a Canada Jobs Grant to develop e-learning tools for its expanding workforce—the goal of the funding was/is to help ensure workers have a common understanding of the shipbuilding processes, practices, and protocols.
Seaspan also recently announced that it plans to invest $2 million over the next seven years to help support teaching and research in the University of British Columbia's naval architecture and marine engineering programs.
At Irving Shipbuilding, Halifax, NS, Canada, the company's $330 million capital investment plan is already paying dividends. Last September, it marked the start of production of the HMCS Harry DeWolf, the first Arctic Offshore Patrol ship (AOPS) for Canada.
The ship is the first of up to 21 vessels that will renew Canada's combatant fleet over the next 30 years under the NSPS.  Irving Shipbuilding has built more than 80% of Canada's current combatant ships. 
Current direct employment at Marine Fabricators in Dartmouth and the Halifax Shipyard is about 900. Over the next two years, the workforce at both sites is expected to rise to 1,600, with over 1000 directly employed on AOPS production.  In addition, total employment at Irving Shipbuilding (all operations) is forecasted to rise to over 2,500 direct employees at peak production of the larger Canadian Surface Combatant vessels that will replace Canada's current fleet of Halifax Class frigates. 
To date, the modernization at Irving Shipbuilding and the AOPS contract have resulted in over $1 billion in spending commitments. 
Meanwhile, one of the oldest shipyards in North America, Chantier Davie Canada Inc., Levis, Quebec, has taken its first steps in the Resolve-Class Auxiliary Oiler Replenishment ship project. The project involves the conversion of a containership into an Auxiliary Oiler Replenishment Ship that will be delivered to the Canadian Royal Navy in 2017.
It also recently completed the refit of four of Canada's heaviest icebreakers, as well as a bulk carrier and is a pioneer in the construction of LNG-fueled ferries.