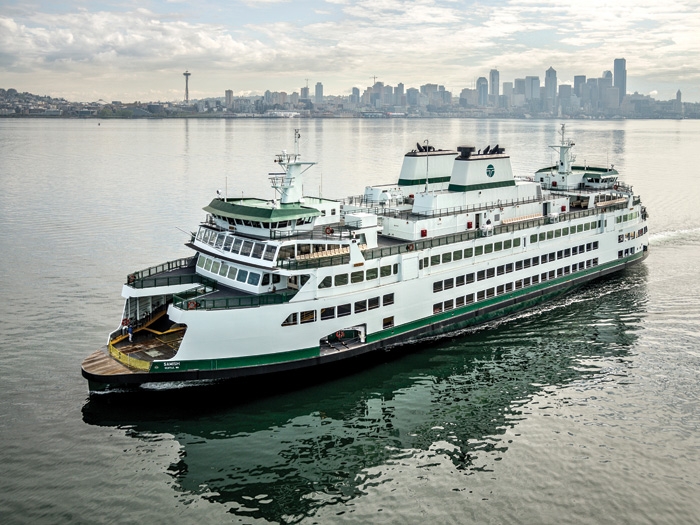 But like many ferry services in the U.S., the SSA's workhorse fleet is aging. The nine vessels in the authority's fleet have an average age of 30 years old. The 60-year-old Governor, which in a previous life served Governors Island in New York Harbor, will be replaced in 2017 by the M/V Woods Hole, a new ferry under construction at Conrad Shipyard in Morgan City, LA. Conrad Shipyard won the tender to build the ferry with a $36,448,000 million bid.
The ferry is designed by Elliott Bay Design Group (EBDG), Seattle, WA, whose name is synonymous with ferry design in the U.S. Besides the SSA ferry project, EBDG naval architects are currently working on the Alaska Class Day Boat, the Fisher Island ferry, and the Staten Island Ferry.
EBDG's Brian King, Vice President of Engineering, says the construction of the new SSA ferry has now reached a significant construction milestone with the launching of the hull.  The hull was launched upside down and then righted while in the water by use cranes. Pre-built superstructure assemblies are now being installed on the deck.
When MARINE LOG visited Conrad Shipyard in August, the Woods Hole had yet to be launched, but its highly shaped bulbous bow was in place.
When designing the Woods Hole, particular attention was focused on ship's planned powering and seakeeping characteristics, as well as efficiency.
King says the ferry is designed to achieve sprint speeds of 16 knots but will more typically operate at 12 to 14 knots.  The ferry's highly shaped bulbous bow was designed to minimize wake and improve fuel efficiency.  EBDG used Computational Fluid Design (CFD) analysis to optimize the hull and bulbous bow design.
The results of the CFD analysis was validated and further optimized in FORCE Technology's towing tank in Denmark.  While there are many fuel efficiency design features, the bulbous bow alone is estimated to provide fuel efficiency improvements of 3% over a conventional bow, according to King. Test results on a custom-made model built by FORCE Technology indicated that the vessel's hull deign will be very efficient, requiring less than 2,500 hp to operate at a service speed of 14 knots, and that the vessel's wake is expected to be minimal, even at speeds of 9 knots.
King says the Woods Hole has been specially designed to carry freight, but is also suited for walk-on passenger and car traffic.  The freight-vehicle deck is designed to carry ten 100,000 lb tractor-trailers with straight through end-to-end loading.  When not carrying a full load of tractor-trailers the freight-vehicle deck can accommodate approximately 55 standard passenger vehicles.  Passenger plus crew capacity is 384.
The Woods Hole is 235 ft long, with a beam of 64 ft, and maximum draft is limited to 10 ft 6 in. at full load due to port restrictions.  For simplified maintenance and crew oversight, passenger accommodations are all on a single deck above the freight deck with seating indoors and outside.  Food service, Wifi, cell service and television will be provided.  Crew accommodations are located on the deck above the passenger deck located behind the wheelhouse, which has been elevated for excellent visibility all around. 
The main propulsion power is supplied by two EPA Tier 3-compliant, 2,680-hp MTU 16V4000 engines connected to Hundested controllable pitch propellers.  Controllable pitch was chosen to allow propeller pitch and shaft RPM combinations that provide excellent low speed maneuvering responsiveness and still provide optimized fuel efficiency at all speeds.
Radiated noise is minimized through use of resiliently mounted main engines and generators and critical grade silencers.
Fuel, oil and waste tanks are all safely isolated from the hull.
Maneuverability and efficiency
King says that special attention has been devoted to fuel efficiency, least environmental impact and low speed maneuvering. For maneuvering and steering, the ferry will be fitted with Becker high-lift rudders located in line with the propeller shafts to improve fuel efficiency.  A vectorable Tees—White Gill bow thruster in combination with the controllable pitch propeller system and high lift rudders will provide the Woods Hole with extremely good maneuverability in a tight quarters.  King says the bow thruster, rudders, and CP system will also allow the ferry to turnaround and accelerate with very little wake wash. 
The Woods Hole is expected to be delivered in May 2016 and enter service in 2017.
New ferry for Texas
When you are driving on Texas State Highway 361, the only way to get across Corpus Christi Channel from Aransas Pass to Port Aransas, is by the Port Aransas ferry. The ferry service runs 24 hours a day, seven days a week. The quarter-mile route typically takes less than 10 minutes across, although peak summer hours may require drivers to wait longer.
Each ferry can carry up to 20 regular passenger vehicles. Combined vehicles, such as a truck towing a boat, may not be longer than 80 feet, wider than 13 feet or taller than 13 feet 6 inches. Single-axle vehicles may weigh no more than 20,000 pounds, tandem axles no more than 34,000 pounds and combination vehicles may not exceed a total of 80,000 pounds.
The ferries are owned by the Texas Department of Transportation (TxDOT), which recently awarded a contract to Southwest Shipyard, Houston, TX, to construct a 28-car ferry. When delivered in February 2017, the new ferry will be the third of a class designed by EBDG. EBDG, which will act as the owner's representative for the project when construction begins this fall, signed a deal with TxDOT in 2014 to provide four years of on-call service. This is the first contract under the service agreement.
Unlike the two previous ferries built to this design and delivered in 2011, the new ferry will be a diesel-electric ferry. It will be classed by ABS and will have a length of 161 feet overall, a beam of 52 feet, a depth of approximately 11 feet and a draft of 8 feet.
Design updates to the interior, including the propulsion system, will translate into a vessel that has greater built-in redundancy and requires less maintenance over its lifetime.
North Carolina DOT looks at adding passenger-only ferry
Meanwhile, North Carolina Department of Transportation (NCDOT) is conducting a Passenger Feasibility Study that could lead to a new passenger-only ferry service between Hatteras Village and Oracoke's Silver Harbor by the summer of 2017. The new service would start with either two 80-passenger ferries or one 150-passenger vessel. The passenger-only ferries would be in addition to the Ferry Division's current car ferry service.
The passenger-only ferry service is seen as a possible way to boost tourism to Oracoke Island, which has seen a 250,000 visitor drop off from its peak of about 1 million in 2007. The passenger-only ferry service will also reduce long lines of autos during the summer for the car ferries. Parking on the island is scarce, too.
The study says the new ferry service would make four round trips per day, carrying 125,000 passengers in the first year at a cost of $15 per round trip. New visitor spending would reach $500,000 in the first year.
By 2020, the construction of permanent docking terminals would be complete and additional passenger-only vessels would be added.
This past summer, the NCDOT Ferry Division held meetings in Oracoke and Hatteras to gather the public's input.
The passenger ferries would drop visitors off directly in Ocracoke Village, where Hyde County would provide tram service around the village and to attractions such as the Ocracoke Lighthouse and the British Cemetery.
"There are a lot of moving parts here, but if they all come together, this could solve a lot of the issues for Ocracoke visitation," says Ferry Division Director Ed Goodwin. "It would ease the backups we have on the car ferry route, and bring more visitors with fewer cars into the village. On the surface, it seems like a win-win all around."
Other solutions are included in the study as well, such as year-round dredging of the now-closed "short" car ferry route, putting more car ferries into service on the current route, or loading more walk-on passengers onto the existing departures. But each of those comes with its own expense and logistical issues.
The Passenger Ferry Feasibility Study being conducted by Volkert Inc., Raleigh, NC, for the state began earlier this year and has included test runs of the possible ferry route, passenger surveys, and meetings with the public and stakeholders. It has also identified the kind of infrastructure and parking improvements that would be needed before service begins. The study is due to be completed by the end of this year.
Staten Island Ferry draws interest
Any time you board the Staten Island ferry at the Whitehall Ferry Terminal in lower Manhattan for the five-mile trip across New York Harbor, you are bound to hear at least four different languages spoken by your fellow passengers. The iconic orange ferry fleet is one of the city's biggest annual tourist attractions, providing a free ride with priceless views of Governors Island, Ellis Island, the Statue of Liberty and the Verrazano Bridge. The New York City Department of Transportation, owner and operator of the fleet, is in the process of developing a new class of boats to replace the 1965-built John F. Kennedy and the 1980's vintage Andrew J. Barberi and Samuel I. Newhouse.
NYCDOT held an industry day on September 16 in New York outlining the project scope, bid process, and development and construction timeline for the 4,500-passenger New Kennedy Class ferries for the Staten Island Ferry. EBDG, lead naval architect on the project was on hand, along with representatives from Conrad Shipyard, Morgan City, LA, Fincantieri Bay Shipbuilding, Sturgeon Bay, WI, Eastern Shipbuilding, Panama City, FL, VT Halter Marine, Pascagoula, MS, Dakota Creek Industries, Anacortes, WA, Leevac Shipyards, Jennings, LA, Vigor Industrial, Portland, OR, and General Dynamics NASSCO, San Diego, CA, and some key suppliers.
The city has received funding of $309 million towards the three boats, which will be 320 ft long by 70 ft, with EPA Tier 4 compliant diesel engines and a Voith Schneider propulsion system. The ferries are expected to retain some of the design elements of the beloved Kennedy Class, while incorporating energy and fuel-saving technologies.
Once the construction contract is finalized in the fourth quarter of 2016, all three ferries must be completed within a four-year time frame.
Expanding East River ferry service
Some of New York Mayor Bill deBlasio's policies and initiatives have been downright forehead slapping. His handling of the homeless and push towards removing horse-drawn carriages from city streets have been baffling. His consideration of tearing up pedestrian plazas in Times Square to reopen up them to vehicle traffic as a means of removing painted topless women from the area is just plain dumb.
But the Mayor should be given credit for announcing the launching of expanded citywide ferry services in 2017 and 2018 that would connect neighborhoods that are "starved of adequate mass transit," in the words of State Senator Michael Gianaris. The expanded ferry services across the East River to Astoria, the Rockaways, South Brooklyn, the Lower East Side and Soundview would run seven days a week and cost $2.75 each way—the same as a city subway or bus. Future service would connect Coney Island and the Stapleton section of Staten Island.
Washington State gets funding for fourth ferry
The good news for Washington State Ferries is that this past summer Washington Governor Islee approved $122 million in the state budget for the construction of a badly needed fourth 144-car Olympic Class ferry.
WSF is building new Olympic Class ferries to replace some of the fleet's oldest vessels. The Olympic Class design is based on the Issaquah class—the same ferries that have been the subject of a proposed midlife conversion to burn Liquefied Natural Gas.
Designed by Seattle-based Guido Perla & Associates, Inc., the Olympic Class vessels have a capacity of 144 cars and 1,500 passengers and are 362 ft 3 in long x 83 ft 2 in wide. Main propulsion is by two Electro-Motive Diesel engines developing a total 6,000 hp and giving the vessels a speed of 17 knots.
Two of the Olympic Class ferries, the Tokitae and Samish, are in service, and a third is under construction at Vigor in Seattle for delivery in 2017. As in the first two ferries, Nichols Brothers Boat Builders, Whidbey Island, WA, is building the superstructure. The fourth is scheduled for completion in the fall of 2018. 
WSF is building new vessels to replace our 1950s-era Evergreen State Class ferries. Nine of 24 vessels in its fleet are between 40 and 60 years old. These older ferries are approaching the end of their service lives and must be replaced with newer ones in the coming years.
New King County ferry starts service
King County's newest vessel, the M/V Doc Maynard, started service on the Vashon route on September 29 sailing from Pier 50.  The ferry replaced her sister ship, the M/V Sally Fox, which is being removed from service for scheduled warranty work.
Both the Sally Fox and Doc Maynard will built by All American Marine, Inc. (AAM), Bellingham, WA. The 105 ft x 33 ft aluminum catamaran ferries are the first U.S. Coast Guard Sub-chapter "K" inspected passenger vessels built and delivered under new guidelines that make it possible for boat builders to design and implement suitable structural fire protection in very low fire load spaces in the construction of weight-sensitive high speed passenger vessels.
AAM partnered with naval architecture firm, Teknicraft Design Ltd., of Auckland, New Zealand for the hull design. The advanced hull shape was custom designed using digital modeling and Computational Fluid Dynamics (CFD) analysis testing.
The hull design is complemented by Teknicraft's signature integration of a wave piercer positioned between the catamaran sponsons to break up wave action and ensure reduced drag while enhancing passenger comfort.
All American Marine is the exclusive builder for Teknicraft Design Ltd. catamarans in North America.
Each ferry is powered by two Cummins QSK-50 Tier 3 diesel engines, rated at 1,800 bhp at 1,900 rev/min and driving twin propellers to provide a service speed of 28 knots.
The ferries also burn a 10 percent biodiesel blend and have LED lighting onboard.
The design features interior seating for 250 with 28 additional outdoor seats available on the upper aft deck.
With traffic congestion on roads and bridges continuing to plague area commuters, King County is also exploring a plan to possibly add ferry service on Lake Washington, something that has happened since the 1950s.
MARINE LOG FERRIES 2015 Exclusive: Tour the new boat
All American Marine is sponsoring a tour of the Doc Maynard at MARINE LOG'S FERRIES 2015 Conference & Expo, set for November 5-6, 2015 at the Hyatt Olive 8 in Seattle. As part of the tour, Joe Hudspeth, Vice President of Business Development, All American Marine and Paul Brodeur, Director of King County Marine Division, will jointly discuss the features and capabilities of the new ferries. Those interested in the tour should sign up early as space is limited. See marinelog.com/events for more details.
-By John R. Snyder, Publisher and Editor-in-Chief