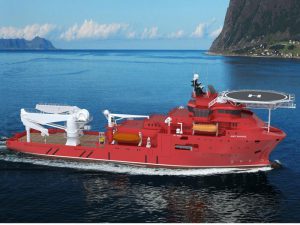 UDS says the order is in line with its strategic plan to spearhead the development and operation of efficient, cost-effective diving and support vessels in the oil and gas industry.
Andy Warhol is planned to be delivered mid 2018 with the second vessel following at the end of 2018. Vessel number two is to be confirmed by end of April 2016.
Norway's Marin Teknikk has entered into a contract with Wuchang Shipbuilding for delivery of design and engineering for both ships.
The vessels are being built to a newly developed MT6023 DSCV design, and will be equipped with an 18 men diving system for operations down to 300 m water depth.
The MT6023 DSCV has been developed for demanding operations worldwide. The vessel will have a length of 103 meters and a breadthof 23 meters, top class accommodations for 120 persons plus 18 divers, two heave compensated subsea cranes, one 150 ton offshore crane with depth capability to 3,000 m water depth, and one 20 ton offshore crane for operation down to 300 m water depth. In addition, it includes arrangement for two WROVs (unmanned remote operated submarines/robots) for operation down to 3000 meters water depth.
Marin Teknikk says it has designed a cost efficient and functional Diving & Construction vessel with high focus on safety for the crew/divers, and following up designing environment-friendly, modern and advanced multifunctional offshore vessels to compete in a market with very low oil and gas prices.
With more than 800 sq.m open work deck area with deck strength of 10 ton/sq.m and a smaller storage on top of dive hangar, the design creates a good platform for the vessels operation and function.
The vessels will be built according to DNV GL requirements, included the new SPS code; DNV GL + 1A1, EO, SPS, DYNPOS AUTR, DK(+), HELDK-SH, COMF-V(3), CLEAN DESIGN, DSV-SAT, DSV SURFACE, CRANE, ICE C, NAUT-OSV(A), BWM-T, REYCYCLABLE.
"I am pleased by the positive response by oil majors and major diving companies to the design of our diving support vessels, and it affirms our company is heading in the right direction to build quality and size-appropriate vessels catered for the market," says UDS CEO Shel Hutton. "The current slowdown in the market allows us time to ensure our designs are optimized and customized for relevance in the oil and gas industry. I am thankful to our partners, and supporters, especially Marin Teknikk, DNV GL, and the shipyard, which have supported the company's vision, and realizing our plans to build these vessels. With these vessels Ultra Deep follows up the company's strategic focus, and will be a spear point in the market."