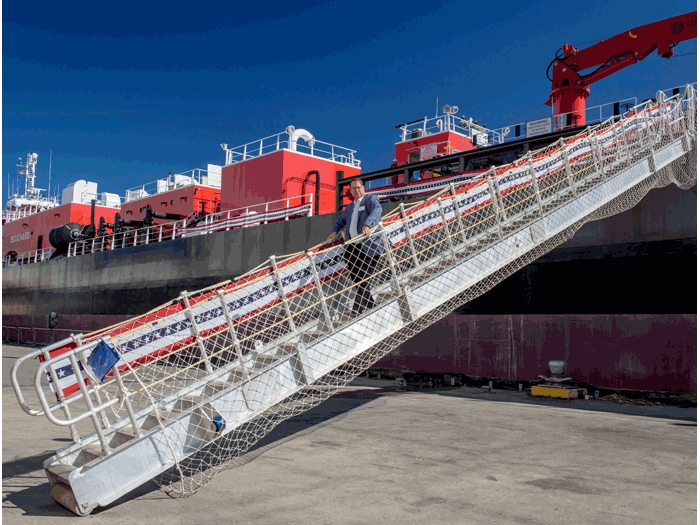 Marine Log: Can you tell us about the founding of the company and how it has evolved over the years?
Morton S. Bouchard III: Bouchard Transportation Co., Inc. was founded and incorporated in 1918 by my Great Grandfather, Captain Fred Bouchard.
Capt. Fred Bouchard became a tugboat Captain at the young age of 14. In 1916, while on watch, the Black Tom explosion occurred on Staten Island, and Capt. Fred maneuvered his tug and pulled ammunition scows out to safety. He was blown out of the wheel house on two occasions, but continued to pull the scows to safety. For his heroic actions, he was awarded salvage money from the state and federal government; and with those funds he bought a coal scow, lived and worked the scow, and created his own company, Bouchard Transportation Company, which was incorporated in 1918.
In 1931, Capt. Fred acquired Bouchard's first oil barge, a sunken 15,000-barrel vessel, which he purchased for $100. After raising this vessel in Jacksonville, FL, he towed it to a Norfolk, VA, shipyard where it was converted to a hot oil system, oil barge. From there it was towed up to NY Harbor, signifying Bouchard's first of many vessel purchases and construction projects.
The company was passed on to my grandfather, Morton ("Buster") S. Bouchard Sr., who continued to grow the company, then was passed on to my father, Morton S. Bouchard Jr., and then on to me. The philosophy has not changed for four generations: Work hard, do not take anything for granted, take care of your customers, and invest the profits into new more modern equipment, and maintain our existing equipment to the highest standards possible.
Sometimes I sit back and wonder about what all three of them (Capt. Fred Bouchard, Morton S. Bouchard Sr., and Morton S. Bouchard Jr.) would think, as the company has grown beyond their imaginations, and will hopefully continue to grow as the 5th generation, Brendan J. Bouchard, becomes more involved.
ML: When did you first begin working at the company?
MB: I began working at Bouchard when I was 19, a sophomore in college. I worked in the shipyards and our outside office. The following summer I worked on the vessels, and the summer after that I was a night dispatcher, filling in for the night staff vacations. When I graduated college, I was a dispatcher, but was also attached to my father's hip. I was with him for every meeting and important phone call. I became President at the age of 32.
ML: One of the major regulatory challenges for petroleum marine transportation companies was the enactment of the Oil Pollution Act of 1990. Tell us how Bouchard addressed that challenge.
MB: OPA 90 changed our industry in every aspect. When OPA 90 was passed, my father and I had a meeting, and he had the entire bill with him. He asked me if I had read it, and I told him no – not the entire bill, but the most important segments. He was very upset, and felt that Bouchard should sell. After a lengthy discussion, which was mostly listening on my part, I finally got my father to realize that 1990 was the year that we would need to decide what our next business plan would be for the company. From this conversation, I finally convinced my father that we should build double hulls, and be the first company to invest in double hulls, which we did. Bouchard was the first to build double hulls (1992 & 1993), and continues to be the leader in double hulls. All of Bouchard barges are flat deck double hulls, we do not believe in trunk deck barges, and feel that the trunks should not be allowed to carry petroleum, for the trunks are not double hull.
OPA 90 also increased the awareness of safety for trained crew members, as well as shoreside personnel. I continuously tell all of our employees that we cannot be profitable unless we are safe, and we must give every employee the resources needed to be safe.
ML: One of your latest deliveries was the 10,000 hp/250,000 bbl Articulated Tug Barge Donna J. Bouchard and the B. No. 272. Those vessels are some of the last under a major investment in renewing and expanding your fleet. Tell me about your fleet expansion?
MB: Bouchard and Halter have enjoyed a relationship for over 40 years. The management of Halter has changed over those years, however Bouchard and Halter continue our relationship.
The latest expansion program involved two units, M/V Kim M. Bouchard & B. No. 270, and the M/V Donna J. Bouchard & B. No. 272. We felt that there was a market need for vessels of this size, and that ATBs are more economical than ships, and just as safe. We started studying various capacities. We were originally targeting 350,000 bbl and 15,000 hp tugs; however, after many meetings and discussions with our customers, and possible future customers, we decided to scale the size down to 250,000 BBLs & 10,000 HP, which proved to be a smart decision. These two new units bring Bouchard's fleet to three units this size, all flat deck double hulls: M/V Danielle M. Bouchard & B. No. 245, M/V Kim M. Bouchard & B. No. 270, and M/V Donna J. Bouchard & B. No. 272.
Bouchard also contracted to build two 6,000 hp Intercon Tugs with Halter; M/V Morton S. Bouchard Jr. & M/V Frederick E. Bouchard, and contracted with Bollinger to convert the B. No. 210 & B. No. 220 to Intercon barges with segregated ballast. The B. No. 210 & B. No. 220 were two of the first double hull barges Bouchard built, and were wire barges. Upon the completion of their conversion, I am very proud to say that Bouchard's entire fleet above 60,000 BBL is flat deck, double hull, Intercon ATBs that range in capacity from 55,000 BBLs (B. No. 250 only 1), then 80,000 BBLs to 250,000 BBLs. No other company has such a modern and safe fleet.
ML: Quality, safety and the environment are clearly issues that are of primary concern to Bouchard. How are those issues addressed in the corporate culture and corporate policy?
MB: Quality, safety, environment, and crew safety are Bouchard's highest priority. Every employee at Bouchard knows that safety is our highest priority. As I mentioned earlier, Bouchard cannot be profitable unless we are safe. This philosophy is practiced every day, 24 hours, 365 days a year – no exceptions. Every captain in Bouchard's fleet knows that they have the authority to put the operation on hold if they feel the safety of the crew and vessel is being jeopardized. For example:
If they feel the crew is fatigued, they have authority to halt operation, or anchor until the crew gets rest.
If the captain feels that an employee is not properly trained to do his or her job, he or she has authority to place the operation on hold until a properly trained crewmember arrives.
If a captain feels the weather, or any other condition is not safe, he or she can halt operation.
If an employee gives the captain any issues regarding his decision to pause an operation, the captain has full authority to shut down, and wait for their direct vessel supervisor to speak with them.
When it comes to the safety of the crew and fleet, Bouchard employees know all decisions will have my full support. Safety is the most important policy at Bouchard.
ML: Tell our readers about Bouchard's work with SUNY Maritime. How did that relationship come about?
MB: Education is of vital importance at Bouchard. It is very simple, the more educated our employees are, the safer we as a company will be. A major aspect of education is simulator training.
New York Harbor was always the home of a simulator, and it was relocated to Houston. When I became aware of this, I was upset with myself for not being aware of it. After speaking with various other companies, I decided that a simulator was needed for ocean going tug & barges. I wanted a simulator that could be used by Bouchard employees, but also by the cadets to learn tug & barge operations while enrolled at school. After several meetings with my dear friends at SUNY Maritime, Bouchard made the proud decision to build the Morton S. Bouchard Jr. Tug & Barge Simulator, which can be used for cadets, Bouchard employees, as well as other companies.
Bouchard's commitment to this simulator is not one and done, it entrails yearly upgrades to the software, and the simulator itself. We just recently upgraded the software to include tractor tugs, and ship docking, all funded by Bouchard.
This type of commitment just enforces our corporate philosophy that there is no budget for safety and proper training, and safety is our number 1 and top priority.
ML: What would you like the legacy of the Bouchard brand to be?
MB: Bouchard's legacy should be recognized for the following:
Bouchard is always an excellent partner to the communities we operate in.
Bouchard always does what is required to be a good corporate partner to all customers, venders, and communities.
Bouchard always maintains our vessels to the highest industry standards, and reinvests profits in new more modern equipment
Bouchard takes care of all employees, and their families
Simply, Bouchard will always try to make the right decision for the benefit of our employees, customers and the community