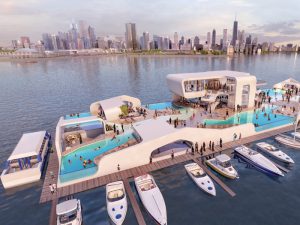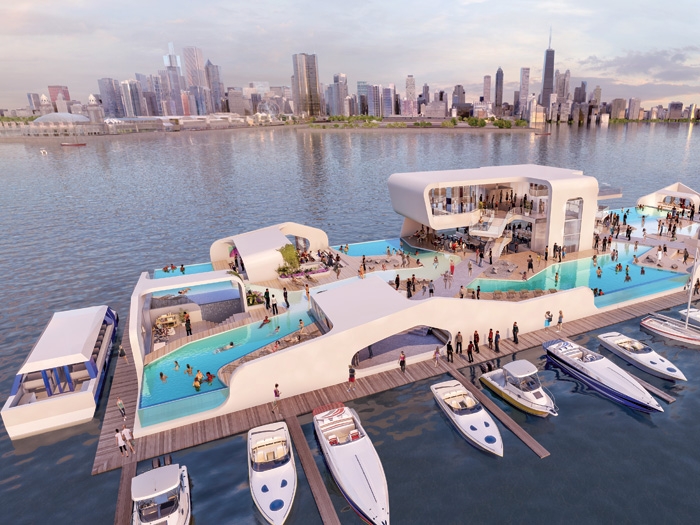 The goal is to create a one-of-a-kind floating island that will be the go-to destination for boat passengers on Lake Michigan. "I have family that lives in Los Angeles and sails out to Catalina, where they can enjoy a nice lunch and a glass of wine, and still be back in LA that night," explains D'Arcy. "I caught myself saying, 'Why don't we have a Catalina in Chicago?'" That, says D'Arcy, was the moment the light bulb went on and the wheels were set in motion for the creation a floating island that would serve as a remote boating destination featuring swimming pools and restaurants on board.
Breakwater Chicago will be a 300 ft by 100 ft USCG regulated Subchapter H passenger vessel on a barge-type platform that will safely accommodate about 2,700 guests and 300 staff members. As D'Arcy tells Marine Log, the floating island will offer guests a "portfolio of entertainment options, including three restaurants, spa, shops, swimming pools, sunning decks, lounge, private club and event spaces."
The island, which will be reachable by boats, will offer dock spaces for those who own and operate their own vessels; and for those who don't, a water taxi will be made available to reach the island.
And for those wondering how Breakwater Chicago will deal with the region's harsh winter weather, the company plans to have the Breakwater Chicago tugged in and attached to the shore. This, assures D'Arcy, will enable guests to walk directly on and off the island while the lake is frozen. He adds, "The entire vessel will then be enclosed in a clear dome, thus allowing our venue to continue providing a summer-like experience even when the outdoor temperatures plummet below freezing. Inside the dome, guests will be able to lay out at our pools, work on their suntans, enjoy a beverage and the beautiful view, and feel like they've escaped from the "Chiberian" winter, even if just for a short time. As crazy as this sounds, similar dome materials and construction have been installed on the new football stadium for the Minnesota Vikings and several other NFL stadiums have similar plans in progress."
From Concept to Construction
To make the Breakwater Chicago a tangible reality, D'Arcy created a Kickstarter Campaign in 2014. The campaign more than doubled its original goal, and was successfully funded by more than 700 backers donating over $60,000. Now, $60,000 is just a drop in the bucket when you consider the project could amount to $23 million, but the campaign helped generate buzz for the project and got the ball rolling.
This project won't mark the first time a barge has been used for creating a communal entertainment space. Seven years ago the Floating Pool lady, a barge featuring a pool was moored on the East River, creating a splash in the NYC area. The original Lady still sits on the river, most recently at Barretto Point Park in the Bronx, NY, providing free pool access to an underserved community. New York also has plans to further its floating pool endeavors, with a "Plus Pool" a possibility in the future.
That spirit of creating and giving back to the community is what D'Arcy is after. For Breakwater Chicago, D'Arcy hopes the floating island will enchant the community as much as the city of Chicago enchanted him as a kid.
"I grew up in the suburbs just outside of Chicago, in a small town called Plainfield, but my dad worked in the city," says D'Arcy. "When I was a kid, my mom, sister and I would take the train to the big city to visit my dad, and go to staple Chicago attractions. There's just something special and enchanting about Chicago and I realized that at an early age."
"As the idea behind Breakwater Chicago began to take shape, it was suggested to me that Breakwater could become another iconic feature for Chicago. That was a wide-eyed moment for me personally; to think that a kid from Plainfield, IL, could do something at that level," says D'Arcy.
To give back, the company has formed the Breakwater Sustainability Committee made up of local experts to ensure that the floating island is as efficient and sustainable as possible.
Its sustainability plan is broken down into six different agendas:
Help control nutrient levels in the waters of Lake Michigan
Highlight water conservation techniques and technologies
Utilize renewable energy wherever possible to reduce fossil fuel consumption
Follow LEED standards wherever possible to ensure efficient design
Employ energy-efficient technologies and systems inn all facets of design
Create a recycling program that pushes past the traditional blue bins
The goal for Breakwater is: to design, build and operate the vessel in the "most efficient, sustainable, and environmentally friendly manner possible." To that end, the company has called upon project management firm Projx Construction Group and has asked Seattle-based Elliott Bay Design Group to lead its naval engineering team. EBDG Project Manager Mike Complita, PE says the project is a unique and fun one, with a great customer. "We are enjoying the dynamic and creative nature of this project," he adds.
According to D'Arcy, EBDG is working on converting its conceptual design, which was developed by local architectural firm, Space Architects + Planners, into a full set of construction plans. Once that's in place, a yard will be chosen and construction is expected to begin in early 2016.
After the Breakwater Chicago is complete, delivered and operational, D'Arcy believes the floating island concept could be replicated elsewhere. "Our company is excited to deliver the first 'floating island' of its kind in Chicago, but we definitely have ambitions to replicate our business model around the world," adds D'Arcy. "The second Breakwater vessel will likely be overseas, but we have not yet determined which city. There are lots of great, water-based cities in all parts of the world, so we'll have some fun but difficult decisions to make on our growth strategy in the coming months."
To learn more and stay up-to-date on Breakwater Chicago's progress visit: www.breakwaterchicago.com
—By Shirley Del Valle, Managing Editor