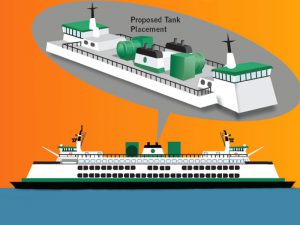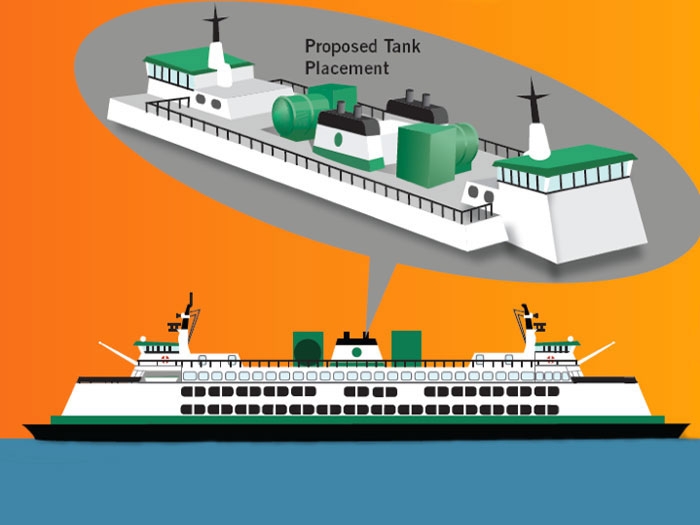 The U.S. Coast Guard recently issued a notice in the Federal Register that it would review a proposal by Washington State Ferries (WSF) to modify its marine terminal operations to handle Liquefied Natural Gas (LNG). The LNG would be used to fuel its six Issaquah Class ferries. Last year on June 27, the Coast Guard Sector Puget Sound had received a Letter of Intent (LOI) and a Waterway Suitability Assessment (WSA) from Washington State Ferries to modify their marine terminals to handle LNG.
In accordance with regulation and policy guidance, the Captain of the Port (COTP), Coast Guard Puget Sound Sector, in cooperation with key stakeholders, will review and validate the information in the WSA. Once the COTP reviews the WSA, he will issue a Letter of Recommendation to the Washington Department of Transportation recommending the suitability of the Puget Sound waterways that will be used for LNG marine traffic as it relates to safety and security. Public comments received last November regarding WSF's proposal will be considered in the development of the COTP's Letter of Recommendation. Some of the comments received expressed concern about the exposed location of the LNG tanks on the top deck of the converted ferries and how they could potentially pose a security threat. Other comments thought that LNG poses a pollution threat to the environment. The Coast Guard will examine WSF's Emergency and Operations Manuals covering the LNG transfer system and transfer procedures.
Proposed conversion
Once WSF receives the Letter of Recommendation from the Coast Guard, it will be able to move forward with the retrofit of the first Issaquah Class ferry, which will serve as a proof of concept for the remaining vessels in the class. The diesel-powered ferries carry about 1,200 passengers and 124 vehicles.The state's ferries, says WSF, are the largest single source of marine carbon emissions in the state. It expects to cut CO2, particulate matter, SOx, and NOx emissions significantly with the use of LNG s a marine fuel. The WSDOT also expects to reap some cost savings, although the picture is not as compelling as it was last year when oil was at $100 per barrel.
During testimony this past January before a State Senate Energy, Environment and Telecommunication Subcommittee, Lynne Griffith, Assistant Secretary of Transportation, Ferries Division, said there would be a $1 per gallon savings when burning LNG as compared with burning Ultra Low Sulfur Diesel. WSF burns about 18 million gallons of fuel annually. The cost of fuel now represents about 23 percent of the Fiscal Year 2013-2015 operating budget as compared with 11 percent in Fiscal Year 2000-2001. Any ferries that would burn LNG would have to be refueled by tanker truck every seven to 10 days.