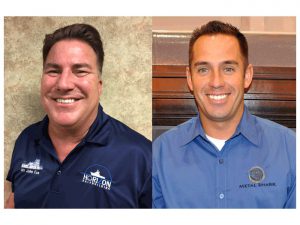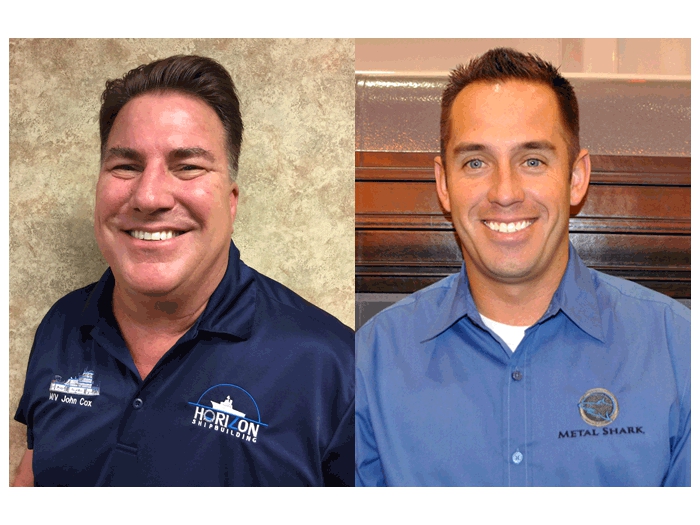 In the months following Hornblower's selection by New York City as the operator of its new Citywide Ferry Service, speculation was rampant as to what shipyard or shipyards would be able to build the fleet of 19 ferries in less than a year's time. Many of the traditional passenger-only ferry builders in the U.S. were fully booked or declined to tender an offer because of what one shipbuilder called "an impossible delivery schedule."
When we broke the news in early July of the award of the boatbuilding contracts, the two Gulf Coast shipyards to emerge as the winners were Horizon Shipbuilding and Metal Shark Aluminum Boats. The selections caught many outside the marine industry by surprise because neither yard had built a passenger-only ferry to date.
One, Horizon Shipbuilding, is situated in Bayou La Batre, AL—the heart of the shrimp boat business. While the other, Metal Shark Aluminum Boats, is headquartered in Jeanerette, LA—known as "Sugar City" because of its local sugar cane crop and sugar processing mills.
While the selections might have raised some eyebrows among the general public, both yards have carved out impeccable reputations for meeting challenging production schedules for constructing boats and vessels in series for government and commercial customers. Both have a highly skilled, core workforce; both count the U.S. Navy and U.S. Coast Guard among their customers; and both are owned by confident, forward-thinking entrepreneurs.
Horizon Shipbuilding's Travis Short
Travis Short, Owner and President of Horizon Shipbuilding, knows his shipyard can deliver. He points out that the shipyard built 40 vessels in a 20-month timeframe for a commercial offshore oil customer. Those boats, by the way, just so happen to be the same tonnage as the 149-passenger Citywide Ferry catamaran vessels.
He also cites a contract that Horizon Shipbuilding won to build ten 10,000-gallon-capacity oil barges after the Deepwater Horizon disaster. The barges were to be used in the cleanup in the Gulf and the shipyard had one month to deliver them.
"Our key people have been with us for a long time," says Short. "They know how Horizon Shipbuilding operates. Building boats is what we do."
The Gordhead Factor
A graduate of the University of Southern Alabama with a Bachelor of Science in Business Administration, Short started Horizon Shipbuilding in 1997 with his father, Travis Sr. While Short is fully confident in the ability of his core workforce, five years ago he felt that they could be more productive. "We weren't doing poorly," says Short, "but we just weren't getting any better." Short wanted to make improvements in workflow, reporting and resource management. That's where he got the idea for Gordhead management software.
"We wanted to start by giving access to more information," says Short. "With Gordhead, we created a software platform that brings together all of the information."
Gordhead is an app that can be used on your mobile device. By using a modular-based system, it syncs with existing enterprise resource planning, scheduling and timekeeping software to provide project transparency and promote collaboration between production managers and workers.
"It's all about better communication," says Short. He says the use of Gordhead by management has allowed Horizon Shipbuilding to share information throughout the day on projects and do away with daily production meetings. Shorts says that what often holds up any production process is that someone is waiting on an answer before he can proceed with his work. "Gordhead wipes that out. It raises the level of communication, allowing the time for decision-making to get shorter. It gets rid of bottlenecks." The software also allows greater transparency for an owner to check on the status of the construction of his vessel.
Cameron Clark, VP and GM, Hornblower NY, cited the use of Gordhead as one of the factors in selecting Horizon Shipbuilding as one of the builders for the NY Citywide Ferry project. Clark says the use of the Gordhead management software will allow Hornblower to stay connected with the team on the ground 24/7 and ensure the project stays on schedule.
Located about three miles from Mobile Bay, Horizon's facility is made up of a West Yard and Main Yard, with nine steel buildings for steel and aluminum fabrication and construction. The construction and outfitting of modules and vessels is mainly performed in two 175 ft x 50 ft buildings. Horizon Shipbuilding also uses a huge 660-ton Travelift for the transfer and launch of vessels.
The key piece of the fabrication process is the ALLtra Model PG14-12 Shape Cutting Machine, which is a CNC-controlled gantry designed for cutting complex shapes for sheet or plate materials. It is capable of producing parts at high speeds and close tolerances and was used to cut precise jig patterns, allowing for innovative ways of rapid hull construction for the ferries. The machine is easily configured for plasma or oxy/fuel shape cutting processes and can be customized for special applications. Horizon's application utilizes the Hypertherm HPR260 plasma cutter controlled by the Burny 10 LCD shape cutting motion controller using MTC ProNest 8 nesting software.
The current workforce at the shipyard is about 300, with about 125 of those dedicated to the New York ferry project.
The NYC Ferry Design
Designed by Incat Crowther, the new catamaran ferries will be 85 feet 3 inches long, with a beam of 26 feet 3 inches, and draft of 3 feet 4 inches. The ferries will also feature plenty of charging stations for the connected crowd, concessions, Wi-Fi and a space for up to 19 bicycles on board.
Each vessel will use two 803-hp EPA-compliant Tier 3 Baudouin 6M26.3 P3 main engines to help reduce diesel emissions and noise. Incat Crowther's innovative hull design will help limit wake and maximize fuel efficiency, and the ferries will primarily be built out of aluminum further increasing fuel efficiency.
Each boat is expected to carry at least 149 passengers (some could have higher capacities). The vessel's main deck will have seating for 123 passengers plus space for four wheelchairs and four strollers. The upper deck will seating capacity for 42 passengers.
"We are going to start out with a five-day-a-week schedule," says Short, "and adjust if necessary. It is an ambitious schedule, but we'll start delivering boats on their own bottoms starting in the early spring and finishing in the late spring.
"While these are the first catamaran ferries we've built," he continues, "they are not the first passenger boats. We've delivered high-speed crewboats for Mexico and West Africa."
Of course, the New York ferries aren't the only game in town. Horizon also has five repair jobs in the yard, including river inland towboats, a research vessel, and 130 ft yacht.
It is also building two 100 ft x 40 ft escort tugs for McAllister Towing, New York, NY. Based on a design by Jensen Maritime, Seattle, WA, the steel-hulled tugs will be ABS classed and fitted with Caterpillar 3516E Tier 4-compliant main engines, driving Schottel SRP4000FP propulsion units. The tugs are to be delivered in early 2017.
Bold Plan, Bold Choice
New York Mayor Bill de Blasio's plan to create the citywide ferry service—at a cost of $325 million—is a bold reimagining of the city's future public transportation. The Mayor thinks that the ferry service when up and running would carry an estimated 4.5 million passengers in a year. All of the new ferries would be in service by mid-2017. At $2.75 per ride the ferry service would be affordable for the average New Yorker. The new citywide ferry service would be a crowning achievement for the Mayor just months before he stands for reelection in the fall of 2017.
Metal Shark's Chris Allard
The choice of Metal Shark Aluminum Boats as the other shipyard to build the new ferries is a bold one, too. Metal Shark is owned by Chris Allard and Jimmy Gravois. A Long Island native, Allard joined American Marine Holdings after graduating from the prestigious Webb Institute. He later partnered with Gravois, owner of Gravois Aluminum Boats, to acquire Metal Shark in 2006.
Ten years later, Metal Shark has emerged as a premier builder of aluminum military craft for all of the branches of the U.S. military—Navy, Coast Guard, Air Force and the Army.
All of those boats are built at what Allard calls the Jeanerette "boat production facility" because it delivers almost a vessel on a daily basis. Back in 2011, Metal Shark grabbed headlines when it was awarded the contract to replace the U.S. Coast Guard's aging Response Boat-Small (RB-S) fleet. The nearly $200 million contract of over 470 boats, was the largest of its kind ever awarded by the Coast Guard.
In 2014, Metal Shark took the next step in its growth with the acquisition of a 25-acre waterfront tract in Franklin, LA, a short drive from the company's headquarters in Jeanerette. Located on the Charenton Canal, the Franklin yard, says, Allard, is designed for shipbuilding and provides direct access to the Gulf of Mexico. Recent deliveries include 90- and 75-foot catamarans and 60- and 50-foot catamarans. The Franklin yard has also built some 45-foot patrol boats.
Allard sees the New York City ferry contract as a springboard into growth into the commercial vessel market. "We've been primarily known as a military and government contractor," says Allard. "This contract is part of a major company diversification." In the coming months, Allard expects to announce a number of commercial contracts to build its largest vessels yet. The Franklin facility has enough capacity to build multiple vessels of 200 feet in length.
Engineering company at heart
"We are really an engineering company at heart," says Allard. It says the company leverages technology, such as robotics, CNC cutting, bending, CAD software systems to stay focused on production efficiencies, controlling costs and producing quality products for the customer. These same engineering processes can be seen in the sheet metal, automotive, and aeronautical industries.
As for the New York City ferry contract, Allard says Metal Shark secured the business "the good, old fashioned way." Allard says, "We've been working with Hornblower for more than two and a half years providing them the information and the tools they needed to secure the contract. We also showed them how we could replicate our building processes to construct the ferries."
Metal Shark currently has about 200 workers between its two shipyards and might ramp up "a little," says Allard. The company will also be able to shift some of the labor pool from one facility to the other based on project demand.
The Franklin yard is also benefitting from a Small Shipyard Grant from the U.S. Maritime Administration for $582,410, which will be used to acquire portable shelters and marine transporters.
"We were able to cut metal within 10 days of signing the contract," he says. "We do most of our design work in-house with its naval architectural staff—but for the New York City ferry project, the design is owner-furnished from Hornblower. We are working on the same design as Horizon Shipbuilding in order to make the boats as absolutely identical as possible."
According to Allard, Metal Shark (and Incat) are participating in a limited usage of Gordhead at Hornblower's request for sending and receiving technical clarifications during the design phase of the project in order to minimize differences in interpretation of design clarifications by the two builders. He says that Metal Shark has its own advanced software, tools and processes for project management, engineering planning, production coordination and customer communications.