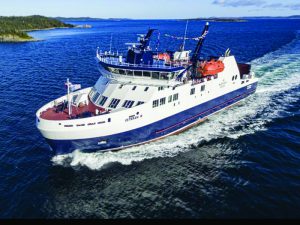 MV Veteran, 80m Ice Class Ferry
Delivered this past October by Damen Shipyards Galati, Romania, the RoPax ferry MV Veteran is built to handle the tough environment of the Arctic region. The 200-passenger vessel was designed to operate specifically in icy waters by a partnership comprised of Fleetway Inc., for the Government of Newfoundland and Labrador, and Denmark's Knud E. Hansen.
The MV Veteran can handle 40 cm-thick floating ice at 4 knots, says Jan van Hogerwou, Damen Manager, North America. The ferry's "rudders, hull and propellers have been strengthened and are outfitted with extra plate thickness for heavy winter conditions."
Three MTU 16V 4000M23S engines generate 1,700 kWe, 400V, at 1,800 rev/min. The emergency genset is provided by one Volvo D16 engine generating 440 kWe 440V, at 1,800 rev/min. Its propulsion set is made up of two 1,600 kW Rolls-Royce azimuth thrusters, Electric Drive, and two 2,600 mm ice strength fixed pitch propellers.
And while the vessel was built in Romania, its very much a Canadian product, with several Canadian companies providing services for the vessel, with products including electrical equipment to fire-fighting systems.
MV Veteran has roll-on, roll-off capacity for 60 vehicles, is 80.9 m long with a beam of 17.2 m and can operate at a cruising speed of 14 knots.
The first in a two-vessel contract, the Veteran, and its sister ship the MV Legionnaire, are part of a large "lifeline" vessel replacement program being undertaken by the Provincial Government to modernize its fleet. The fleet transports over 900,000 passengers, 400,000 vehicles and 20,000 tonnes of freight with more than 50,000 arrivals and departures every year.
MV Veteran is class by ABS +A, Vehicle Passenger Ferry, Ice Class 1AA, Near Coastal, Voyage Class II, E, +AMS, HAB+, ACCU GP.
Product Director at Damen Ferries, Henk Grunstra, acknowledges that the Ice Class 1A Super certificate in the highest available for ferries. He also says the vessel has redundant systems in place for safe operation.
MV Veteran features 127 seats in the forward passenger lounge, 88 seats in the aft passenger lounge, 15 single crew cabins.
---
The Sally Fox, 105 ft fast ferry

Last April, a new foxy lady on the Puget Sound made her presence felt. Built by All American Marine, Bellingham, WA, the MV Sally Fox, is the first of two new ferries ordered by King County's Marine Division. The vessel is also the first ferry to be built under the U.S. Coast Guard's Sub-Chapter K rule, and delivered under the new 5A Space Performance Guidelines issued.
The 5A Space Performance Guidelines make it possible for a boat builder, such as All American Marine (AAM), to design and implement suitable structural fire protection in very low fire load spaces in the construction of weight-sensitive high-speed passenger vessels.
The 105 ft x 33 ft catamaran was designed by AAM, however, for its wave piercing hull design the builder called upon New Zealand-based naval architecture firm Teknicraft Design Ltd. The wave piercing hull design helps reduce drag and enhance passenger comfort.
Sally Fox is powered by twin Cummins QSK-50 tier II engines rated at 1,900 rev/min. The 250-passenger ferry operates at a service speed of 28 knots across the Puget Sound from Vashon Island to downtown Seattle.
Special attention was paid to each passenger deck's layout in order to facilitate and streamline the boarding and disembarking process. Additionally, the new ferry features some green technologies, for example, instead of paint, the decks are covered with a peel-and-stick non-slip tread, while the exterior of the superstructure is wrapped in UV-stable vinyl.
Funded by federal grants, the new water taxi will replace the Melissa Ann, a 27 year old vessel leased to operate on the route since 2010. Its sister ferry, the MV Doc Maynard was delivered by AMM September 2015.
---
Baynes Sound Connector, Longest Cable Ferry
Next month, BC Ferries' first ever cable ferry, the Baynes Sound Connector will make its long awaited debut and begin operations. Built by Seaspan's Vancouver Shipyards, the 78.5 m ferry will accommodate 150 passengers and 50 vehicles on a 1,900 meter (about 1.9 km) route, making the ferry one of the longest cable ferries in the world.
Baynes Sound Connector will travel at a speed up to 8.5 knots between Buckley Bay and Denman Island. The ferry operates on one drive cable, and two guide cables along the route on the Baynes Sound Channel. Operator BC Ferries expects the cable ferry will help reduce operational costs, saving the company over $80 million over its expected 40-year service life; will have a smaller environmental footprint and lower fuel emissions.
While the news of the Baynes Sound Connector is exciting, the project was initially met with fears from the local community that felt a ferry operating on cables would be unsafe and wouldn't be able to meet BC's promise of a more efficient ferry on the run.
BC Ferries has stated that the ferry has been designed and built to safely operate in the Bayes Sound environment, which is a relatively low marine traffic area, and was tested in some of the worst weather conditions.
To further safety, it was recently announced that transit lights have been installed at both the Buckley Bay and Denman West terminals to secure safe passage for the cable ferry and other vessels in the area. A green light would indicate that the Baynes Sound Connector is docked at a terminal and boaters can safely cross the channel. A red light indicates the ferry is in transit, and it may not be safe for other vessels to cross the channels since the cables in operation may not be fully submerged.
---
Texelstroom, CNG Hybrid Ferry

Built by Spanish shipbuilder Construcciones Navales del Norte—La Naval, the 135m Texelstroom will offer its owner, Royal N.V. Texels Eigen Stoomboot Onderneming (TESO), a unique energy efficient vessel package that will combine a variety of green energy sources to help reduce its environmental impact when its delivered 1Q 2016.
The 1,750-passenger ferry is equipped with a hybrid propulsion system comprised of dual fuel (diesel/CNG) generating sets and a battery system, feeding the propulsion electric motors. The ferry is expected to operate mainly on the natural gas that will be storing two batteries of Compressed Natural Gas (CNG) bottles installed on the top deck.
The double-ended ferry was designed with two separate navigation bridges and two independent engine rooms. One engine room is fitted with two ABC diesel engines, each generating 2,000 kW of power; and the other engine room is fitted with two ABC dual fuel engines, also generating 2 x 2,000 kW. Each ship end will be fitted with two Rolls-Royce azimuth propeller.
The ferry, designed by La Naval in close cooperation with TESO and C-Job Naval Architects & Engineers, and classed by Lloyds' Register, will also feature over 700 m2 of solar panels, helping the ship to be more sustainable. Additionally, according to LR, the ferry's design is supported by the European Union's "I.Transfer" program. The goal of the program is to make ferry transport accessible and sustainable.  
The ferry will be ice class, featuring a strengthened hull to operate through winter ice, and will have a notation for Passenger and Crew Accommodation Comfort (PCAC) to ensure a safe and comfortable journey for passengers and crew.
Texelstroom will provide services in The Netherlands, between the island of Texel and the port of Den Helder. The ferry, which will also have capacity for 350 vehicles, will operate between 10 to 15 knots.
---
Ampere, Zero-emission Battery Powered Ferry
Norway was one of the first countries to embrace the move to alternative energies; the country was one of the earliest adopters of LNG as a marine fuel, and now it is the homebase for the world's first battery powered electric car/passenger ferry. Built by Fjellstrand Shipyard, the 80 m long x 21 m wide Ampere produces zero emissions thanks to its Siemens' BlueDrive PlusC electric propulsion system. The ferry does not use any fuel tanks or engines. Instead, it derives its power from its batteries which enable Norled to reduce its fuel costs by up to 60%, and save one million liters of fuel annually.
Ampere's power system is made up of 224 Corvus Energy AT 6500 modules with a total capacity of 1.46MWH, an energy management system, a steering system, thruster control and an alarm system. The Energy Storage System (ESS) is split into four parts. Each of the vessel's ends is fitted with a vessel mount and a shore power station—this enables and facilitates the rapid recharging of the batteries.
The innovative vessel is meant to be as environmentally friendly as possible, from the inside-out. Constructed from light-weight aluminum, the Ampere, weighs just half of what a conventional ferry would weigh. Its service life is double that of a steel hull ferry, and the vessel requires fewer drydock periods which help lower the vessel's maintenance costs.
The Ampere is also equipped with LED lighting, high efficiency thrusters with feathering propellers from Rolls-Royce, and a HVAC system with extensive heat recovery. The ferry, which has passenger capacity for 350 and room for 120 cars, is classed by DNV-GL as 1A1- LC R4(nor), CF, C, BP, IOPP-A.
---
Mein Schiff 4, 99,500 grt cruise ship

Designed for the German premium-class cruise market, the 99,500 gt Mein Schiff 4 is the fourth in a series of cruise ships being built for TUI Cruises, a joint venture between TUI AG and Royal Caribbean.
Mein Schiff 4 was constructed using advanced and eco-friendly technologies according to ship builder Meyer Turku Shipyard, Finland. The ship was built to be as environmentally friendly as possible. Its expected to consume 30 percent less energy when compared to other ships its size. The cruise ship is also fitted with a combined exhaust after-treatment system, made up of a scrubber and a catalyzer, lowering sulfur emissions by as much as 99 percent, and NOx by 75 percent.
Engine power is provided by two Wartsila 12V46 diesel engines and two Wartsila 8L46F diesel engines.
The ship is 294m long x 36m wide, with an 8m draft. It features 1,253 cabins, and has capacity for 2,790 passengers and 1,030 crew members.
Mein Schiff 4's initial itinerary included traveling through a variety of routes in the Baltic Sea to the Baltic States and in Northern Europe around Norway. This winter, the ship will travel to the Canary Islands making stops along Morocco and Mediera.
Mein Schiff 4 is classed by DNV-GL +1A1 Passenger Ship BIS Clean F(M) Fuel (991 kg/m3, -7°C, 380 cSt) LCS(DC) TMON. Sister ships Mein Schiff 5 and 6 will be completed and delivered by the Meyer Turku yard by 2017.
---
Samish, 144-Car Ferry
The second in a series of four Olympic Class ferries for Washington State Ferries, the 144-Car Samish, was named in honor of the region's native Samish Indian Nation. It's name means "giving people," and Washington State Ferries is hoping to do just that, by giving back to the community with the addition of the Samish to its growing ferry fleet.
Delivered by Vigor Industrial, the new $126 million ferry, like its sister ship, the Tokitae, is based on the Olympic Class design by Seattle-based Guido Perla & Associates, Inc. The ferry measures 362 ft x 83 ft and has capacity for 144 cars and 1,500 passengers.
The Olympic Class, is built by a group of Washington-based companies—led by Vigor Industrial—offering the very best the state has to offer in design and production; and generating and supporting over 500 jobs in the Puget Sound.
Its superstructure was build by Whidbey Island, WA-based Nichols Brothers Boat Builders. Nichols built the superstructure for the Tokitae and will do the same for the third and fourth vessels in the series.
Olympic Class vessels were designed with passenger comfort in mind. The class provides wider lanes and more spaces for cars and trucks, additional comfort for passengers with two Americans with Disabilities Act-compliant (ADA compliant) elevators, an ADA-compliant car-deck restroom; flexible seating configurations; improved heating and ventilation; and wider stairwells and passageways.
Samish's main propulsion is provided by two Electro-Motive Diesel (EMD) engines developing a total 6,000 hp, enabling the vessel to reach speeds up to 17 knots on its Anacortes to San Juan Islands route. Olympic Class ferries are also equipped with the latest emergency-evacuation and fire-suppression systems.
Samish and the other vessels in the Olympic Class also provide WSF with improved efficiency and better fuel consumption. Its hull design helps reduce wake, further improving fuel efficiency. The ships will replace the aging Evergreen State Class vessels which have been in operation since the 1950's.
---
F.A. Gauthier, First LNG ferry for North America

Canada's Société des Traversiers du Québec (STQ) is committed to a greener future. To that end the company invested in the construction of three LNG-fueled ferries in between 2014 and 2015, including the F.A. Gauthier, which was delivered to the operator this past summer.
Built by Italy's Fincantieri Castellamare di Stabia shipyard, the F.A. Gauthier has the distinction of being the first LNG-fueled ferry to operate in North America. Classed by Lloyd's Register, the ferry is fitted with an ultra compliant, low-emission, dual-fuel system from Wärtsilä.
Powered by four Wärtsilä 12v34D dual-fuel generating sets, meaning the ship can run on either Liquefied Natural Gas (LNG) or Marine Diesel Oil (MDO), the 133 m x 22 m ferry can reach a maximum speed of 20 knots on its Matane-Baie-Coreneau-Godbout route.
The ship is also equipped with Wärtsilä's LNGPac system comprised of LNG bunkering, storage tanks, and handling equipment. Its fitted with two contra-rotating propellers, making the ferry exceptionally maneuverable.
The F.A. Gauthier's hull is certified as Ice Class 1 and Propulsion Class 1, enabling the ship to break sea ice and handle adverse weather conditions on the Gulf of St. Lawrence.  The ferry can carry 900 passengers and 180 vehicles on each trip, and is expected to transport more that 205,000 passengers and 118,000+ vehicles a year.
---
Viking Star, 48,000 grt cruise ship
Viking Ocean Cruises made its debut into the ocean going cruise market last year with the delivery of its highly anticipated 930 passenger Viking Star. The ship is the first of three cruise ships under construction at Fincantieri Marghera, Italy shipyard for the brand—which is a spin off of Viking River Cruises.
The goal for Viking Ocean Cruises was to bring the focus of cruising back to the destination. With that in mind, the brand decided to build a smaller passenger cruise ship, with a smarter design and providing guests with an enriching trip.
What makes the "small" cruise ship unique is that its engineered at a scale that enables the ship to have direct access into most ports, making embarkation and debarkation effectively easier and more efficient for guests. This lets passengers spend more time at each destination along the ship's route.  
The Viking Star's design pays homage to the brand's Nordic heritage, effectively immersing the passenger into local surroundings. Clean lines, woven textiles and light-wood help evoke the Viking spirit of discovery, according to the brand, and helps connect the passenger with nature.
The 228m long ship, which features 465 state room—each with its own veranda—has two pools, a main pool with a retractable roof, and a glass-backed infinity pool cantilevered off the stern; the ship also includes indoor-outdoor spaces for al fresco dining, large windows and skylights that further blur the light between inside and out, and a wrap-around promenade deck that pays homage to classic ocean liners.
Viking Star was also designed with the environment in mind. The ship is powered by energy-efficient hybrid engines, hydro-dynamically optimized streamlined hulls and bows for maximum fuel efficiency, onboard solar panels and equipment that minimizes exhaust pollution and meets the strictest environmental regulations.
---
Oscar B. 115 ft ferry, Wakiakum County

Wahkiakum County, Washington State is paying homage to one of the greatest skippers the country has ever had by naming the county's newest ferry, the Oscar B, after him. Oscar Bergseng skippered the ferry, Wahkaikum, which was built in 1961, for 17 years.
Built by Nichols Brothers Boatbuilders, Freeland, WA, the 115 x 47 ft Oscar B is double the size of its predecessors, offering an expanded vehicle capacity.
The new ferry can carry 100 passengers and 23 cars between the Cathlamet, WA and Westport, OR terminals.
The ferry, designed by Seattle's Elliott Bay Design Group, features a steel-hull, aluminum super-structure. Its power is provided by two state-of-the-art Cummins QLS diesel engines, each delivering 285 hp at 1,800 rev/min and couple to ZF Marine reversing reduction gears with two fixed-pitch propellers.
Oscar B meets all current U.S. Coast Guard requirements. Additionally, it features a hydraulic steering system, up-to-date electronics, a passenger lounge and ADA-accessible restrooms.