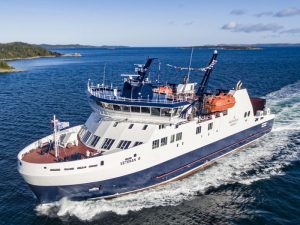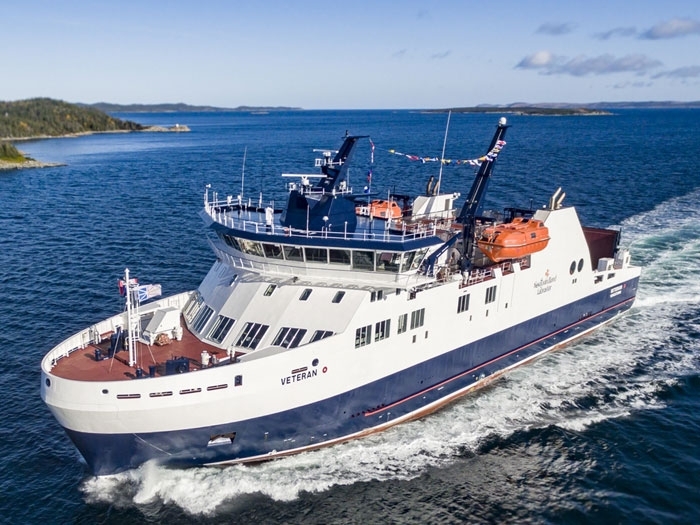 1. Veteran, 80m Ice Class Ferry, Government of Newfoundland and Labrador, Damen Galati
The Veteran is part of a large "lifeline" vessel replacement program being undertaken by the Provincial Government to modernize its fleet.
2. Sally Fox, 105 ft Fast Ferry, King County, All American Marine
Sally Fox is the first U.S. Coast Guard Sub-chapter "K" inspected passenger vessel built and delivered under new fire safety guidelines.
3. Baynes Sound Connector, Longest Cable Ferry, BC Ferries, Seaspan Vancouver Shipyards
BC Ferries' cable ferry, the 150-passenger, 50-vehicle Baynes Sound Connector is the longest cable ferry in operation today.
4. Texelstroom, CNG Hybrid Ferry, TESO, LaNaval
The ferry will operate mainly on natural gas stored in two batteries of compressed natural gas (CNG) bottles installed on the top deck.
5. Ampere, Electric Ferry, Norled, Fjellstrand
Norled's Ampere is the world's first battery powered electric car and passenger ferry.
6. Mein Schiff 4, 99,500 grt Cruise Ship, TUI Cruises, Meyer Turku
Designed for the German premium-class cruise market, the 99,500 gt Mein Schiff 4 is 294 m long and 36 m wide and has a total of 1,253 cabins.
7. Samish, 144-Car Ferry, Washington State Ferries, Vigor Industrial
Designed by Seattle-based Guido Perla & Associates, Inc., the Samish is the second in the Olympic Class vessels being built for WSF. The 362 ft ferries have a capacity of 144 cars and 1,500 passengers.
8. F.A. Gauthier, First LNG Ferry for North America, STQ, Fincantieri
The ship's integrated diesel electric propulsion system has four Wärtsilä 12V34DF dual-fuel generating sets. that can run on either LNG or MDO Gas – LNG) or marine diesel oil (MDO).
9. Viking Star, 48,000 grt Cruise Ship, Viking Ocean Cruises, Fincanitieri
The Viking Star is the first of the three 48,000 grt, 930 passenger cruise ships on order for the line at Fincantieri's Marghera, Italy, shipyard.
10. Oscar B., 115 ft Ferry, Wakiakum County, Nichols Brothers Boat Builders
Designed by Seattle's Elliott Bay Design Group the steel-hulled, aluminum superstructured vessel has been built for Wahkiakum County, Washington State as a replacement for the ferry Wahkiakum.