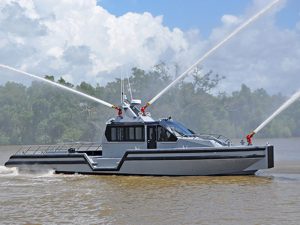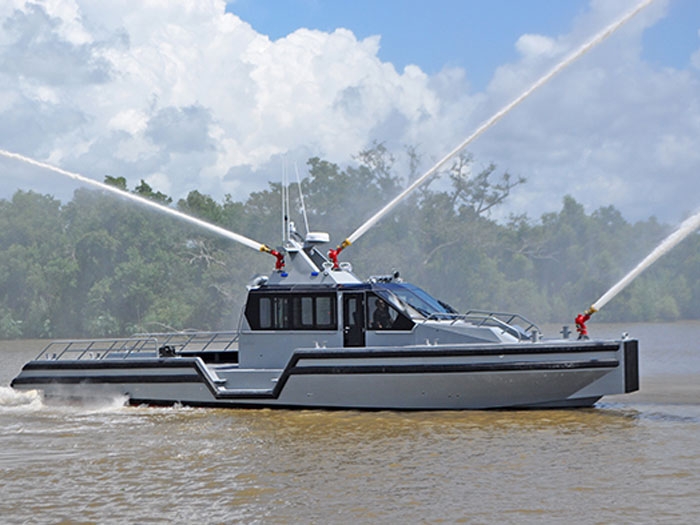 Based on Metal Shark's Defiant-class monohull pilothouse design, the welded aluminum vessel is designed to support port security efforts and firefighting missions at the port district, located 20 miles south of New Orleans at the mouth of the Mississippi River.
For this application, Metal Shark equipped the vessel with twin Cat C-18 diesel engines mated to Hamilton water jets. The 55 Defiant is also available with straight shaft inboards or pods.
To meet the customer's fire fighting requirements, Metal Shark employed twin Darley fire pumps driven by PTO from the main engines. Water is pumped to an oversized main where it is distributed via electronic valves to three radio frequency-controlled monitors – one on the bow, and two mounted on the roof of the vessel. In this configuration, the 55 Defiant delivers water flow of up to 10,000 gallons per minute. Two 5″ hydrant outlet locations, an additional 2.5″ hydrant outlet, and a 300-gallon foam reservoir provide maximum flexibility across the widest possible range of tactical firefighting scenarios.
Metal Shark's use of "pillarless" pilothouse glass gives the vessel's roomy wheelhouse substantially increased visibility compared to pilothouses of conventional design.
With belowdecks quarters offering enclosed head, galley, and bunking capacity for a crew of four, the 55 Defiant is equipped to stay on station for extended periods and to accommodate crews during lengthy patrols.
A state of the art, positive-pressure Chemical, Biological, Radiological, Nuclear, and high-yield Explosive (CBRNE) ventilation system provides crew protection in disaster response situations.
"Metal Shark has worked closely with fire departments, law enforcement agencies, and the military to develop what we feel are the most advanced and crew friendly fire rescue patrol vessels available today," says Metal Shark's president Chris Allard. "It was an honor to be selected by the Plaquemines Port Harbor and Terminal District for this project and we are pleased to add them to the growing list of Metal Shark customers."
A product of Metal Shark's Franklin, LA, shipyard, the 55′ Defiant can be custom-configured to suit a wide range of mission profiles. Metal Shark offers the vessel with a wide range of power and propulsion systems to meet various performance requirements. Virtually every vessel feature can be adapted to suit the needs of individual customers and agencies.
In addition to port security and fire rescue, the 55 Defiant can be configured for dive support, law enforcement, defense, pilot operations, and numerous commercial markets.
Defiant-class vessels are available in a wide range of sizes for inshore, nearshore, and offshore patrol.
Established in 1986, Gravois Aluminum Boats LLC, and its government/commercial boat entity Metal Shark Boats are leading suppliers of custom boats for defense, law enforcement, and commercial entities.