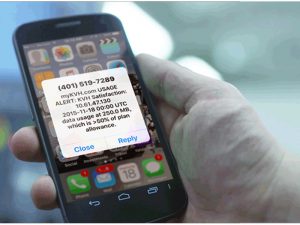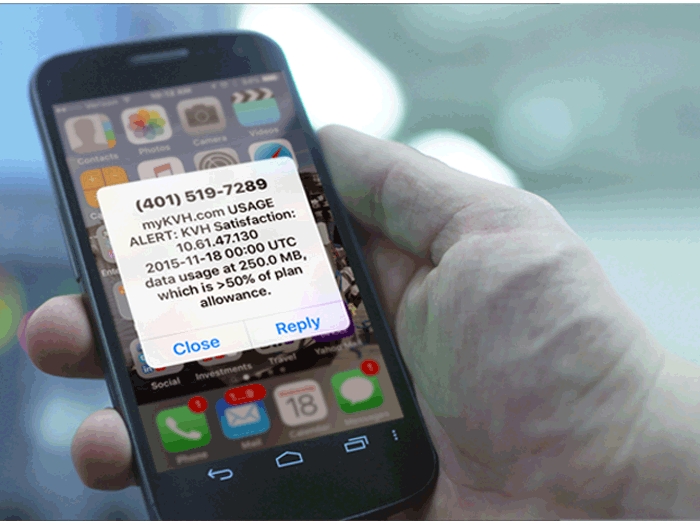 As ships rely increasingly on broadband connectivity to improve operational efficiency and provide crew welfare, bandwidth management has become a critical need. On vessels today, broadband connectivity is needed for access to critical weather and navigational information as well as secure communications with fleet operations management. Real-time access to sea condition information, fleet and port data, and remote systems support capabilities can enhance crew safety, save fuel, reduce operational expenses, and ensure compliance with an ever-expanding array of regulations. Broadband connectivity is also the lifeline for seafarers — who consider communications with family and access to the Internet as must-haves for life onboard. If vessels want to attract and retain qualified crew, they need to provide connectivity. It all adds up to an emphasis on managing broadband data usage.
KVH has introduced the myKVH web portal to enable ship operators, fleet managers, and vessel officers to effectively manage onboard data usage. The tool is designed to provide the transparency and accountability that is essential for a ship to get the most value from its broadband data plan, which is typically based on a monthly allotment of airtime.
KVH introduced the myKVH web portal in October 2015 at the same time it introduced new airtime plans for its mini-VSAT Broadband service, which provides connectivity to thousands of vessels worldwide. The new airtime plans deliver data at maximum speeds on the mini-VSAT Broadband network at every price point. In some cases, the top downlink speed of 4 Mbps is 15 times faster than previous plans, while the cost has been reduced by one third. The new airtime plans feature monthly allotments of data in a wide range, giving fleet managers the ability to choose a data allotment that fits the vessels' budget and needs.
With a vessel utilizing a monthly allotment of data, it becomes extremely important to be able have visibility into the amount of data being consumed. The myKVH web portal provides a single secure site with the tools to enable a ship operator to manage network usage by vessel or by individual crew members, allocate operational and crew data, and receive customized usage alerts by email and SMS text message. It is available for no additional cost to every customer using KVH's mini-VSAT Broadband service. With the myKVH web portal, operators have a tool to proactively monitor bandwidth usage so that one runaway user can no longer compromise an entire vessel's connectivity.
Secure, fleet-wide monitoring with map and grid displays is another benefit of the myKVH tool for onshore staff. The fleet-wide view shows IT managers and ship superintendents at a glance where their vessels are and the status of their mini-VSAT Broadband systems. It also enables them to view support cases across the entire fleet, maximizing the value of their KVH investment.
As the sophistication of maritime broadband communications grows, managing onboard data usage will become ever more important for every vessel. The myKVH web portal is designed for the visibility and accountability that fleet managers need to make the smartest use of connectivity.
DELIVERING RELIABLE HIGH-SPEED BROADBAND
This past December, Inmarsat achieved global commercial service for its high-speed broadband service Global Xpress. The service was formed by three Ka-band high-speed mobile broadband communications satellites launched from Kazakhstan over the last three years. A fourth satellite being built by Boeing in California will provide extra capacity when it launches later this year.
GX operates in the resilient Ka-band, while integrating seamlessly with Inmarsat's L-band network to allow customers across aviation, maritime, enterprise and government sectors to have reliable and assured access to high-throughput communications.
With Cisco, Inmarsat has also developed the Inmarsat Service Enablement Platform (ISEP) and the Inmarsat Gateway, which will deliver a whole new world of innovative, content-rich applications – developed by our Certified Application Partners – tailored to meet GX users' needs.
During the course of 2016, Inmarsat will be introducing a series of market-specific, high-speed connectivity services powered by Global Xpress.
Inmarsat has signed up several manufacturers and value-added resellers to distribute its Global Xpress services. Among the manufacturers on the maritime and offshore sector are Cobham, Intellian, JRC, and RigNet.
At last year's International Workboat Show in New Orleans, Intellian displayed its GX60, a compact maritime stabilized terminal designed to use Inmarsat's GX broadband service. Built and supplied with an Integrated GX modem, the GX60 installs easily and quickly delivers high-speed connectivity.
A real benefit of the GX60, explains Paul Comyns, Intellian's Vice President Global Marketing, is its small size, integrated design, and intuitive user interface. It means operators can install and commission the terminal in relatively the same amount of time as a FleetBroadband system. It can also deliver speeds of up to 50 Mbps. The radome dimension is 90 cm x 103 cm and the antenna weighs about 132 lbs.
Also on display at the Workboat Show was Cobham SATCOM's SAILOR 60 GX, a new super-light and compact Ka-band VSAT antenna. The new 60cm antenna system is designed for Inmarsat's new Fleet Xpress service.
Weighing just 82 lbs/37 kg, the SAILOR 60 GX user terminal features one of the lightest Ka-band antennas and boasts leading radio performance to ensure a reliable link to the satellite and more availability of communication services. For workboats and offshore vessels with space restrictions a new SAILOR 60 GX combined with a SAILOR FleetBroadband system is the perfect on board hardware platform for Inmarsat's game-changing new maritime multi-band satcom service.
A key advantage of SAILOR 60 GX's small size and low weight is the ability to reduce installation time and costs, which could lead to better value monthly service subscriptions. It is also likely that vessels with existing FleetBroadband antennas will experience more value as they already have a core component of Fleet Xpress on board, making SAILOR the ideal companion for workboat operators aiming to achieve optimal ROI on maritime broadband.
SAILOR 60 GX will enable more workboats to operate smarter through harnessing the power of Inmarsat Fleet Xpress, by enabling significant data sharing capabilities and the drive towards smart operations. The optimal size/performance balance of SAILOR 60 GX is possible because Inmarsat Global Xpress satellites use spot beams instead of wide beams, so with advanced engineering and software design, antenna size is becoming less relevant and they can operate anywhere in the satellite footprint and provide a strong link.
The lightweight carbon fiber and aluminum SAILOR 60 GX comes pre-configured for Fleet Xpress and features 'one touch commissioning', meaning that during installation it can be online in seconds with no requirement to contact the Network Operations Center (NOC).
At 1,297 feet long, the MSC Zoe, along with her sister ships MSC Oliver and MSC Oscar are some of the largest container ships in the world. When she set sail this past summer on her inaugural voyage, the MSC Zoe was equipped with high-speed Marlink Maritime VSAT (Very Small Aperture Terminal) on board. Marlink VSAT services provide reliable connectivity for operational and crew communications on MSC Zoe and 130 other MSC ships. MSC uses a suite of integrated IT solutions designed to reduce network administration on board and provide easy access to communication services for crew, all enabled by the XChange communications management platform from Marlink.
Recently added to MSC Zoe's communications solutions and being rolled-out across the MSC fleet is XChange Universal Remote Access (URA), a unique system that provides secure remote access to computers on board from the shore office. MSC is already experiencing higher uptime for IT systems across the fleet due to the improved remote maintenance and troubleshooting capabilities provided by URA. The system differs from standard remote access solutions, which are designed for specific terminals or protocols and require their own IP address. Since it is a universal access solution, MSC can use the same tool to access IT systems on MSC Zoe, its largest ship, as on any other ship regardless of age or type across its entire fleet.
XChange as standard also provides communication lines for MSC crews to easily stay in contact with their families and friends via email, internet and social media, while giving full control of access and costs to administrators on shore. For MSC, this functionality has been extended by XChange BYOD (Bring Your Own Device), a ready-to-use Wi-Fi solution and accompanying apps that provide voice and data access for crew using their own smartphones, tablets or laptops. By ensuring straightforward account administration and streamlining payment using pre-paid cards, XChange BYOD helps MSC to meet the requirement of its maritime professionals to access the Internet via Wi-Fi using their own devices.