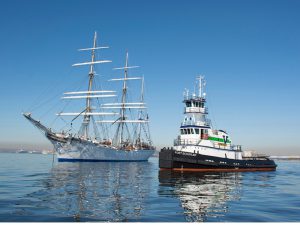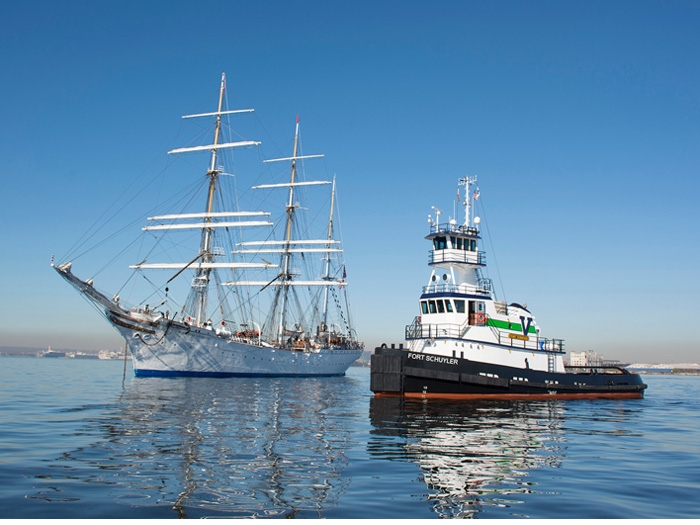 If you were at a seaport along the U.S. Eastern Seaboard, more than likely you would be able to spot the distinctive blue "V" logo of the Vane Brothers Company on at least one tug in the harbor. The privately held marine transportation company has been serving the U.S. East Coast for more than 100 years, now handling chemical and petroleum products on its double-skin tank barges in seven ports from New York to Jacksonville, FL.
Under the steady guidance of C. Duff Hughes, the third generation of the Hughes family at the helm of the company, Vane Brothers, headquartered in Baltimore, MD, has been aggressively growing its fleet of 120 tugs and barges. Since 2008, Vane Brothers has been adding a series of 3,000-hp, Sassafras Class Articulated Tug Barge (ATB) tugs. Just last month, Vane Bros. ordered the 15th, 16th, and 17th of the class, all of which have been ordered from and built by Chesapeake Shipbuilding in Salisbury on the Eastern Shore of Maryland.
The latest in the series delivered by Chesapeake Shipbuilding is the Fort Schuyler, the eleventh in the class. Its sister tug, the Kings Point, was delivered in April this year.
The tugs have been very popular with the company's crews. Vane Brothers Senior Port Captain Jim Demske, says, "The crews on these tugs particularly like the high quality of the tugs' construction and layout. The ergonomic arrangement of the pilothouses and engine rooms contribute comfort and safety. The power from the Caterpillar engines and the performance from the Twin Disc reduction gears all contribute to the great handling of these tugs, which is especially appealing to the operators. The new Simrad Solid State Halo radars and touch-screen electronics are some of the finest in the industry and also make life on these tugs better."
Measuring 94 feet long and 32 feet wide with a hull depth of 13 feet, the Fort Schuyler is similar in most respects to the previous 10 tugs built for Vane by the shipyard.
The vessel is equipped with twin Caterpillar 3512 Tier 3 main engines producing a combined 3,000 horsepower, and operates with a single-drum hydraulic towing winch from JonRie Intertech, Manahawkin, NJ.
"Soft-core" panels and heavy, fire-rated doors are used throughout the boats, offering the crew a safer and quieter living environment.
"Vane Brothers and Chesapeake Shipbuilding continue to have a very strong relationship," says Demske. "The next tug to be launched in coming weeks will be the Fort McHenry, followed by the Fishing Creek." Demske says the names of the other tugs have yet to be announced.
The Fort Schuyler, like the Kings Point, has joined Vane Brothers' fleet based in New York. The two vessels are named for the campuses of SUNY Maritime College in Fort Schuyler, NY, and the U.S. Merchant Marine Academy in Kings Point, NY.
In addition to the 3,000-hp tugs coming from Chesapeake Shipbuilding, there are two 4,200-hp tugs under construction at St. Johns Ship Building in Palatka, FL, for delivery in 2016, with two more under contract.
VANE ADDS NEW BARGES, TOO
According to Vane Brothers, three 35,000-barrel barges and four 55,000-barrel barges (including the 509A asphalt barge) have been delivered in the last 10 months, with another 55,000-barrel barge expected before the end of the year. These have come primarily from Conrad Shipyards in Orange, TX, and Amelia, LA, as well as Jeffboat in Jeffersonville, IN.
New and current mariners at Vane have a variety of training opportunities available to them, both formal and informal. According to Vane Brothers spokesman Blaise Willig, the company has supported many vessel-based employees this year as they receive instruction to help them be more effective at their current jobs and contribute to their future advancement. Vane is a Partner Company in the Workboat Academy's Workboat Program. And, as a result of Person in Charge (PIC) Barge training this year at the Maritime Institute of Technology and Graduate Studies (MITAGS) in Linthicum Heights, MD, former Vane Deckhands have become highly qualified Tankermen now assigned to Vane barges. Vane's training efforts and commitment to promoting from within help to ensure that its vessels are manned with professionals who meet and surpass the highest standards in the industry.
NEW ATB TUG LAUNCHED FOR BOUCHARD
Early last month, the Moss Point Marine shipyard of VT Halter Marine, Inc., launched the M/V Morton S. Bouchard a 6,000hp, twin-screw Articulated Tug Barge (ATB) tug for Bouchard Transportation, Inc., Melville, NY.
The ATB tug is one of two sister vessels being built under a two-vessel contract signed in August 2014. Morton S. Bouchard and sister vessel Frederick E. Bouchard each measure 130 feet by 38 feet by 22 feet and is classed by ABS as +A1 Ocean Towing, Dual Mode ATB, USCG Subchapter C. On completion, both tugs will be equipped with an Intercon Coupler System. Deliveries are expected in January and May 2016, respectively. The vessels will enter into Bouchard Transportation's fleet service in New York, NY.
This most recent launch follows the September launch from the Moss Point shipyard of another ATB tug for Bouchard, the 10,000 hp M/V Donna J. Bouchard.
Also equipped with an Intercon Coupler, Donna J. Bouchard, is classed by ABS as +A1 Towing Vessel, Dual Mode ATB, USCG Subchapter M. She will be paired with barge B.No.272, which is currently under construction at VT Halter Marine's Pascagoula, MS, shipyard to comprise the second ATB unit built for Bouchard Transportation as part of its major expansion program.
"Bouchard Transportation Co. Inc. is happy to announce yet another successful launching of a state of the art ATB tug built by VT Halter Marine. The launching of the M/V Morton S. Bouchard Jr. is a special event within the Bouchard Family, for the vessel is named after the father of President/CEO, Morton S. Bouchard III, who wanted his father's name to always remain on the waterfront for which he dedicated his entire fife to. The original tug, Morton S. Bouchard Jr., which was also built by Halter, was earlier renamed as The Bouchard Boys and continues to operate with Bouchard Fleet," says Morton S. Bouchard III President and CEO, Bouchard Transportation.
"The successful launching of both vessels, the M/V Morton S. Bouchard Jr. today and the M/V Donna J. Bouchard in September is an indication of the commitment to the continued relationship with Bouchard Transportation," says Jack Prendergast, CEO, VT Halter Marine.
NEW ATB TUG FOR MORAN
Moran Towing has newbuild programs underway at Washburn & Doughty shipyard in East Boothbay, ME, and Fincantieri's Bay Shipbuilding in Stugeon Bay, WI. Its newest ATB tug, Leigh Ann Moran, recently completed her sea trials in Sturgeon Bay. The 121 ft x 36 ft tug was christened in late September by her namesake, Leigh Ann Engibous, wife of long-time Chevron employee Bill Engibous.
Also under contract at Bay Shipbuilding are the 121 ft x 36 ft ATB tug Barbara Carol Ann Moran and a 110,000 bbl double-skin tank barge, which are due for delivery in the second quarter of next year.
Meanwhile, Washburn & Doughty have contracts for six 6,000 hp Z-drive harbor tugs for the New Canaan, CT-based tug company.
MCALLISTER PUBLISHES 150th ANNIVERSARY BOOK
Last year, McAllister Towing & Transportation Co., New York, NY, celebrated its 150th anniversary of providing marine transportation, towing and harbor services. The beautifully bound hard cover book recounts the history of the five generations of the McAllister family and the tugboat business. The company was founded by James McAllister, who arrived in New York City following a shipwreck and soon bought his first sail lighter in 1864. From those humble beginnings, the distinctive red and white striped funnels of McAllister tugs can be seen from Portland, ME, to San Juan, PR.
McAllister currently has one ABS-classed 5,000-hp Z-drive reverse tractor tug on order at Eastern Shipbuilding Group, Panama City, FL. The word on the street is that the company is in serious discussions with another shipyard regarding the construction of at least two other harbor tugs.
Eastern Shipbuilding also recently launched the H. Douglas M, the first in a series of four 5,150 hp escort tugs for Bay-Houston Towing. The 80 ft x 38 ft tug is based on a Z-Tech 2400 Class design by Robert Allan Ltd. Delivery of the escort tug is scheduled for early 2016.
The same design is being built by Eastern Shipbuilding for a series of four tugs for Suderman & Young. G&H Towing is the owners' onsite representative and agent during the engineering, construction, and delivery for both Bay-Houston and Suderman & Young Towing.
WIND FARM VESSEL TAKES SHAPE
In Warren, RI, the first U.S.-flag wind farm vessel is taking shape at Blount Boats, Inc. Blount Boats President Marcia Blount says the 21-meter aluminum catamaran will be ready for delivery in April 2016.
Rhode Island Fast Ferry will operate the boat for Block Island Wind Farm in Rhode Island. The five turbine wind farm, the first commercial wind farm in the U.S., is expected to be up and running by the fourth quarter of next year.
The catamaran is a Crew Transfer Vessel (CTV) based on a design licensed from South Boats (IOW), Isle of Wight, the U.K., one of the leading designers and manufacturers of wind farm vessels in Europe. South Boats IOW has designed and built some 85 CTV's for the European offshore wind sector.
Blount Boats is eyeing the progress of offshore wind energy closely, says Marcia Blount.
Blount Boats also is building a passenger vessel for Chicago's Shoreline Sightseeing. Shoreline Sightseeing provides guided architecture tours on the Chicago River, as well as classic tours on Lake Michigan and "Brew Cruises" and wine-tasting cruises.
NEW BOATS FOR CIRCLE LINE
About a 20-minute ride from Warren, RI, is the shipyard of Gladding-Hearn Shipbuilding, a Duclos Corporation in Somerset, MA. Known for their construction of aluminum, multi-hull vessels based on IncatCrowther designs, the Massachusetts shipbuilder is actually building three all-steel 600-passenger vessels for Circle Line Sightseeing Yachts, Inc., New York, NY. The 165 ft x 34 ft were designed by DeJong & Lebet, Jacksonville, FL. Those boats are due for delivery in the spring.
It's also building a 493-passenger ferry for Hy-Line Cruises due for delivery in 2016.
One of the latest deliveries from Gladding-Hearn is the Manatee, a 28-knot Chesapeake Class launch and the first in a new generation of the popular, mid-size pilot boats for the Tampa Bay Pilots Association.
The boat continues a successful partnership between Gladding-Hearn and C. Raymond Hunt Associates, Inc., New Bedford, MA.
The Somerset, MA, shipyard introduced the Chesapeake Class pilot boat in 2003. Since then, 15 have been delivered to pilot associations throughout the U.S.
The latest improvements incorporate the performance benefits of Volvo Penta's IPS2 inboard propulsion system.
"The IPS2 system was created to improve the performance and the arrangement of planning hulls like our pilot boats," says Peter Duclos, the shipyard's president. "This new generation of Chesapeake launches, named Chesapeake Class MKII, is equipped with the IPS2 pods, which provide what pilots have been asking for: higher speeds, lower fuel consumption, and more comfort."
With a deep-V hull designed by C. Raymond Hunt & Associates, the all-aluminum pilot boat measures 52.7 ft overall, with a 16.8-ft beam and a 4.5-ft draft.
It is powered by two Volvo Penta D11, six cylinder, EPA Tier 3 diesel engines, each producing 503 bhp at 2,250 rev/min. Each engine is connected to a Volvo Penta IPS propulsion pod, which is fitted with dual forward-facing, counter-rotating propellers and integrated exhaust system, and Volvo Penta's integrated EPS electronic steering and control system.
The EPS control system and three-axis joystick increases the boat's overall maneuverability alongside a ship and when docking, says Duclos.
The financial incentive for the Tampa Bay pilots to optimize fuel economy, vessel handling and comfort led the shipyard to install a Humphree Interceptor automatic trim- optimization system.
"The combination of the Volvo Penta IPS system and the Humphree interceptors gives the pilots higher speeds and improved comfort, while burning 25 percent less fuel than similar Chesapeake Class launches," says Duclos.
Key design changes to the Chesapeake Class MKII include positioning the wheelhouse aft of amidships to improve comfort and provide for a larger foredeck.
With the pods close-coupled to the engines, the engine room is located well aft of the wheelhouse with easy access to machinery through a deck hatch.
This new generation of pilot boats is also designed to accept a gyro-stabilization system, designed to reduce vessel roll.
MIX OF REPAIR AT DETYENS
This past year, there has been a good mix of commercial and government repair at Detyens Shipyards, Inc., Charleston, SC, according to the company's Bradley Kerr. "We have recently completed work on two German owned-container vessels, a pair of casino vessels and have the usual tugs and barge units, dredge vessel and other similar harbor barges are rolling through.  We also have recently won MSC contracts on the Button and Spearhead as well as the Atlantis from Woods Hole."
The largest commercial ship repair yard on the U.S. East Coast, Detyens also recently finished repairs on the USCG Elm and will begin work on the NOAA vessel Gordon Gunter soon. The Dredge Wheeler is also in the shipyard.
This past spring and summer, Detyens dry docked the ferries 28,460 gt M/V Highlanders and 18,523 gt M/V Leif Ericson for Marine Atlantic, Inc., St John's, Newfoundland, Canada.
FERRY REPOWER AT CADDELL
Over the next five years, the Delaware River and Bay Authority, owner and operator of the Cape May-Lewes Ferry, plans to repower its entire fleet with cleaner burning, more fuel efficient Tier 3-compliant diesel engines.
The first of those ferries, the Delaware, arrived at Caddell Dry Dock on Staten Island, NY, on November 2 to begin the four- to five-month repower project in conjunction with its regulatory required five-year drydocking.
According to James Gillespie, Chief Port Engineer for the Cape May Lewes ferry, the Delaware is expected to return to service in April of 2016. The dry-docking is expected to cost $3.5 million.
"We're excited to begin our vessel repowering program," says Heath Gehrke, Director of Operations for the Cape May-Lewes Ferry. "These new engines not only burn less fuel and are more efficient, but emissions are reduced by nearly 40 percent. By undertaking this effort, we can significantly extend the useful life of our fleet and provide a cleaner environment in the communities we serve."
Gehrke also notes that the ferry expects to save about $130,000 per year in maintenance costs associated with old engines and that the new clean diesel engines have the capability to be converted to operate on natural gas in the future.
The existing Fairbanks Morse engines are overhauled and rebuilt every 10,000 hours of usage compared to every 30,000 hours for the new EMD (Electro-Motive Division) engines. The engines were purchased from Marine Systems Inc. at a cost of $1.8 million.
While at the shipyard, the vessel will have other modifications and improvements completed, including the installation of a new gray water recovery system, new stainless steel railings and new propeller shaft seal system; installation of a new keel cooler system for main engine and generator cooling; and the bow thruster system will be overhauled.
To further assist the University of Delaware's water research efforts on the Delaware Bay, the SeaKeeper seawater monitoring system, which collects water quality data while a vessel transits the Delaware Bay, will be installed on the MV Delaware.
During a ceremony held at the Lewes Ferry terminal in December 2014, U.S. EPA Regional Administrator Shawn M. Garvin announced the award of a Diesel Emission Reduction Act (DERA) grant of $970,000 to help facilitate the project. The Delaware River and Bay Authority (DRBA) sought the grant funding through the National Clean Diesel Assistance Program, which focuses on reducing emissions at ports under the Diesel Emission Reduction Act (DERA).
The M/V Delaware is currently equipped with two Fairbanks Morse 38D8-1/8 propulsion engines with a power rating of 2,060 horsepower each. More than 40 years old, these workhorse engines are approaching 100,000 operating hours or the equivalent of 1.5 million miles. In addition, because the engines are no longer built, spare parts are both difficult to find and expensive.
Within the next five years, the Authority plans to repower the other vessels in the Cape May – Lewes Ferry fleet: the MV New Jersey and MV Cape Henlopen.