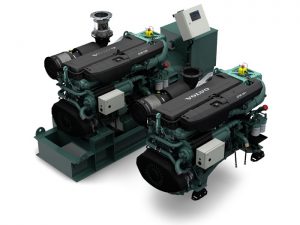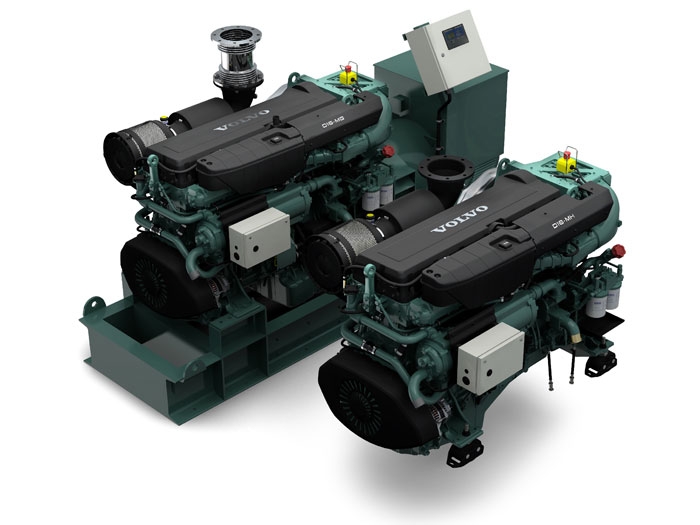 Available in power ratings from 368 to 551 kW, the D16 is the largest marine diesel engine in Volvo Penta's product portfolio, but remains a compact and flexible choice for a complete power package, a multi-engine application, diesel electric or hybrid solution.
Originally launched by the Volvo Group in 2004, Volvo Penta released the D16 for marine use in 2005 and, since then, more than 95,000 heavy duty D16 units have been produced. Now, Volvo Penta is updating its original unit to offer more features that include the ability for operators to use either of Volvo Penta's proprietary monitoring and control systems (EVC or MCC) or the system of the operator's choice — in which case the engine is delivered with an open CAN solution.
Open CAN interface enables integration with any ship automation system and any user interface. The benefit is an easier installation process for the shipyard, while customers will appreciate being able to customize the control system — a feature previously unavailable. By opening up and sharing data about the engine, OEMs can customize the auxiliary or genset engine's interface, while still benefiting from all the features of a Volvo Penta engine.
To increase uptime, a 1,000-hour oil service interval is available — without the need for additional oil or extra filter arrangements.
The original D16 engine contained an 80 amp compact alternator, but the updated 110 amp alternator in the latest unit offers 40% increased capacity — even at low revs. The new alternator enables increased charge capacity and more onboard power.
Type-approved by DNV, the engine rubber mounts in the new D16 engine are designed to withstand a higher load. The new characteristics will increase onboard comfort — especially important in crew transfer vessels. In addition, other changes, such as a new exhaust clamp at the turbo outlet and new stud joints, are part of a wider package of design improvements intended to the engine even more robust.
The updated engine also includes a redesigned oil sump, which will make it easier for boat builders to fit a single or dual installation, ensuring the complete overall system takes up less room and is easier to install.
For those customers who want to order an engine with Volvo Penta's electronic vessel control, the type-approved EVC system features defined control stations with priority settings and "transfer underway" procedures according to DNV requirements. To fulfill monitoring requirements, a seven-inch color screen display is complemented by an alarm-handling display, including an extended alarm log.
The EVC system also features manual engine sync to support complex maneuvers where full control of both engines is needed. For customers wanting to integrate with a ship system, for example, the Volvo Penta Information Gateway (IGW) is available.
The EVC's top mount controls and display have all been updated to exceed the DNV location class for deck mounting, fulfilling IP67. This protects vessels with an exposed helm from water intrusion.