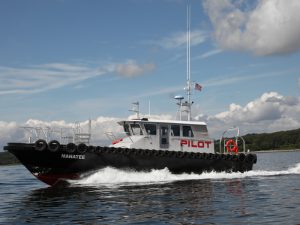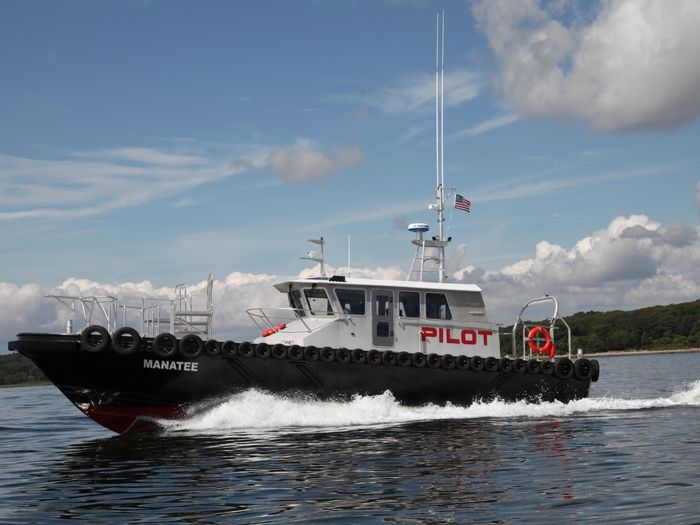 The 28 knot vessel is the association's second Chesapeake Class launch and the first in a new generation of the popular, mid-size pilot boats.
The Somerset, MA, shipyard introduced the Chesapeake Class pilot boat in 2003.Since then, 15 have been delivered to pilot associations throughout the U.S.
The latest improvements incorporate the performance benefits of Volvo Penta's IPS2 inboard propulsion system.
"The IPS2 system was created to improve the performance and the arrangement of planning hulls like our pilot boats," said Peter Duclos, the shipyard's president. "This new generation of Chesapeake launches, named Chesapeake Class MKII, is equipped with the IPS2 pods, which provide what pilots have been asking for: higher speeds, lower fuel consumption, and more comfort."
With a deep-V hull designed by C. Raymond Hunt & Associates, the all-aluminum pilot boat measures 52.7 ft overall, with a 16.8-ft beam and a 4.5-ft draft.
It is powered by twin Volvo Penta D11, six cylinder, EPA Tier 3 diesel engines, each producing 503 bhp at 2,250 rpm. Each engine is connected to a Volvo Penta IPS propulsion pod, which is fitted with dual forward-facing, counter-rotating propellers and integrated exhaust system, and Volvo Penta's integrated EPS electronic steering and control system.
The EPS control system and three-axis joystick increases the boat's overall maneuverability alongside a ship and when docking, says Mr. Duclos.
The financial incentive for the Tampa Bay pilots to optimize fuel economy, vessel handling and comfort led the shipyard to install a Humphree Interceptor automatic trim- optimization system.
"The combination of the Volvo Penta IPS system and the Humphree interceptors gives the pilots higher speeds and improved comfort, while burning 25 percent less fuel than similar Chesapeake Class launches," says Mr. Duclos.
Electrical requirements are met by a 9 kW Northern Lights generator.
Key design changes to the Chesapeake Class MKII include positioning the wheelhouse aft of amidships to improve comfort and provide for a larger foredeck.
With the pods close-coupled to the engines, the engine room is located well aft of the wheelhouse with easy access to machinery through a deck hatch.
This new generation of pilot boats is also designed to accept a gyro-stabilization system, designed to reduce vessel roll.
The wheelhouse, with forward-leaning windows, is outfitted with five Stidd seats and a settee and cooled by two 16,000 Btu air-conditioning units.
The forecastle, with a 12,000 Btu AC unit, has one berth and an enclosed head.Outside of the wheelhouse are wide side-decks and boarding platforms, port and starboard, on the foredeck.
At the transom is a winch-operated, rotating davit over a recessed platform for pilot rescues operations.