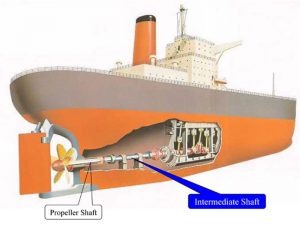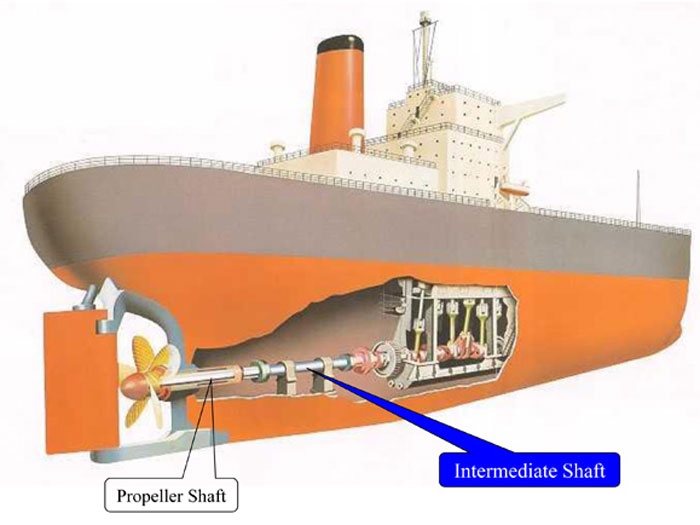 Today's low speed, high torque engines for large ships call for high strength intermediate shafts that can suppress the torsional vibration that occurs when the engine rotates at low speed, shafts of high strength are required.
Until now, however, under the IACS UR, material design for intermediate shafts had been limited to a maximum tensile strength of TS800N/mm2.
Kobe Steel's production technology enables it to make highly clean steel in an integrated manufacturing process that gives it control from steelmaking to final product. It can thus produce high-strength steel up to TS950N/mm2, which has now been adopted as the tensile strength limit for intermediate shafts under the IACS UR.
What this means is that, under the IACS UR, it is now possible to design intermediate shafts of higher strength. Shafts of the same diameter will be better able to cope with large torsional vibrations. Alternatively, at the current level of torsional vibration stress, intermediate shafts of smaller diameters are also possible, saving on weight.
Kobe Steel's casting and forging business supplies a range of shipbuilding components including built-up crankshafts, solid crankshafts, intermediate shafts and propeller shafts. These components are all inspected and assured under a stringent quality control system that includes Automatic Ultrasonic Test (AUT) and quantitative digital evaluation of the contact area of crankshafts.