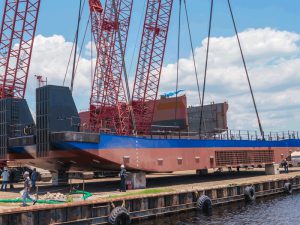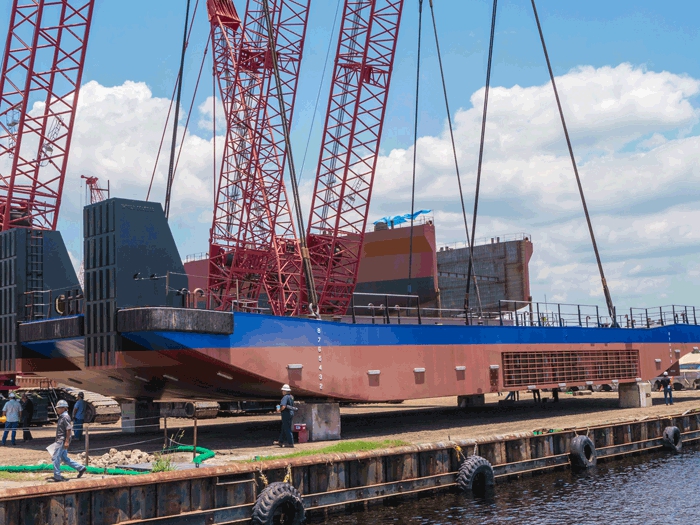 Independent commodity trader Trafigura Group, through its subsidiary Impala, is investing $1 billion in creating the infrastructure for a new multimodal supply chain in Colombia that can transport crude, naphtha, break-bulk cargo, containers, and oversized cargo up and down the country's main waterway, the Magdalena River.
Impala Colombia currently operates a terminal in the seaport of Barranquilla, where the Caribbean Sea meets the Magdalena River. Some 630 kilometers south of Barranquilla on the Magdalena River, Impala is investing some $450 million in developing a new state-of-the-art inland river port in Barrancabermeja. The inland river port will have an oil terminal with six tanks that can store 120,000 bbls each and a general cargo and container terminal. The port will serve as an intermodal connection between river transport and truck transport. Impala's fleet of barges will ship product to and from major crude oil production sites as well as major cities such as Bogotá or Medellin.
In addition, Barrancabermeja will also serve as a seaport with bills of lading possible to connect directly with international ports such as Rotterdam or Shanghai.
Part of Impala's investment includes a fleet of new towboats and barges. Impala's growing Colombian fleet includes at least 15 new towboats and 68 liquid barges and 45 dry cargo barges. The tank barges are double hulled, with vapor recovery systems for environmental responsibility and safety and can carry up to 10,000 barrels of oil.
This past summer, Eastern Shipbuilding, Panama City, FL, launched the Impala Soledad and Impala Puerto Salgar, the first two in a series of four inland river towboats for IWL River Inc., an affiliate of Impala Terminals Colombia.
Designed by CT Marine, the towboats are are being built to ABS Class Inland River Service. Eastern Shipbuilding expects to finish delivering the boats in 2017.
Impala Soledad and Impala Puerto Salgar along with the other sister vessels in the series, the Impala Mompox and Impala Catagallo, will each be 134 feet long, 42 feet wide, with a depth of 9 feet and minimal operational draft of 6 feet.
Each towboat will be triple screwed, with three Caterpillar 3512C main diesel engines, certified to IMO Tier II. Each will produce 1,280 hp at 1,600 rev/min for a total of 3,840 hp. Karl Senner, Kenner, LA, supplied the three Reinjtes WAF665 reduction gears.
The towboat's auxiliary power is supplied by two Caterpillar C6.6 125 kW, 220-volt, 3-phase main generators.
The Panama flag vessel will be classed ABS +A1, Towing Vessel, River Service, +AMS, ABCU.
CT Marine also designed the towboats to have a retractable pilothouse. When fully raised, the pilothouse will have a 37 foot 6 inch eyelevel above the waterline. Towboats designed with retractable pilot houses can pass under low fixed bridges along their route. The deckhouse is confined to a single level and only the pilothouse is extended atop a hydraulic ram. When raised, the pilothouse provides excellent visibility for the master to see over top his tow.
NEW TOWBOAT FOR FMT
Another new towboat built with a retractable pilothouse was Florida Marine Transporters' M/V Marty Cullinan. Built by Horizon Shipbuilding, Bayou La Batre, AL, the M/V Marty Cullinan has an ABS Load Line Certificate to operate in the waters between Chicago to Burns Harbor for fair weather voyages.
The 387 gt towboat is outfitted for service in areas with restricted overhead clearances and draft limitations. With the pilothouse fully retracted, the maximum air draft is 17 ft 8 in.
The 120 ft x 35 ft x 11 ft 6 in vessel is of all steel construction and powered by two Caterpillar 3512 engines, each rated at 2,011 hp at 1,600 rev/min with Twin Disc gears. The boat is outfitted with two 175 kV Tier 3 John Deer 6090 460 V gensets.
Sleeping accommodations and facilities are provided for eight persons and sound dampening systems have been implemented throughout the main deck house.
The towboat was built in 14 months. Project Manager Terry Freeman, who managed the construction of the vessel, said, "Our team exceeded all expectations with regard to the timely production and quality work on this build especially given the new design, ABS requirements and technical expertise required for the retractable pilot house."
Jeff Brumfield, Senior Manager of Boat Construction and Engineering for FMT said, "We are thoroughly pleased with the boat, and when I talk to the Marty Cullinan crew they are quick to note that she is smooth and very quiet. The sound dampening package has exceeded our expectations."
"We have worked hard to build one of the best boats on the river and we consider ourselves fortunate to have teamed with FMT and John J. Gilbert to do this," said Travis Short, President of Horizon Shipbuilding. "Horizon has been building FMT boats for almost a decade and in that time we have been able to assemble a team of master craftsmen that produce a superior product. All the praise goes to those men and women in the yard, taking care to do the job right the first time while working safe, working hard and working together."
Horizon has two more 120 ft FMT towboats, one standard and the other with a retractable pilothouse, in production with deliveries scheduled for this fall and the spring of 2017.
"LADY" KEEPS ON KEEPING ON
The M/V Lady Loren doesn't have a retractable pilothouse, but does have a raised one that provides an eyelevel of 35 feet above the waterline. Back in 2008, LA Carriers built the pusher tug Lady Loren at Lockport Fabrication. At the launch, LA Carriers President Russell Plaisance explained that the boat was the result of five years of planning and a lifetime of maritime experience in the Gulf of Mexico. The 82 ft x 28 ft Lady Loren was the seventh boat in the LA Carriers fleet.
For Plaisance at the time, a key element of his business was diversification. "We do $10 million to $11 million [in gross revenue] per year including some business with the oil industry," he said, "but we do a little of everything else as well. We barge pipe and we once even towed baseball dirt from Houston to Tampa Bay for spring training. This new boat has a contract to tow corn syrup from Memphis to Tampa Bay."
Now eight years later, the corn syrup contract has dried up—the plant has been converted to other products. But LA Carriers' diversity has kept the company healthy even during the current slump in the oil industry.
The Lady Loren, with both towing and pushing capabilities, is currently engaged moving a pair of hopper barges on a run between New Orleans and Tampa.
The Lady Loren is a triple-screw tug powered by three Cummins QSK19-M3 diesels rated at 660 hp each to give a total of 1,980 hp. The engines turn three 63 by 67-inch propellers in kort nozzles.
"The engines had 36,000 hours on them so I decided to rebuild the middle engine," says Plaisance. "Without removing the engine, my crew, together with Cummins mechanics replaced the shaft bearings, pistons and rods, heads and injectors. When we looked at the wear on the parts that came out of the engine we realized that they could easily have given us another 4,000 hours with no risk of down time."
As a result, he feels confident in leaving the rebuild of the two outside engines for another year by which time they will have a remarkable 40,000 hours each. Crediting Cummins quality, Plaisance also has a very proactive service and maintenance program on the engines. Oil is changed regularly, and injectors adjusted every 10,000 hours.
LA Carriers has changed some of the fleet in the eight years since the Lady Loren was first launched and they have several different engine makes among its seven boats. Plaisance is unreserved in his praise for the Cummins engines. "In future, if I have to replace an engine in one of my other tugs, it will be with Cummins," he says.