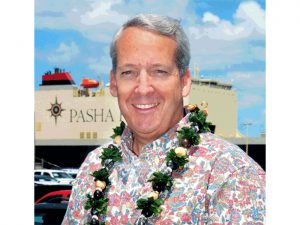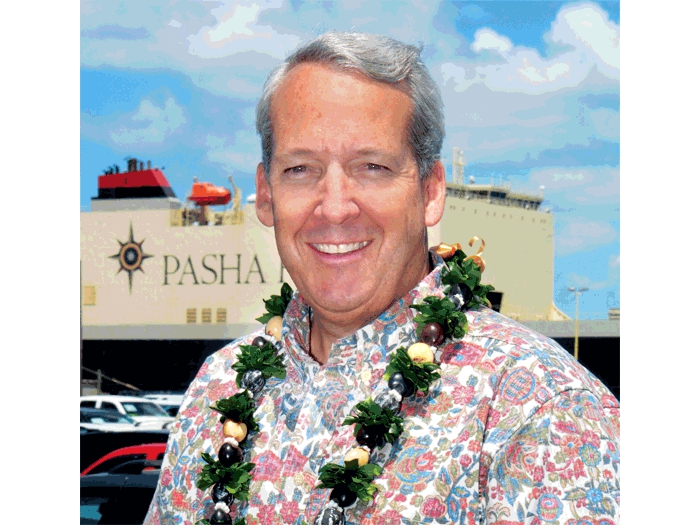 Marine Log: Tell us about the history of The Pasha Group
George Pasha IV: The Pasha Group is a family-owned, third-generation diversified global logistics and transportation company. My grandfather, George W. Pasha, II, known to many as "Senior," founded the company in his second career. He was an automotive engineer and worked for distributors of the early classic cars such as Duisenberg, Cord and Velie, selling and servicing their products. He purchased a "Flying A" service station across the street from Fort Mason in San Francisco in December 1941, five days after the attack on Pearl Harbor. The station was an immediate success mainly due to my grandfather's reputation as an excellent mechanic.
A year later, Senior expanded his operations to provide storage for privately owned vehicles of World War II personnel assigned overseas. This eventually led to the 1947 incorporation of the first Pasha business, Pasha Overseas Automobile Processing Company.
Over the next 20 years, the company grew, especially when George W. Pasha, III (my dad) joined his father and established the first independent automotive port processing terminal on the West Coast at Fort Mason and a body shop on Fisherman's Wharf to service, repair, and provide a "showroom ready" product. Inheriting his father's keen business sense, "George III" expanded the company over the years by establishing state-of-the-art automobile facilities up and down the West Coast and in the mid-Atlantic. Today, we market automotive processing services at the Ports of Grays Harbor, WA; San Francisco and San Diego, CA; Baltimore, MD; and Manatee, FL. Our facility in National City Marine Terminal opened in 1990 and has processed over 5 million vehicles to date.
My dad formed a stevedoring and trucking company alongside the auto terminal business to create a comprehensive logistics solution from unloading of inbound vessels to delivery to dealers. In 1972, Pasha Maritime Services was formed and the stevedoring business diversified, adding break-bulk and general cargoes of all types to the service offering. In 1987, Pasha opened an omni-terminal at berths 174-181 in the Port of Los Angeles to provide stevedoring and terminal services of steel products including steel slab. The local company was renamed Pasha Stevedoring & Terminals, as it's known today.
In the 80's, the company diversified in the domestic and international logistics business and Non-Vessel Ocean Common Carrier businesses largely through acquisition. One such acquisition was AFI Worldwide Forwarders, one of the pioneering forwarders serving the household goods moving requirements for the U.S. Department of Defense. This expansion brought the company to many corners of the globe.
Both my grandfather and dad had an affinity for Hawaii. My grandfather arranged shipment of military members' privately owned vehicles to and from Hawaii out of San Francisco. In the 90's, the company arranged for shipment of new cars for several of our OEM clients. In 1999, the company formed Pasha Hawaii and commenced ocean service between the Mainland and Hawaii in 2005, introducing the first Jones Act-qualified, modern pure car/truck carrier to the domestic trades. The MV Jean Anne, named after my grandmother on my dad's side, has ably served the market providing efficient carriage of autos, trucks, buses and rolling stock of all shapes and sizes including Stryker tactical wheeled vehicles, rail cars, and construction material and equipment.
In 2015, we welcomed the MV Marjorie C, a combination container/roll-on/roll-off (ConRo) vessel. The Marjorie C, named after my grandmother on my mom's side, is the only one of its type to ply the Mainland/Hawaii trade lane. The 26,000-ton vessel was engineered from a proven design by Grimaldi in Croatia at Uljanik Shipyard and is the largest ever built at VT Halter in Pascagoula, Mississippi. Pasha Hawaii added Marjorie C to not only offer increased Ro/Ro service to existing customers, but to diversify our service offering by expanding our container capabilities and frequency of service.
Quickly following the introduction of the Marjorie C into the Mainland/Hawaii trade, The Pasha Group also expanded operations via the acquisition of Horizon Lines' Hawaii business units, and welcomed team members from Horizon Lines and subsidiaries Hawaii-based Hawaii Stevedores, Inc. and the California-based operations of Sea-Logix, LLC. In addition to adding four U.S.-flag, Jones Act containerships, the growth in overall scale and associates supporting these Hawaii business units resulted in a nearly doubling in size of The Pasha Group.
This month, Pasha Hawaii is enhancing service for both container and Ro/Ro cargo from the West Coast to Hawaii Island, with the addition of the Marjorie C providing direct service from Los Angeles to Hilo.
This new route complements the Jean Anne's current bi-weekly service from San Diego to Hilo. By recently deploying all four container ships to service our LA-Hawaii Express (LHX) and CA-Hawaii Express (CHX) routes, we were able to adjust Marjorie C's route to include a fast, reliable, 5-day direct call from Los Angeles to Hilo and bring weekly roll-on/roll-off service to Hawaii Island.
ML: How did you get started in the marine business?
GP: I was always fascinated and proud of the business my grandfather founded and my dad diversified and built. I spent summers working for the company gaining experience in all of our divisions. After I received my Economics degree from the School of Business at Santa Clara University, I entered the world of finance, joining Wells Fargo Bank's training program with the intent of pursuing a career in international banking.
The 80's were a period of rapid growth and my dad asked me to join him and manage part of our forwarding and logistics divisions. To be able to support my dad in his endeavors was very rewarding. As the oldest of five children, I've always felt a great responsibility to both my family and the company. Together my dad and I successfully expanded the scale and breadth of the company. In 2008, I was appointed CEO and assumed responsibility for all divisions of the company, still working very closely with our Chairman, George III.
ML: Tell us about The Pasha Group shipping and logistics business model. How has it evolved over the years since your business first started in 1947?
GP: Growth has been strategic and measured with the goal of having the infrastructure, resources, and capabilities to become a world leader in diversified global logistics and transportation services. Growth and diversification has been largely organic, endeavoring to realize synergies between the divisions and staying close to what we understand and do well. Great effort has been made to stay true to our family values, and through them we strive to support a highly performing group of professionals whose mission is to deliver excellence to a broad base of world-class clients.
The model for many years was asset light. People and property leases in strategic locations were our most important assets. In an effort to allow the company to remain relevant and competitive for another generation or more, beginning with the construction of the MV Jean Anne, we have become a very capital intense business. In 2015, we invested more than $350 Million in our business – a large departure from asset light. However, our newest vessel, the Hawaii assets of Horizon Lines and other transportation assets are all very complementary to the core business. We have leveraged off of the existing organization and internal competencies while complementing with the experienced management, operators and sales folks that joined us from Horizon.
ML: Last year, Pasha added the Marjorie C. Have you been pleased with the performance of the new vessel? Do you have plans to add additional RO/RO vehicle carriers?
GP: Marjorie C has proven to be a great fit for the Hawaii trade. The ConRo vessel has improved our service capabilities through increased capacity and frequency for autos and oversize cargoes as planned. With her unique design, she offers great flexibility by serving a dual role of providing container service while simultaneously serving our Ro/Ro customers. We have also been able to directly call the neighbor islands. Marjorie C features the latest in fuel and emission savings including a shaft generator which uses excess power from the main engine to support electrical needs together with powering of reefer containers.
We are currently actively engaged with the U.S. shipyards to develop our vessel investment strategy. The strategy will balance the needs of the trade, Pasha's strengths and the opportunity to embrace the latest technologies to assure efficient carriage of goods between Hawaii and the mainland.
 
ML: Last year, Pasha acquired the Hawaii operations of Horizon Lines. What assets and personnel did that involve and how has the integration of those assets been progressing?
GP: Pasha acquired nearly 900 California and Hawaii-based team members that supported Horizon's Hawaii business, as well as its subsidiaries Hawaii Stevedores, Inc. (HSI) and Sea-Logix, LLC. In addition, we formed a Dallas service center and brought more than 30 ex-Horizon professionals aboard in that office.
Pasha now owns four former Horizon U.S.-flag container ships (Spirit, Reliance, Pacific and Enterprise) operating alongside Jean Anne and Marjorie C. This provides our customers with increased cargo capacity and the widest range of ocean transportation services between Hawaii and the Mainland. We also expanded our ports to include Los Angeles and Oakland, and more than doubled the frequency of our sailings.
HSI provides us with our own experienced manpower to load and offload cargo in Hawaii, and with Sea-Logix, we now have our own container trucking fleet to pick up and deliver our customers' cargo, as well as provide trucking to other companies. Adding these businesses has strengthened our integrated shipping and logistics offering to our customers and leveraged synergies within The Pasha Group as a whole.
It's been a year since the acquisition and the integration of our new employees and assets. The transition has progressed very well. Our success with this very large and complex transaction is due to the dedication of our employees, both current and former Horizon personnel, all of whom share Pasha's key core values of teamwork, innovation and excellence.
Combining the two businesses allowed us to more effectively serve our expanding customer base while maintaining our customer service philosophy.
ML: Operators are under tremendous environmental regulatory pressure. How has Pasha addressed the issues of emissions, ballast water treatment and sustainability in its operations?
GP: Environmental management is one of the key responsibilities of our in-house Performance Management Team. Route planning, heat balance, hull resistance, and engine performance are just a few of the parameters regularly analyzed to ensure optimum performance on all of our vessels. We currently have projects underway to install stack analyzers and automatic engine tuning to further increase our fuel efficiency and reduce emissions. Through our Ship Energy Efficiency Management Plan we provide the most up-to-date guidelines to our crews for energy conservation.
We are in discussions with Ballast Water Treatment manufacturers and have completed engineering reviews. Currently there is not a USCG approved unit available. When approved systems become available we are prepared. Currently we minimize all ballast water exchange.
Environmental sustainability is important to Pasha and we support long-term ecological balance. We are studying alternative fuels with less environmental impact such as liquefied natural gas. The use of reusable or recycled products is encouraged.
To help eliminate pollution from port-related operations, we are also very proud to announce recently that our Pasha Stevedoring & Terminals L.P. team at the Port of Los Angeles is partnering with the Port to launch the Green Omni Terminal Demonstration Project, a full-scale, real-time demonstration of zero and near-zero emission technologies at a working marine terminal. At full build out, Pasha will be the world's first marine terminal able to generate all of its energy needs from renewable sources.
ML: What do you see for the future of Pasha? What lessons could you impart to other operators regarding best practices?
GP: The next several years will entail filling in our organization to bring our standard as close to excellence as we can. Meanwhile we will focus on fundamentals of continuing to invest across the company in a balanced way that will promote health and growth across all of our divisions.