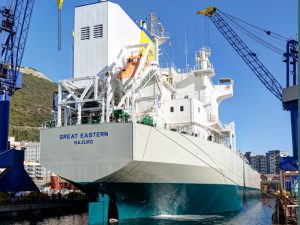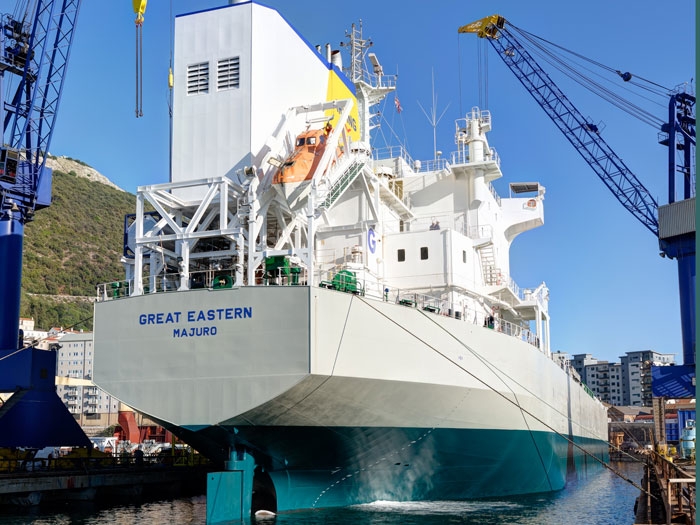 It covers five vessels operated by ship management major Norbulk Shipping and owned by Netherlands headquartered shipping group Vroon.
The contract gives the shipyard a sizable debut in specialized EGS work. With all five ships also undergoing special survey drydocking, the job is the Gibraltar yard's largest single assignment in 2015. It is the first series retrofit EGS win for any Southern European yard.
"We are the first shipyard in the region to win a major exhaust scrubber project," said Gibdock Managing Director Richard Beards. "Our ideal location means that we are always attractive for owners considering this area. Gibdock's competitiveness, high quality workmanship and on-schedule redelivery has led to this breakthrough deal, which opens a new chapter in the industry's EGS installation work options."
Gibdock's workload included the 37,500 dwt product tanker Great Eastern, the third of the five Norbulk vessels being fitted with PureSOx main engine, auxiliary engine and boiler EGS units from Alfa Laval. The hybrid PureSOx system removes over 98% of SOx emissions from exhaust gases and up to 80% of particulates.
EGS installation work onboard Great Eastern included 90 tonnes of newly fabricated steel, the laying of 12,386 m of electrical cabling and 1,134 m of GRE pipes involving 800 flanges and elbows.
Special survey work included a hull washing, spot grit-blasting and coating job, overhauling of sea valves, propeller withdrawal, bonding of stern seals, rudder clearances, bow thruster overhauling, windlass winch bearing renewal, overhauling of boiler safety valves,pipeworks, insulation works and various other routine dry-dock works. These tasks took place at the same time as the EGS installation, with the ship redelivered on schedule and on budget in 20 days.
Mr. Beards said the time taken for redelivery to Norbulk of subsequent ships has been shortened as projects have progressed.
To optimize EGS retrofit processes, Gibdock undertakes prefabrication for smaller blocks in its workshops, with transfer to the yard's Pad 1 area, completed in 2014, allowing further structural and assembly work to be completed alongside Drydock 1 in a timely fashion for drydocking.
"Pad 1 was pivotal in optimising workflow," said John Taylor, Gibdock Operations Director. "No other regional yard has a comparable purpose-built zone for EGS foundation and structural work before vessels arrive.
"This has been an intense collaboration, involving different Gibdock departments, naval architects, the Norbulk project team, Alfa Laval, and our electrical and piping systems subcontractors. Optimised planning, materials purchasing, equipment deployment and job sequencing for EGS work are now part of Gibdock's competitive advantage."