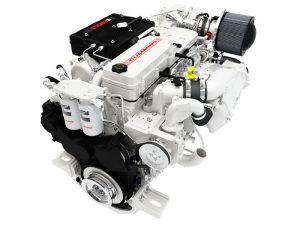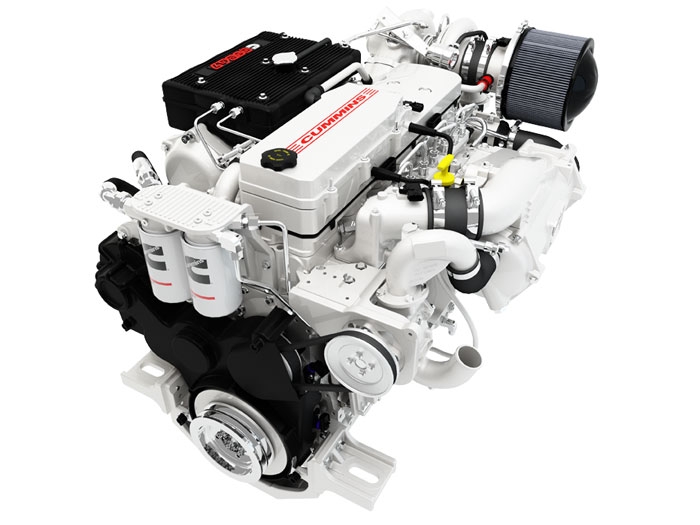 Since the £8.5 million plant began engine production in 1965, with over 400 employees onsite, around 1.5 million engines have been built in the factory for customers worldwide.
Production began with the assembly of Cummins VAL and VALE range of Small Vee V6 and V8 engines. With capacities of 352 and 504 cu in (5.7 and 8.3 liters) they had an output of up to 150 hp (111 kW), suitable for a range of boats at the time.
The Small Vee engines proved popular in the marine market and in 1966 the British offshore power boat Merry-Go-Round, with twin Cummins, broke the world water speed record for diesel power at over 60 mph. The record was achieved off the UK coast on Southampton Water. The two VT8 racing engines were each rated at 520 hp (387 kW), especially for the event.
"The Small Vee was an evolutionary design at the time with some of the key features of the original engine carrying on into current products – such as an efficient high pressure fuel system, cylinder heads with four valves per cylinder, a rear gear train configuration, a high power to weight ratio, and major components with the latest materials designed for durability and reliability," said Michel Kozulic, Marine Business Development Manager.
In 1986 a major upgrade saw the Darlington plant shift production to the B Series engine. The 5.9 liter displacement engine was the forerunner of the latest 6.7 liter unit produced today.
The current QSB6.7, built at the Darlington plant, offers the latest engine technology providing between 230 and 550 hp (172-410 kW), and up to 1,695 Nm in torque in an inline 6 cylinder configuration.
Exceptional performance driven through a perfectly matched Cummins wastegated turbocharger and a new 24 valve cylinder head delivers industry leading power density. The engine has a quiet operation, including an 80 percent reduction in noise at idle. It is also possible to maximize vessel performance and access comprehensive vessel diagnostic information via SmartCraft electronics.
The QSB6.7 engine provides propulsion and power generation to many motor boats, and has recently featured in the Princess 43. A brand new SL option package is now available for the QSB6.7, offering a lighter and more compact engine, allowing easy installation into the vessel.
Tim Hamilton, Marine Product Engineer said, "Working at Cummins Darlington for over 30 years, I have seen a dedication to innovation, product development and build quality. We have always worked closely with our customers to ensure we have the right product for them and to ensure the best level of service and integration in the vessel."
The Darlington factory now employs over 800 people and has a dedicated marine engine area onsite, a separate product development center and a neighboring plant producing exhaust aftertreatment systems. £10.4 million has recently been invested into production and development at Darlington, supported by a regional growth fund grant. Marine engines from 6.7 to 11 liters (230-715 hp / 171-533 kW) are available from the Darlington site, including a range of helm to propeller packages.