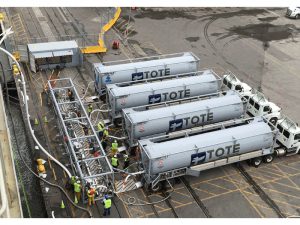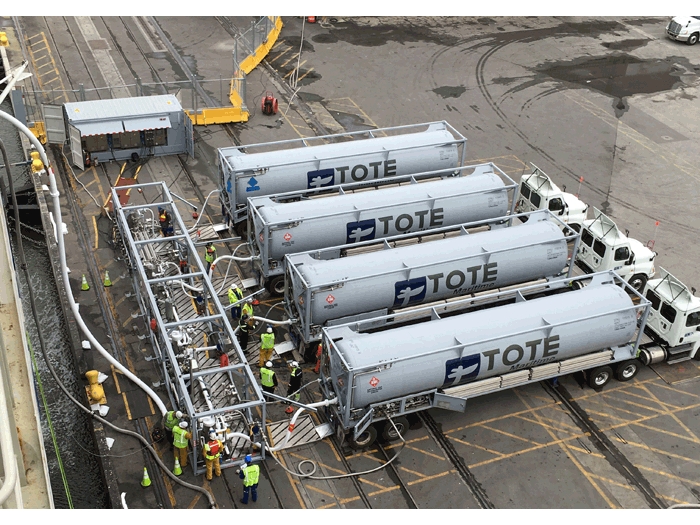 Last year, General Dynamics NASSCO earned the bragging rights for building and delivering the world's first LNG-fueled containership, the Isla Bella, to Jones Act operator TOTE Maritime. The San Diego shipbuilder capped off that technological achievement last month by delivering the 764 ft Perla del Caribe, sister ship to the Isla Bella, two months early.
The two ships were built under a contract signed by TOTE in December 2012. The investment by TOTE in the two ships was $375 million.
 
TOTE President and CEO Anthony Chiarello, says that the "Isla Bella is already serving the people and communities of Puerto Rico and we are excited to introduce the Perla Del Caribe into the trade next month."
GD NASSCO designed the ships in partnership with DSEC, a subsidiary of Daewoo Shipbuilding & Marine Engineering (DSME), located in Busan, South Korea.
The design is based on proven containership-design standards and includes DSME's patented LNG fuel-gas system and a MAN ME-GI dual fuel, slow-speed engine. The 8L70ME-GI engine was built by Korea's Doosan Engine under license from MAN Diesel & Turbo.
Burning LNG will allow the Marlin Class ships to be fully compliant with strict emissions regulations while operating in both the North American Emissions Control Area and the U.S. Caribbean ECA.
The Isla Bella made its first trip from Jacksonville, FL, to San Juan, Puerto Rico, November 24.
On January 9, TOTE Maritime Puerto Rico successfully loaded LNG bunkers aboard the world's first LNG powered containership, MV Isla Bella. Approximately 100,000 LNG gallons transported by 12 TOTE-owned LNG ISO containers were loaded on schedule. The bunkering was conducted under strict U.S. Coast Guard oversight while Isla Bella was also undergoing cargo operations.
The LNG was transferred from the ISO tank containers using a specially developed transfer skid developed by TOTE's partner Applied Cryogenics Technologies (ACT) of Houston, TX. The transfer skid is designed to allow four ISO tanks to be transferred to Isla Bella at once, dramatically reducing transfer time.
The LNG was sourced by TOTE's partner, JAX LNG, LLC, from AGL Resources' LNG production facility in Macon, GA. Genox Transportation, a specialized LNG trucking partner of TOTE, transported the fuel to Jacksonville. Pivotal LNG, a subsidiary of AGL Resources, also provided transfer expertise to TOTE Maritime with its highly trained LNG experts, ensured the operation was conducted safely and in accordance with best industry practices.
Oversight of the operation both at shipside and on shore was provided by TOTE Services, Inc. (TSI), TOTE Maritime's sister company that manages the vessels.
"We are very pleased with the results of this initial LNG bunker event and know that the use of LNG in our Marlin Class vessels will provide unprecedented environmental benefits both here in Jacksonville and in Puerto Rico," says Tim Nolan, President of TOTE Maritime Puerto Rico. "We are indebted to USCG Sector Jacksonville for their diligent oversight and assistance that was invaluable and helped make this event a success. Our partners ACT, Pivotal LNG and Genox were also major components of our success. Our sister company, TSI, has developed significant expertise in LNG as a Maritime fuel and ensures that our vessels operate safely and efficiently using this environmentally superior fuel."
Applied CryoTechnologies, Inc. (ACT) is the premier equipment supplier for cryogenics in North America. ACT is proud to be the first to market with this type of bunkering equipment for the marine industry. Leveraging ACT's innovative style and unrivaled experience in LNG equipment is sure to bring success to any LNG fueling project.
Pivotal LNG brings liquefied natural gas to companies and industries throughout the United States through reliable, flexible and cost-effective solutions.
TOTE Maritime provides safe, reliable transportation at the fastest speed possible for the Puerto Rican and related Caribbean trades.
Meanwhile, Crowley Puerto Rico Services, Inc., Jacksonville, has selected Eagle LNG Partners as LNG supplier for the company's new LNG-powered, Commitment Class ships, which will be delivered in 2017 for use in the U.S. mainland to Puerto Rico trade. To support Crowley's LNG needs, Eagle LNG will build an LNG plant offering a capacity of 200,000 gallons per day (87,000 gallons per day initially) in Jacksonville. The state-of-the-art facility is slated to be operational by early 2017.

The decision to partner with Eagle LNG was made by Crowley in part because of the companies' shared commitment to the environment.
"Crowley is proud to take a leadership position in the industry's shift to cleaner-burning, natural gas fuel solutions," said Crowley's John Hourihan, senior vice president and general manager, Puerto Rico services. "The partnership with Eagle LNG is an important first step in developing sustainable supply infrastructure to ensure these highly technical, environmentally friendly vessels operate to their full capability."
"The marine sector represents a significant opportunity for LNG fueling in the U.S., and Eagle LNG is well-positioned to build the necessary infrastructure and provide the specialized logistics to facilitate this energy transformation," said Dick Brown, CEO, Eagle LNG. "It takes companies like Crowley to lead that wave of change. Eagle LNG is proud to work with such a pioneering organization."
"This project is an important investment in our community from both economic and environmental perspectives," said Jacksonville Mayor Lenny Curry. "It clearly demonstrates the leadership role our region is playing in LNG development and progression, while strengthening our commitment to leaving a smaller footprint through cleaner-burning fuel."
The supply agreement between Eagle LNG and Crowley will provide LNG fuel for the El Conqui and Taino, which are expected to be in service in the second quarter and fourth quarter of 2017 respectively.  The Jones Act ships will replace Crowley's towed triple-deck barge fleet, which has served the trade continuously and with distinction since the early 1970s. These new ships, will offer customers fast ocean transit times, while accommodating the company's diverse equipment selection and cargo handling flexibility – benefits customers have enjoyed for nearly 60 years.  The LNG plant is separate from the previously announced Eagle LNG Federal Energy Regulatory Commission (FERC) export terminal located along the St. Johns River, in Jacksonville, which will continue to focus on export markets in the Caribbean and Atlantic Basin.
DUAL FUEL BULKERS BUILT TO NEW DNV GL CLASS
ESL Shipping's new dual-fuelled bulk carriers will not only be the first large LNG-fuelled bulkers, but the first vessels constructed to the new DNV GL rule set. Due for delivery in early 2018, the two highly efficient 25,600 dwt vessels are optimized for trading in the Baltic Sea region.
"It is fitting that the first vessels that will be constructed to the most forward looking set of classification rules are themselves at the cutting edge of maritime innovation," says Knut Ørbeck-Nilssen, CEO of DNV GL – Maritime. "We have created these rules to be ready for the future and we have long pioneered the use of LNG as a ship fuel. To see these two come together in a double first for the industry is a remarkable moment. We look forward to working with ESL, Deltamarin, Sinotrans & CSC Qingshan Shipyard and all the project partners to make this project a success."
"We are proud to be the world's first shipyard applying the new and innovative DNV GL rules for a newbuilding, just two months after DNV GL has launched its new rules in October this year," said Liu Guangyao, Deputy General Manager of Sinotrans & CSC at the Marintec China Trade Fair recently. "We appreciate the support that DNV GL has committed to provide on the project during both the design and construction phase, especially in a project with many advanced extra class notations. We are looking forward to a close cooperation and a successful delivery."
Featuring the Deltamarin B.Delta26LNG design, the two highly efficient ships will feature dual-fuel main and auxiliary machinery, resulting in CO2 emissions per ton of cargo transported half that of present vessels. The bulk carriers will be built to the new DNV GL rules for general dry cargo ships with DNV GL ice class 1A and will have type C LNG tanks of approximately 400 m3 capacity enabling bunkering at several terminals within the Baltic region. The B.Delta26LNG has a shallow draft of maximum 10 m, an overall length of 160 m, and a breadth of 26 m.
"We are very excited to have been selected to take part in this ground breaking project," says Morten Løvstad, Business Director Bulk Carriers at DNV GL. "Being asked to work with such an innovative team as the classification partner is a testament to the creativity and hard work that so many colleagues at DNV GL have invested in the new rule set. These vessels will set new standards for efficiency and environmental performance. They are an important step forward in showing how shipping can be a force for sustainability today and in the future."
FIRST PURE LNG FERRY FOR GERMANY
Germany's first LNG-fueled ferry, the MS Ostfriesland, has now been  operating for AG Ems between Emden and Borkum Island on the ecologically sensitive Wadden Sea, since June 2015.
Originally built in 1985, the vessel was converted to dual fuel propulsion in a conversion that saw it fitted with a complete new aft end, construction of which got underway at German shipyard  Brenn – und Verformungstechnik Bremen GmbH while the ship remained in service.
The new aft section, which extended the vessel's length from 78.7 m to 93 m, houses the new machinery space and LNG fuel system/tank with the vessel now being propelled by two electrically powered Schottel STP Twin thrusters, each rated at 1,150 kW at 1,480 rpm.
While the prime movers are two 6-cylinder Wärtsilä 20DF dual-fuel generating sets, for navigating within harbors, the vessel uses two Mitsubishi auxiliary generators.
Switching to LNG fuel means providing against various unlikely malfunctions, such as an ignition failure resulting in an unburned mixture of gas and air in the exhaust. This could cause uncontrolled combustion and an increase in pressure the next time ignition takes place, putting a substantial strain on the pipe components.
To protect against this, the Mitsubishi auxiliary generators are protected by a Q-Rohr flameless venting system by German manufacturer Rembe GmbH that ensures that the reaction is vented directly at the exhaust.
Both the flame and the pressure are absorbed by the stainless steel mesh filter of the Q-Rohr, providing optimum protection for the pipe components and the environment.