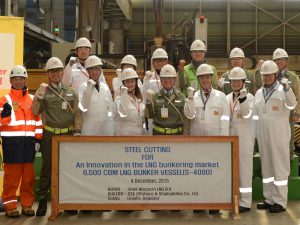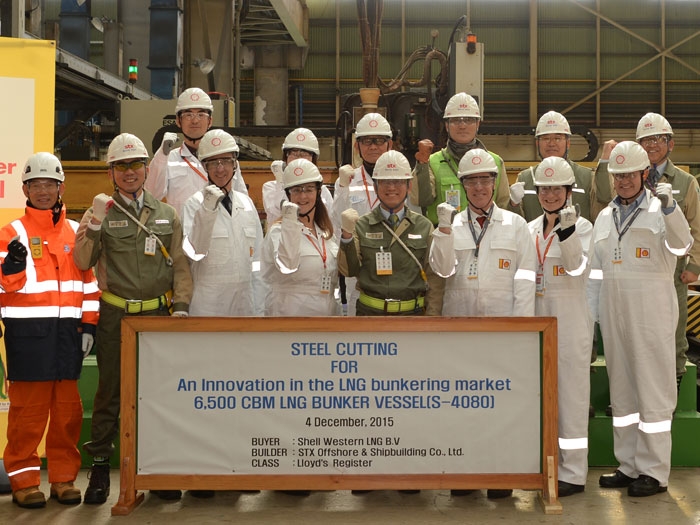 The steel cutting ceremony took place at the shipyard December 4, with representatives from Shell and the shipbuilder in attendance.The new LNG bunker vessel will be based at the port of Rotterdam in the Netherlands, and will load from the new LNG break bulk terminal currently under construction by the Gas Access to Europe terminal. Once ready, it will deliver to LNG-fueled vessels in northwest Europe. The vessel is also seagoing and, therefore, able to bunker customers at other locations.
Shell says the vessel will be "pioneering in design." It will have a capacity to carry 6,500 cu. m of LNG fuel and will be highly efficient and maneuverable. Featuring an innovative transfer system and sub cooler unit, it will be able to load from large or small terminals and able to bunker a wide variety of customer vessels.
Finland's Containerships Ltd Oy will be the launch customer for the vessel's services, after signing an LNG supply agreement with Shell on November 24.
As we reported earlier, Containerships Ltd Oy is to charter the two 1,400 TEU LNG fueled containerships currently being built for Nordic Hamburg Group at China's Yangzhou Guoyu Shipyard .
The vessels will receive LNG fuel from Shell at the port of Rotterdam, after the LNG bunker vessel becomes operational in mid-2017."This is a significant landmark in bringing this innovative LNG bunker vessel with cutting-edge technology to reality," said Dr Grahaeme Henderson, Vice President of Shell Shipping & Maritime.
"I am delighted to be working with STX on this project and Shell is proud to be leading in the development of LNG fuel in shipping.""The supply agreement between Shell and Containerships is another example of the marine LNG fuel supply chain coming together," says Lauran Wetemans, Shell's General Manager Downstream LNG. "Working together with customers like Containerships is critical to encourage the use of LNG as a fuel in the marine sector, and we're committed to helping make the transition to LNG."
LNG bunker vessel