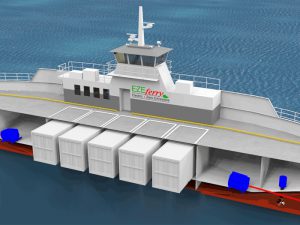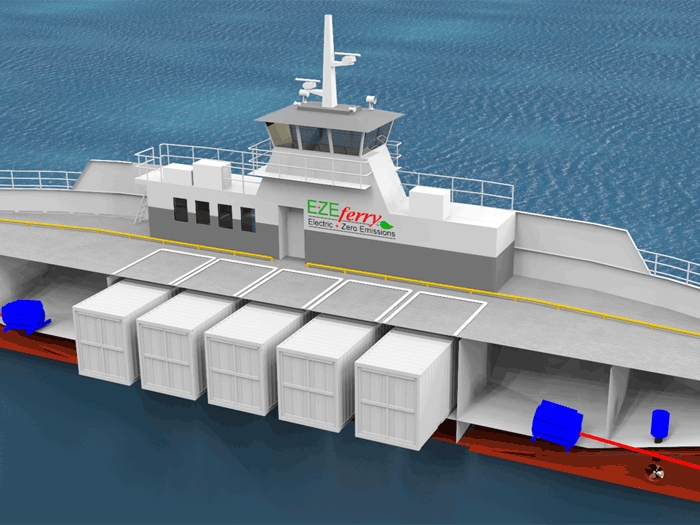 The first all-electric ferry built for operations in the United States may soon be coming to fruition in the Pacific Northwest. Bremerton, WA-based Art Anderson Associates with partner EESImarine has been developing concepts for the first all-electric battery-powered vehicle ferry to be produced and used in the United States. This zero emissions ferry will be the first of its kind putting the United States and more specifically, the Puget Sound region, on the map as a leader in green technology in the marine industry.
Art Anderson Associates is at the forefront of green technology within the marine community. Founded in 1957 as a naval architecture and marine engineering firm, the company has grown and diversified to employ architects, naval architects, planners, construction managers and civil, structural, mechanical and electrical engineers to create an interdisciplinary team. Art Anderson Associates has supported local and international ferry systems including Washington State Ferries and Alaska Marine Highway Systems for over 30 years.
New ferry for Guemes Island route
Art Anderson Associates and EESImarine are teaming up to generate funding for the potential implementation of the vehicle ferry concept for Skagit County's Guemes Island-Anacortes passenger and car ferry replacement.
After an initial review of the Guemes Island Ferry route, Art Anderson Associates proposed to the Skagit County Board of Commissioners the all-electric ferry as a viable replacement for their aging ferry with additional benefits of reducing the lifecycle costs and environmental impacts that a traditional diesel ferry would have. The Skagit County Board of Commissioners signed a resolution on December 29, 2015 directing its Public Works Department to conduct an all-electric ferry propulsion and feasibility study with Art Anderson Associates.
The all-electric ferry being developed will be a practical alternative for operators of ferries throughout the world who want to accomplish zero emissions and achieve a reduction in overall costs of operations. It is projected that the all-electric ferry will reduce owner costs by up to $170,000 per year and will provide an overall breakeven cost after five years of operation when compared to a diesel engine driven vessel.
Two battery banks using low maintenance technology will provide the vessel's propulsion and power. This clean energy storage uses vanadium flow batteries provided by UniEnergy Technologies (UET) of Mukilteo, WA. This revolutionary battery system combines chemicals in a reduction-oxidation reaction that yields electricity. UET's batteries are economical, safe, environmentally responsible, and highly reliable. After the batteries have reached the end of their utility, UET handles the decommissioning process and recycles the batteries. This process supports the development of recyclable fuel and eliminates the waste conventional batteries leave at the end of their lifetime.
A key part of the design was building the battery and propulsion system in modular format to permit complete system construction and testing before shipment to the shipyard. "This effectively makes the main power & propulsion system plug-N-play and eliminates a major headache for many small and mid-size yards," says Payne.
Payne, an expert in electric marine and hybrid propulsion systems, has been designing commercial marine electrical systems since 1993.
The electric ferry also demonstrates energy efficiency and energy conservation. With electric motors and the vanadium flow batteries, the propulsion system's efficiency is approximately 73%, which is twice the efficiency of a traditional diesel-driven vessel. In addition, the electric ferry supports the conservation of energy by obtaining its power from the electric grid—which in Washington is largely supplied by renewable energy sources including solar, biomass, biodiesel, hydroelectric, and wind power.
The cost of energy for powering the ferry is 30-60% less than for the equivalent amount of diesel fuel required for a vessel of a similar size. This estimation can largely vary due to the fluctuation in oil prices but even on the low end offers significant savings both fiscally and environmentally. The electric ferry project also has the ability to further provide savings by supporting demand-side response and management by charging during the evening when the demand for electricity is low.
The vessel and power system design requires no exotic hull materials and can also be used to retrofit an existing vessel. New all-electric vessel construction costs are estimated at approximately 5% more than an engine-driven version.
"This design concept has the potential to be a true differentiator in the marine industry as an alternative form of vessel propulsion," stated Eric Engelbrecht, Vice President at Art Anderson Associates. "With demonstrated performance and future advances in battery technology, this propulsion system can be scalable and ultimately contend with other means of propulsion for cost of construction and operation, and have zero environmental impact."
Seeking Funds
Funding is being sought through a variety of public and private sources. Skagit County has committed funds to conduct a propulsion study on the current ferry route and Art Anderson Associates is developing technical content for further funding outreach.
Currently, Art Anderson Associates is pursuing funding from Washington State's Clean Energy Fund II, a state funded research, development and demonstration grant for technological advances in clean energy that bolsters the state's clean tech sector. Funding of the Clean Energy Fund II supports development, demonstration, and deployment of clean energy technologies that save energy and reduce energy costs, reduce harmful air emissions, or otherwise increase energy independence for the state.  
If successful, this project would be the first all-electric, battery-powered vehicle ferry in North America. "We are extremely excited to be working with Art Anderson Associates to conduct a feasibility analysis for this innovative technology that can have so many positive impacts to the citizens of Skagit County, Washington state's marine industry and the environment," said Captain Rachel Rowe, Ferry Operations Division Manager for Skagit County.
Benefits of Going All-Electric
The vessel will have zero emissions, which eliminates approximately 650 tons of greenhouse gases annually. This does not include the reduced emissions from the elimination of the transportation and delivery of the 59,000 gallons of diesel utilized by the existing vessel each year.
An all-electric vehicle ferry means direct cost savings to taxpayers and zero-emissions benefits to all environments. This technology will accomplish local, federal and global initiatives to be a zero emission producer and lower our carbon footprint.