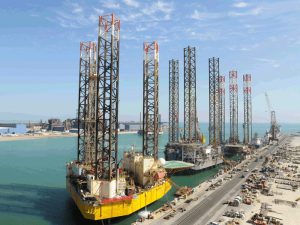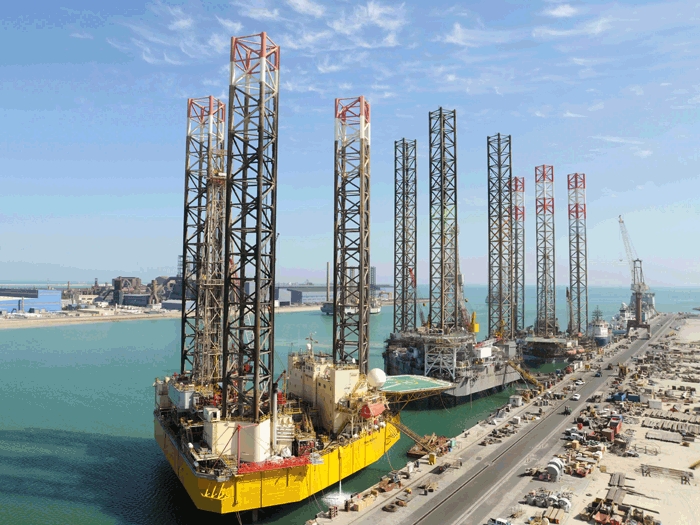 OPEC's December decision to maintain oil output may not be doing any favors for U.S. shale producers, but continuing investment by national oil companies around the Arabian Gulf is underpinning a wide range of offshore-related projects and creating opportunities for regional shipyards.
There has, of course, been a sharp downturn in charter rates—the world's largest energy firm Saudi Aramco, for example, told suppliers including Offshore Support Vessel (OSV) operators earlier in the year that it expected cuts in rates of 20-30%. Many regional OSV owners are under serious pressure.
But while shipyard prices are also sharply constrained, there is no shortage of work. Oil producing countries are geared to pumping as much oil as possible and making the most of the opportunity to grow their market share. Both Saudi Aramco and the Abu Dhabi National Oil Company (ADNOC) have revealed that they have no plans to cut back on exploration and production although, to be fair, the Saudi energy company has stopped exploring in the Red Sea for the moment.
Both oil companies have huge capex programs, however. ADNOC has plans to raise oil output by a quarter, to 3.5 million b/d by 2018. The company plans to spend close to $100 billion over the next four years, it revealed last May. More than $60 billion will be spend over the next two years. A significant proportion of the money will be channelled offshore in vast oil fields that lie in shallow water. The oil-rich Emirate is developing some of its offshore reserves by creating artificial islands that provide a cheaper means of production for long-life fields than chartering jack-ups.
With relatively low production costs, Middle East oil producers are less vulnerable to low prices than almost everyone else. The continuing drive to explore and develop more reserves has been a major catalyst in the drive by regional shipyards to target the offshore sector. Heavyweight repair yards including ASRY in Bahrain, Drydocks World Dubai and N-KOM in Qatar have all developed substantial revenue streams from the offshore sector in recent years.
Now, several new yards are targeting the offshore market. The family-owned Zamil Group officially commissioned a new shipyard built on reclaimed land last April. The 2.5 million ft2 facility has been designed not only to build and repair the group's own vessels—it has a fleet of 76 vessels, mostly OSVs—but also to work on other ship- and offshore-building projects for third parties.
A few miles down the coast, Dammam Ship Repair Yard is also gearing up to take on more business in the offshore sector. The yard has already undergone a significant upgrading under ownership of the Al Blagha group, with two floating docks of 22,000 tonnes and 10,000 tonnes lifting capacity refurbished and brought back into class. Buildings, workshops and yard infrastructure has also been overhauled and upgraded.
Now though, yard management is targeting international offshore operators working in Saudi waters. Mobile repair teams from the shipyard have been deployed on rigs offshore, carrying out a range of projects. Meanwhile contractors including Ensco, Rowan, Noble and Seadrill all carried out jack-up rig repairs, upgrades and modifications during 2015.
Elsewhere in the Gulf, Damen Shipyards Sharjah is also eyeing the offshore sector. The new facility, which is a joint venture between the global shipyard group and locally owned Albwardy Marine Engineering, is a newbuilding and repair yard capable of handling offshore support vessels, tugs and workboats of various types. Its facilities include a Rolls-Royce ship lift capable of handling vessels up to 394 feet, 4,000 feet of quay for alongside repairs, and eight dry repair berths.
BUSY AT GRANDWELD
This past year, Grandweld completed the construction of 17 vessels. The shipyard's latest projects include advanced crew boats, dive maintenance and support vessels, and work crane boats for a who's who of Middle East energy firms and offshore contractors.
Grandweld, which has been operating from its Dubai base since 1984, specializes in vessels custom built to conduct complex operations in the region's challenging offshore environment.
These range from three recently delivered work crane boats for Kuwait Oil Company – optimized for duties such as heavy lifting, oil-pollution control, SPM hose handling, and supply to remote areas – to two modified 42-meter-long crew boats (FNSA-3 and FNSA-4) for Fujairah National Shipping Agency. The latter vessels are capable of speeds in excess of 30 knots and customized to execute operations such as security duties, fast transportation of offshore personal and cargo, and the rapid supply of fuel and freshwater.
"The Middle East is a unique environment, with unique challenges and opportunities," says Jamal Abki, General Manager Grandweld Shipyards. "We have a history of producing vessels that excel here. We use that understanding to continually enhance our offering, while building new relationships with international clients who can benefit from our expertise when it comes to meeting their own exacting requirements.
"Our integrated proposition is efficient, flexible and modern, while our in-house engineers and project managers are world class. In addition, we invest heavily in research and development to enhance our own designs, as well as using respected external designers when desired. This ensures our vessels are leading the way in operational efficiency, reliability and performance – something the industry clearly appreciates."
Further noteworthy deliveries over the last months include three 34.3m aluminum crew boats to Jana Marine Services, a 50m Dive Maintenance & Support Vessel to Abu Dhabi National Oil Company (ADNOC), and the 42m crew boats Stanford Volga and Stanford Niger, which are capable of carrying 83 people at speeds of 25 knots.
"It's an exciting time for the business, and our customers," concludes Jamal Abki. "As the offshore trend points towards more optimized, complex vessels, our knowledge and experience allows us to respond with advanced newbuilds that deliver added performance and competitiveness for our clients.
"We're now looking forward to building on our leading market position over the space of the next 12 months, and beyond."
Meanwhile, Gulf ship repairers are all cautiously optimistic on potential business from Iran. However, legal experts specializing in sanctions are urging the utmost caution. The latest diplomatic fall-out between Saudi Arabia and Iran will certainly not have helped.
NEW DESIGN FROM ROLLS-ROYCE TARGETS U.S., TOO
Offshore operators in the Gulf of Mexico are among those being targeted by Rolls-Royce as it introduces the first in a series of new mid-range offshore vessel designs specifically developed to meet the requirements of companies working in a low capex era. The UT 7217 is a DP2 anchor handling tug supply ship with a bollard pull of 100 tonnes which can be raised to 130 tonnes without any fundamental design changes.
Jan Emblemsvåg is Senior Vice President of Ship Design at Rolls-Royce. He says that the company's analysis has revealed that there are already more than 600 vessels in this range which are more than 25 years old. This could be the first sector of the offshore market to generate new demand, he believes. There will inevitably be a replacement requirement at some point, he says, and the UT 7217 has been designed with operators' likely future requirements specifically in mind.
Although the design has been developed to incorporate as much flexibility as possible and will be capable of worldwide deployment, specific offshore markets which Rolls-Royce has identified besides the Gulf of Mexico include the Middle East and the South China Sea. Vessel price will of course depend on region and shipyard, but Emblemsvåg reveals that initial indications from some Far Eastern yards lie in the $17 million to $18 million range.
The design has been developed to compete effectively with existing ships in the sector. Bollard pull is greater than the typical 70-80 tonnes, for example, and deck area – at 500 square meters – is more than the usual 450-460 square meters. There is more cargo capacity than is usual and the vessel has a launch and recovery system.
With cost constraints in mind, Rolls-Royce designers have chosen a diesel mechanical propulsion system which comprises two medium-speed C25:33L9P CD diesels of 3,000kW each, driving two US305 controllable pitch azimuth thrusters with 3.2 meter diameter propellers in nozzles. Each engine drives a shaft generator and fire pump for fire-fighting duties. There are two independent 400kW generating sets providing electrical power and two 590kW bow thrusters.  
Operating flexibility will be aided by the SPS notation which will enable the vessel to carry up to 12 additional personnel besides the crew. There are 29 cabins giving a maximum of 40 on board. This means that the ship can be deployed in a wide range of tasks, including cargo supply, anchor handling, ROV operations, safety standby and maintenance and repair.
The competitive price indications are based on a Rolls-Royce equipment package including the main two-drum hydraulic winch with 200-tonne heave and 250-tonne brake rating. They also assume the diesel mechanical propulsion system. However, Emblemsvåg is well aware that some OSV operators may wish to specify other equipment and possible alternative propulsion arrangements such as a diesel-electric set-up. These, he says, can be accommodated but will obviously have an impact on price.
Other mid-range offshore vessel designs are currently being worked on by Rolls-Royce naval architects. They include a larger 150-tonne anchor handler likely to be introduced later this year. A mid-range subsea construction vessel design is also on the drawing board, intended for waters where breakeven production costs are relatively low and where energy companies will be focusing whilst the oil price stays down.