Total Lubmarine supporting shipowners with IMO 2020
Written by
John Snyder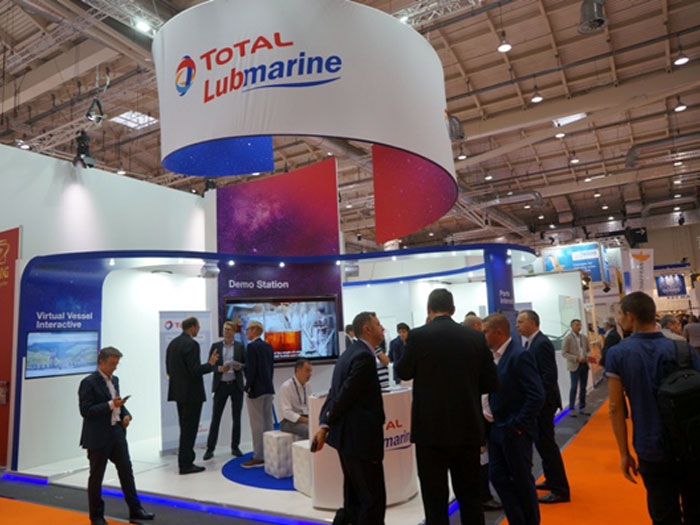 OCTOBER 31, 2018 — Investment decisions will loom large over shipowners over the next 14 months or so as they scramble to comply with the IMO 2020 Sulfur Cap, which comes into force on January 1, 2020. The regulation dictates the use of 0.5% sulfur compliant fuel or abatement technologies, such as exhaust gas cleaning systems or burning alternative fuels such as Liquefied Natural Gas (LNG). Shipowners will have to decide well in advance of what their investment strategy is going to be. The clock is ticking.
Just this past week, the 73rd session of the IMO's Marine Environment Protection Committee adopted amendments to MARPOL Annex VI to prohibit not just the use, but also carriage of bunkers above 0.50% sulfur on ships (unless they have approved abatement technology onboard). They are set to take effect March 1, 2020.
At a series of customer seminars taking place at SMM 2018 trade show held in early September in Hamburg, Germany, Total Lubmarine and Marine Fuels emphasized that whatever choice shipowners make for compliance, Total has both a fuel and lubricant solution.
Marine Log spoke with Jean-Philippe Roman, Technical Director at Total Lubmarine, and Total Lubmarine Global Marketing Manager Serge Dal Farra about how they are supporting their customers. These customer services include the onboard equipment, laboratory services, drain oil analysis and advisory services provided by the global Total Lubmarine team.
"When it comes to 2020 and fuel choice, there is no single right solution," says Dal Farra. "However, we would recommend that any ship operator works closely with a trusted bunker supplier. Total is an integrated group which provides expertise and assets in refining, trading, LNG, bunkers and of course lubricants."
Lubricant choice goes hand-in-hand with fuel choice, and low and zero sulfur fuels bring with them their own lubrication challenges. Total Lubmarine believes that low ash chemistry will be the basis for the next generation of engine oils, particularly for dual-fuel engines or those diesel engines fitted with selective catalytic reduction systems. Total Lubmarine is currently also developing new lube oils
designed to help reduce CO2 emissions.
On the lubricant side, Total Lubmarine has received two No Objection Letters (NOL) from MAN Energy Solutions – in recognition of the effectiveness of two of its products.
The first NOL recognizes the excellent performance of cylinder oils TALUSIA HR 140, and approves it for use in MAN engines. TALUSIA HR 140 – which has a higher BN (base number) than most of its market counterparts – offers Total Lubmarine's best solution for engines subject to severe corrosion. Designed for slow speed engines running on High Sulfur Fuel Oil (HSFO), TALUSIA HR 140 has high acid neutralization capacity, ensuring excellent cylinder protection.
Its high BN has been created in order to maintain cylinder protection over long periods of high sulfur residual fuel usage, preventing corrosion resulting from sulfuric acid formation. This prevents cylinder wear and scuffing, and can extend the length of time between engine overhauls.
The second NOL allows for the combined use of Total Lubmarine's TALUSIA HR 140 and TALUSIA LS 25 lubricants in MAN's Automated Cylinder Oil Mixing (ACOM) system. The MAN ACOM system is an onboard cylinder oil-blending unit designed to simplify the lubrication aspect of fuel switching – allowing vessels to use scrubbers or MAN GI or LGI type engines using LNG or fuel mixtures.
TALUSIA LS 25 has been specially formulated for reliable operations with emission control area (ECA) compliant ultra low sulfur fuels – providing excellent cleanliness and outstanding deposit control for slow speed engines. Thanks to its low-ash content, engines using TALUSIA LS 25 are protected against deposit formation, which can lead to scuffing issues. It has been approved by MAN Energy Solutions for standalone use.
Furthermore, Total Lubmarine now offers three levels of the drain oil analysis programs. Ship operators can choose from a "standard" service which provides a snapshot view of the engine's condition; an "advanced" program which provides comments and advice on the engine's condition and the "optimize" program which provides not only drain oil spot testing and reports, but a holistic view of the engine lube oil's feed rate. You can listen to what Mr. Roman and Dal Farra on the show floor had to say by clicking on the arrow below.
​