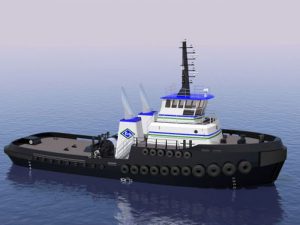 The two, 120-foot long, 35-foot wide tugboats, which will be used for tow operations, will be powered by two Caterpillar 3516C, 2447 BHP at 1600 rpm main engines with Reintjes reduction gears turning two NautiCAN fixed-pitch propellers with fixed nozzles.
The vessels will also have two C7.1 Caterpillar generators for electrical service, one TESD-34 Markey tow winch, one CEW-60 Markey electric capstan and one Smith Berger Town Pin.
"Jensen is proud to have been chosen as the design firm on this project and looks forward to seeing the vessels through from concept to completion," said Johan Sperling, vice president, Jensen Maritime. "We will embed a full-time Jensen designer in the shipyard for the duration of this project to help with system design and to ensure that the tugboats are built to exacting specifications."
Keels will be laid for both vessels this fall with complete vessel delivery scheduled for May and November 2017. Both vessels will be fully classed by ABS and compliant with U.S. Coast Guard, as required, at delivery.