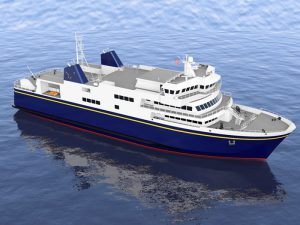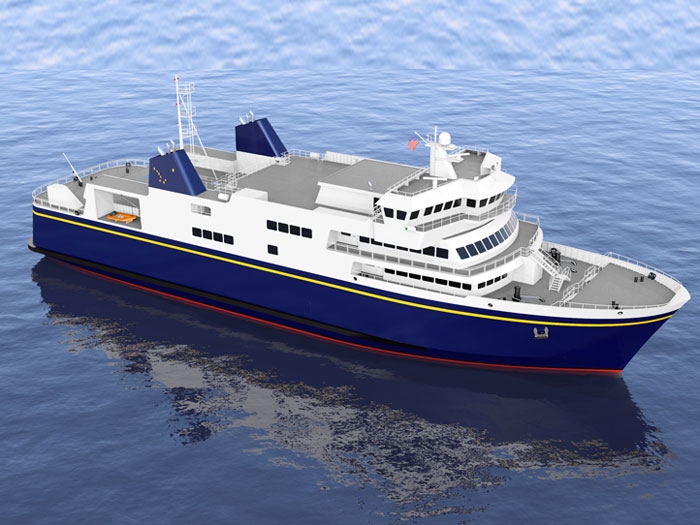 The Alaska Marine Highway System (AMHS) has awarded the Alaska Class Ferry project to Vigor Alaska shipyard in Ketchikan, AK, where construction is currently underway.
The two day boat ferries will be 280-feet long, seat up to 300 passengers and carry 53 standard vehicles. Each ferry will feature bow and stern doors for quicker loading and unloading, fully enclosed car decks and controllable pitch propellers to maximize maneuverability and efficiency.
Seattle, WA, based naval architecture and marine engineering consultancy Glosten is providing production design for the ferry.
Vigor Alaska and Glosten are two of Cadmatic's newest U.S. customers and Cadmatic says the production design of the Alaska Class Ferry is the premiere application of Cadmatic software in the northern U.S.
Glosten will deliver its design in the imperial unit versions of both Cadmatic Hull and Outfitting.
"Our team is excited to work not only with Vigor Alaska and Cadmatic – but also with exceptional, leading edge modeling tools," says Ken Lane, Director of Production Services at Glosten. "It's a terrific opportunity for all of our designers."
Alan Coffin, Senior Project Manager at Vigor, says Cadmatic "has offered a unique opportunity to evaluate a world-class software platform. By opening the doors to new technologies, we anticipate improved efficiencies and advancement of our shipbuilding capabilities."
The first U.S. customer to use the full design and production package of Cadmatic software was Edison Chouest Offshore's North American Shipbuilding in 2013. Since then, other North American companies to joined the Cadmatic include Glosten, Vigor Fab, Genoa Design International, and VT Halter Marine.