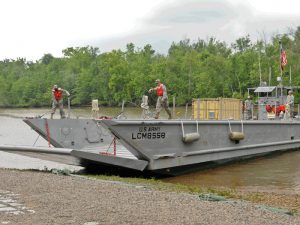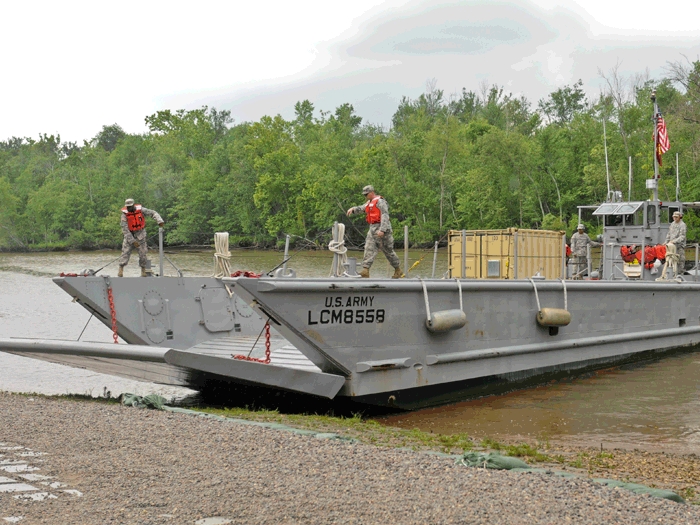 Last year, the agency announced that it would order a new series of vessels—up to 37 in total for about $450 million— known as the Maneuver Support Vessel (Light), MSV(L) for its watercraft fleet. At print time, no RFP had been released, but it is expected to be issued in the next few weeks. The Army currently has a fleet of 132 vessels that perform a large percentage of the U.S. forces' equipment and supply deliveries. Missions for the fleet are broken up into four categories: (1) Landing Craft; (2) Ship-to-Shore Enablers; (3) Towing and Terminal Support Operations; (4) Watercraft Operations Support.
The U.S. Army's fleet is meant to be deployed worldwide, and can support operational movement and maneuver and force repositioning. Additionally, the agency says, the vessels perform a variety of roles.
Vessel type is broken up into two categories:
(1) Lighters, which are used to conduct heavy sustainment lift; transport outsized equipment; Lighterage (cargo); and personnel between ships, from ship-to-shore, or from intra-theater transport. The Army says lighters are further classified into conventional displacement (landing craft) or modular causeway systems (powered ferry). Examples of lighters include: Logistic Support Vessel (LSV); Landing Craft, Utility (LCU); Landing Craft, Mechanized (LCM); and Causeway Ferry.
(2) Floating Utility Craft, which perform operations incidental to water terminal operations (except Lighterage service); this can include harbor and oceangoing tugs; floating cranes, floating causeways, roll-on/roll-off discharge facilities (RRDF), and modular/side-loadable warping tugs.
Details on the MSV(L)
The upcoming MSV(L) will replace the Landing Craft Mechanized 8 (LCM-8) (pictured above), which has been in service since 1967. The LCM-8 travels at 12 knots with no load and 8 knots or less with load. The LCM-8 is small in size, measuring just 74 ft x 21 ft, and can be used in confined areas. It has a range of 332 nautical miles unloaded and 271 nautical miles loaded. Designed for operations in rough waters, the LCM-8 can maneuver through sea state 3, breakers and can ground on a beach. Its bow ramp enables roll-on / roll-off (RO/RO) operations with wheeled and tracked vehicles.
The MSV(L) will feature an increased payload and speed over its predecessor, LCM-8.
The introduction of the MSV(L) into the fleet, says the Army, "will enable the agency to meet its movement, maneuver, and integrated expeditionary sustainment requirements with a more agile, versatile; and capable platform. The MSV(L) will conduct movement and maneuver of tactical force elements as well as traditional Army Watercraft System sustainment operations."
The MSV(L) will also be able to operate in a variety bodies of waters including coastal waters, rivers and narrow waterways.
According to the agency, Col. Michael M. Russell Sr. Army G-8 FD Division Chief, called the MSV(L) program a lynchpin to the Army's watercraft strategy. The landing craft will have the ability and capacity to carry a tank, a Joint Light Tactical Vehicle (JLTV), a Stryker armored fighting vehicle, troops, or supplies.
Russell added that the system would not be designed from scratch, and will likely be based on an existing design that will be "ruggedized" and made to fit the Army's mission profile.
Industry Players Express Interest
One of the designs expected to be in the running is Constructions Industrielles de la Méditerranée's (CNIM) L-Cat design.
Last December it was announced the CNIM would team up with Fincantieri Marine Group (FMG), the U.S. subsidiary of Fincantieri, Oshkosh Defense, LLC, and Watercraft Logistics Services (WLS) to pursue the contract.
The L-Cat (Landing Catamaran Craft) is an innovative and rapid amphibious ship with a RO/RO design that integrates a mobile loading platform in a catamaran hull. This enables for personnel, armored vehicles and equipment to be unloaded in areas where there are no port facilities and shallow waters.
Intended for shore-to-shore applications, the L-Cat is already successfully used by the French National Navy, under the name EDA-R.
CNIM says that "during amphibious operations, it (the L-Cat) guarantees optimal transit speed, rapid loading and unloading of the deck." This helps reduce threat during exposure time and offers a high degree of autonomy, with the vessel able to operate in a rage of 500 to 700 nautical miles, depending on the load.
Measuring 30 m x 12.6 m, the L-Cat has a maximum payload capacity of 100 tonnes, can reach speeds of up to 30 knots when empty and 18 knots when loaded to maximum payload.
The design's proven track record, along with its own successful history of building vessels for the Army, Coast Guard and Navy, makes the group the optimal choice for the MSV(L) build program, according to Francesco G. Valente, President and CEO of FMG. "We believe that our world-class team and proven design represent the lowest risk and lowest total life-cycle cost to the U.S. Army," said Valente.
Valente notes that FMG shipyards—Fincantieri Marinette Marine, Fincantieri Bay Shipbuilding and Fincantieri Ace Marine—have experience in building these types of landing craft, having built the LCM-6, LCM-8 and LCU landing craft in Marinette. The shipbuilder has also had the distinction of building 562 landing craft for the Army and Navy over a period of 23-years. And Marinette Marine was also half of the RB-M team (Kvichak Industries the other half) that built the Response Boat-Medium for the U.S. Coast Guard.
Meeting Production Needs, Who Wants In?
According to the Army's MSV(L) DRAFT-Production Schedule, it is expected that one prototype will be built and tested by FY19, four will be built during Low Rate Initial Production (LRIP) between FY 21 and FY 22; and, should the program reach full scale production, 32 will be produced during a four-year period between FY23 through FY27.
Kvichak, formerly known as Kvichak Marine Industries, now part of the Vigor group of companies, could also be a contender should it choose to pursue the contract.
The boat builder is listed on the Army's list of Interested Prime Contractors along with Bollinger Shipyards, Conrad Shipyards, Ingalls Shipbuilding, Derecktor, Sterling Shipyard, Swiftships, LLC, and United States Marine, Inc.—the list is a prime example of the variety of yards interested in the contract, as well as the agency's willingness to open up the contract pursuit to all shipyard types.
Kvichak is no stranger to producing vessels for government agencies in a full-scale production cycle, having long been a builder of pilot and patrol boats. Most notably, Kvichak was the other half of Team RB-M. The team built and delivered 174 RB-Ms for the Coast Guard, on time and on budget, completing the program in 2015.
The other builders on the list also have diverse portfolios, making each a feasible choice for the MSV(L) program.
Bollinger has long been a builder of patrol vessels for both the U.S. Coast Guard and U.S. Navy. Most recently delivering the 17th Fast Response Cutter to the U.S. Coast Guard.
Conrad has, perhaps, the most diverse portfolio, with experience in the construction, conversion and repair of a wide variety of steel and aluminum marine vessels across its shipyards for both commercial and government customers—Conrad's Orange shipyard has produced a number of vessels for the army. Conrad, as most are aware, is currently building the first LNG bunker barge for operation in U.S.
Derecktor could put itself back in the shipbuilding game big time, should it win this contract. The yard has seen its share of trouble over the last decade, having filed for bankruptcy in Connecticut and losing its Bridgeport facility in the process, but Derecktor is putting in the work to get itself to the level it once was. The builder has experience building a variety of innovative vessel types both in the commercial and private yacht sector, including ferries, security vessels, patrol crafts, research vessels and workboats.
Ingalls Shipbuilding, a division of Huntington Ingalls Industries, has an extensive history with both the Coast Guard and Navy. Ingalls is currently building vessel 6 through 8 in the National Security Cutter Program for the Coast Guard's fleet at its Pascagoula, MS shipyard. Under the program, eight vessels will be built to replace the aging 378-ft high endurance cutters. The shipbuilder also recently announced that the U.S. Navy's 10th San Antonio-class amphibious transport dock, John P. Murtha (LPD 26), successfully completed acceptance trials. Under its contract with the Navy, Ingalls has built and delivered nine ships in the San Antonio Class. LPD 26 will be delivered in May. The 11th LPD, Portland (LPD 27) will be christened later this month. The yard has also received advanced procurement funding for long-lead-time material for the 12th ship in the series, the LPD 28.
Texas-based Sterling Shipyard, started by Harry Murdock and Brad Taylor, formerly of Orange Shipbuilding, has built a number of tank barges and towboats.
Swiftships specializes in the construction of small to medium-sized vessels made with steel, aluminum and fiberglass. It has delivered boats to the U.S. military, both commercial and private companies and 52 foreign countries.
United States Marine, Inc., Gulfport, MS, a designer and builder of fast patrol and special operations craft for the U.S. and foreign militaries, has predominately been a builder of military, patrol and special warfare boats in the 21 ft to 90 ft range. In its 30 plus years in business it has delivered over 500 craft to the U.S. Navy, USSCOCOM, NAVSEA and foreign militaries.