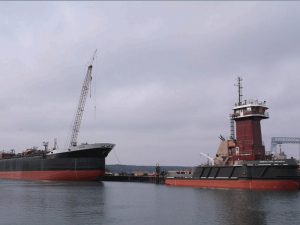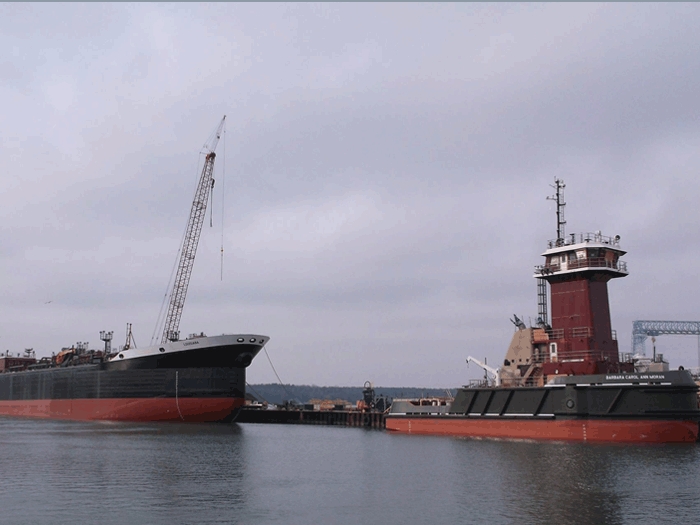 Nichols Brothers Boat Builders recently completed sea trials on the second of 10,000 hp oceangoing tugs for Kirby Offshore Marine, the coastal tug and barge arm of Kirby Corporation, Houston, TX. The 136 ft x 44 ft tug, Tina Pyne, will be connected to the 185,000 bbl ocean tank barge 185-02 built by Gunderson Marine, Portland, OR.
Kirby's newbuild plan also includes two 155,000 bbl/6,000 hp Articulated Tug Barge (ATB) units under construction at Fincantieri Bay Shipbuilding in Sturgeon Bay, WI, as well as two 120 ft x 35 ft, 4,894 hp tugs being built by Nichols Brothers Boat Builders. Each tug will be powered by two Caterpillar 3516C engines, each rated at 2,447 hp at 1,600 rev/min, with Reintjes reduction gears turning two Nautican fixed-pitched propellers with fixed nozzles. The Reintjes gears were supplied by Karl Senner, LLC, Kenner, LA. The tugs will also have two C7.1 Caterpillar generators for electrical service. Selected deck machinery includes one TESD-34 Markey tow winch, one CEW-60 Markey electric capstan, and one Smith Berger Tow Pin.
Kirby Offshore Marine is the largest U.S. operator of coastal tank barges that provide regional distribution of refined petroleum products, black oil and crude oil. Kirby grew its coastal marine transportation business through the acquisition of K-Sea Transportation Partners L.P. back in 2011 in a transaction valued at about $604 million. At that time, Kirby acquired 58 tank barges (only 54 were double hull) with a capacity of 3.8 million barrels and 63 tugs.
Already the operator of the largest inland tank barges and towboats, Kirby Corporation will grow further with the purchase of Seacor Holdings Inc.'s inland tank barge fleet for about $88 million in cash.
Under the terms of the deal struck last month, Kirby will acquire 27 inland 30,000 bbl tank barges and 13 inland towboats, plus one 30,000 bbl tank barge and one towboat currently under construction. As part of the agreement, Kirby will transfer to Seacor the ownership of one Florida-based ship-docking tugboat.
Kirby Inland Marine currently has 898 active inland tank barges and 243 towboats, with a total carrying capacity of 17.9 million barrels. The primary cargoes transported by this fleet are chemicals, petrochemical feedstocks, gasoline additives, refined petroleum products, liquid fertilizer, black oil and pressurized products.
Kirby President and CEO David Grzebinski, says "Operating primarily in the refined products trade, these assets will be complementary to our existing fleet and will allow us to continue to enhance customer service."
TRIPLE-SCREW BOATS FOR MID-RIVER
Over the years, Rodriguez Shipbuilding, Inc.'s triple-screw towboats have won a following operating in the shallow waters where the Mississippi River meets the Gulf of Mexico. These Lugger-type vessels are designed with a distinctive aft-cabin.
Mid-River Terminals of Osceola, AR, recently took delivery of a new design towboat from Rodriguez Shipbuilding, Coden, AL. With a conventional forward-house pusher configuration, the new 70 ft x 30 ft MV/ Dianna Lynn uses the same propulsion as the Lugger tugs. This is composed of three in-line six-cylinder Cummins QSK 19 engines, each delivering 660 hp. Each engine turns a 66-inch stainless steel propeller through ZF gears with 6:1 reduction ratio. The combination gives the 1,980 hp towboat an eight-foot operating draft. 
Fitted with large windows, the wheelhouse has a full 360-degree view and is set atop two accommodation decks and a half deck that also serves for bridge electronics support. This gives the towboat a 31-foot high eye-level, with full tanks, for working high barges.
Steering and flanking rudders are controlled by wheelhouse levers with mechanical shafts through the houses and connected to the hydraulic actuator valves in the upper engine room.
A set of push knees and deck winches with cheek blocks facilitates barge work. A pair of 55 kW gensets meets the boat's electrical requirements.
Zero discharge tanks, built integral to the hull, provide storage for treated sewage and all drains. A separate tank handles waste oil.
The M/V Dianna Lynn is the fourth boat in the Mid-River Terminal fleet, all of which are Cummins powered. Owner Rick Ellis said, "We wanted the three engines for redundancy so that even if we loose an engine we still have over 1,200 horsepower."
The new boat will be primarily involved in fleeting and harbor work, "Rodriguez did a great job and it is a great handling boat," Ellis added.
BOUCHARD, MORAN EXPANDING FLEETS
As we highlighted last month, Bouchard Transportation's multi-million-dollar newbuild program is winding down. The Melville, NY, owner is completing the construction of two new 6,000 hp, 310 ft x 38 ft Intercon tugs at VT Halter Marine, Pascagoula, MS. The tugs Morton S. Bouchard Jr. and Fredrick E. Bouchard will be connected to the B. No. 210 and B. No. 220. The two tank barges were the first double hull tank barges built by Bouchard,. Both were built as wire barges, but following their conversion and stretch at Bollinger Shipyards, Inc., both will be Intercon, flat deck double hulls capable of carrying 110,000 bbl of oil.
Moran Towing, New Canaan, CT, expects to take delivery shortly of a 5,300 hp/110,000 bbl ATB unit from Fincantieri Bay Shipbuilding. The Sturgeon Bay, WI, has another 8,000hp/155,000 bbl ATB unit under construction for Plains All American Pipeline, with an option for a second unit, and signed a hotly contested order for another 8,000 hp/185,000 for another earlier last month. That contract includes an option for another.
The new barge will have a capacity of 185,000-barrels with dimensions of 578 feet by 78 feet. The tug will be an 8.000-HP unit equipped with Tier 4 engines—believed to be GE Marine—to meet the latest EPA emission standards.
When complete, the ATB will operate on the U.S. East Coast and Gulf of Mexico.
"We are pleased to have this opportunity," said Francesco Valente, FMG President and CEO. "This new contract marks an additional expansion of our product portfolio, confirms our ability to win business with new customers in a very competitive market and further consolidates our presence and reach in the U.S. market."
"This award increases our pipeline of new construction to 10 vessels and provides additional stability to our business," said FBS Vice-President and General Manager, Todd Thayse. "We are grateful for the confidence that our customers continue to place in our reputation for quality and the strong shipbuilding skills of our workforce."
Conrad Shipyards, Morgan City, LA, meanwhile, is building the 80,000 bbl ATB unit for John W. Stone, as well as two ATB tugs for Harley Marine Services, Seattle, WA. Conrad Orange Shipyard in Orange, TX, recently delivered the 35,000 bbl Double Skin 315 to Vane Brothers Company. That barge was towed to New York by the Elizabeth Anne, the first in a series of eight 4,200 hp tugs being built by St. Johns Ship Building, Palatka, FL.
Designed by Frank Basile, P.E. of Entech Designs, LLC, the Elizabeth Anne Class tugboat is a close cousin to Vane's Basile-designed Patapsco Class tugboats, 15 of which were produced between 2004 and 2009. Measuring 100 feet long and 34 feet wide, with a hull depth of 15 feet, the model-bow Elizabeth Anne utilizes two Caterpillar 3516 Tier 3 engines, each generating 2,100 hhp at 1,600 rev/min. Two John Deere PowerTech 4045, 99 kW generators deliver service power to the boat, while a third John Deere 4045 teamed with an Allison transmission drives the chain-driven INTERCON DD200 towing winch.
ROBERT ALLAN'S LATEST
Over the years, world renowned naval architectural and marine engineering firm Robert Allan Ltd. Has successfully teamed with shipyards around the world to bring new innovative tug designs to the market. Its latest is the VectRA 3000 Class Tug, a high performance VSP Tractor tug designed by Robert Allan Ltd in close collaboration with Turkish ship builder Sanmar and Voith Turbo Propulsion. The tug is designed for maximum efficiency in the performance of towing, harbor ship-handling and escorting of large ships. Performance has been verified with extensive model tests at the commencement of the design cycle. The unique propulsion arrangement features high-speed diesel engines connected to the Voith units via reduction gearboxes with integral clutches. With a bollard pull of 70 tonnes, the VectRA 3000 form can generate escort steering forces in excess of 100 tonnes. Additionally, the design has fire-fighting and oil recovery capabilities and is fully MLC compliant.
The VectRA 3000 has been designed exclusively for Sanmar to offer as one of its highly successful stable of progressive tugboats for the world market.
The first vessel in the series, the M/T Ares, built for Italian tugowner Tripmare SpA, was successfully launched at Sanmar's new Altinova advanced shipbuilding facility this past February.
The tug has an overall length of 30.25 m, beam of 13m, depth of 5.1m, and design draft of 6.1m.
The vessels are built and classed to the following ABS notation: ✠ A1 Towing Vessel, Escort Vessel, ✠ AMS, Unrestricted Service, UWILD, HAB (WB), ABCU Fire-Fighting Vessel Class 1 Oil Spill Recovery – Capability Class 2 (>60° C) (OSR – C2).
Rather uniquely for a VSP installation, the propulsion drivetrain comprises two Cat 3516C high-speed diesel engines, each rated 2,525 kW at 1,800 rev/min, and driving Voith 32R5EC/265-2 cycloidal propellers. The engines are connected to the Voith drives through a pair of Reintjes WAF 863 gearboxes and Vulkan composite shafts, rather than using the more traditional turbo coupling. This combination is smaller, lighter and less costly than the traditional medium speed drive system. The electrical plant consists of two identical diesel gensets, each with a rated output of 86 ekW.
Crew accommodations are all located on the main deck level for optimal crew comfort. There are 4 single crew cabins plus 1 double crew cabin, each with an en-suite bathroom. A comfortable lounge/mess area and galley facilities are also in the deckhouse, with galley stores and laundry room located below the main deck forward.
All towing, ship handling, and escort work is performed using a double drum escort winch and escort rated staple fitted on the aft deck. One drum can store 710 meters of steel wire line, while the other stores 150 meters of synthetic towline. For increased operational flexibility radial type tow hooks are installed on the main deck forward and aft.
As in a traditional tractor configuration, the stern is the working end of the tug, and as such features heavy-duty cylindrical fendering with a course of 'W' fenders below. Hollow 'D' fenders protect the sheer lines and tie neatly into the 'W' fenders at the bow.
The wheelhouse is designed for excellent 360-degree visibility and includes overhead windows. The split type console is biased aft to ensure unobstructed visibility of the working deck (including the winch, staple, bulwarks and fenders) during operations.
CARGILL's PUSHBOATS FOR THE AMAZON
In Brazil, the construction of a fleet of Robert Allan Ltd.-designed pushboats and barges for Cargill Transportation is nearing completion. To be used for transporting grain products on the Amazon River system, the fleet includes two shallow-draft RApide 2800-Z2 class pushboats built at INACE in Fortaleza, Brazil and 20 hopper barges built at Rio Maguari in Belem, Brazil.
Each of the two new RApide 2800-Z2 Class pushboats are 28m x 10.5m, with a minimum operating draft of 2.2m and normal operating draft of 2.5m. The two sister vessels, the Cargill Cachara and Cargill Tucunare, are designed to push barge convoys on the Amazon River system.
During the early phases of design, extensive CFD simulations were undertaken to optimize the pushboat's hull shape to minimize total convoy resistance.
This work was completed in conjunction with extensive logistics modeling of the transportation system to optimize the selection of vessels for the desired route and to analyze operational drafts and cargo throughput at various river levels.
The pushboats were designed to ABS and Brazilian NORMAM-02 requirements and are outfitted to the highest standards.
The wheelhouse is designed for maximum all-round visibility with a split forward control station providing maximum visibility to the foredeck working area of the tug as well as to the convoy of barges ahead. Accommodation for up to 13 people is provided onboard and a large galley and mess is provided on the main deck.
The deckhouse extends aft over the main propulsion components, which comprise a pair of Caterpillar 3512B diesel engines, driving Schottel SRP 550 Z-drive units. The drives are fitted in tunnels designed to optimize flow while reducing draft. Two identical Caterpillar diesel gensets are provided in the vessel's auxiliary machinery space located below the main deck.
The corresponding 61m x 15m box and rake barges were designed by Robert Allan Ltd. to ABS River Rule requirements. Additional extensive FEA analysis of the structure was performed in order to optimize the design for minimum steel weight while ensuring long service life during river operations. Sliding aluminum hatch covers have been supplied to ensure the cargo stays dry at all times.