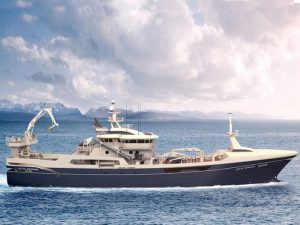 It  will be the largest pelagic fishing vessel within its segment.
The vessel is to be delivered from Havyard's Myklebust shipyard Q4 2017 and is being built to SALT 0155 design, developed in a close cooperation between the shipowner, design company Salt Ship Design and Kleven.
It will be able to operate in full diesel electrical mode, in diesel mechanical mode or in a combined hybrid mode. A total 7,720 kW of power driving a 5 m propeller will deliver a bollard pull of more than 130 tonnes.
Norwegian suppliers involved in the project include Brunvoll, Scana Volda, Hareid Elektriske, Karmøy Winch and Havyard MMC, which will provide a complete fish handling package consisting of loading systems from shipside and stern with double drainage, collecting bins and closed distribution to thirteen fish tanks, three MMC SX RSW (Refrigerated Sea Water) systems, remote controlled valves for RSW and ballast systems, quantity calculator for loading of fish, MMC vacuum pump system with tanks and vacuum unit for unloading, ozone system for cleaning of pipes and tanks and automation systems for remote control of MMC systems from deckhouse, control room and bridge.
In all, the vessel will have an RSW tank carrying capacity of 3,600 cu.m and an RSW cooling capacity of approx. 4,000 kW.
"We are very pleased with a new contract so quickly after Salt in September this year signed its first contract in fisheries," says Egil Sandvik at Salt Ship Design. "Being assigned another large fishing vessel less than two months later is more than we expected."
"Unlike the current offshore market, fisheries and fish farming are doing very well and these segments represents an increasingly important market for Salt," he adds.