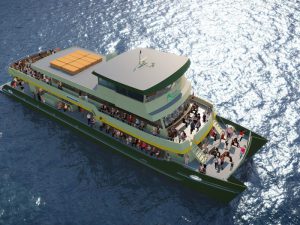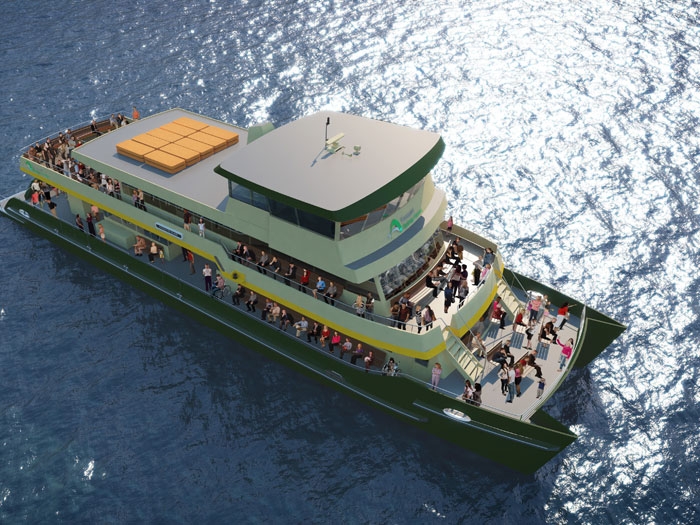 Announcing the result of the competitive tender for the contract, NSW Minister for Transport Andrew Constance called the ferries "a major step forward in the NSW Government's plans to modernize and expand the ferry network. "
Externally, the ferries have a traditional design to look similar to the Sydney First Fleet vessels, however the 35 m, 400 passenger boats have greater capacity than the current fleet.
The interior will be more spacious with comfortable inside seating, outdoor viewing areas, a large walk around deck and additional features for passengers; including Wi-Fi access and real-time journey information, and charging stations for electronic devices.
The Sydney Ferries will service commuter and tourist travel on the inner harbor routes from Watsons Bay in Sydney's east to Cockatoo Island in the west, stopping at the new Barangaroo wharf.
With the contract secured, the Incat team's next task is to take the concept design to detailed construction drawings and vessel models, with construction of the first ferry to start early in 2016. The six will be delivered progressively from late 2016 and throughout 2017.
The Incat Tasmania Pty Ltd shipyard at Prince of Wales Bay in Hobart Tasmania has around 250 staff.
"This is a great opportunity for Incat's highly skilled and experienced workforce to participate in the construction of ferries for the iconic Sydney fleet," said the yard's Managing Director, Simon Carter. " An order such as this, where six identical vessels are to be built, is welcomed by the existing staff and provides an excellent opportunity for training new personnel."
Incat has recently completed two fast ferries for London, England, operator Thames Clippers. They are currently on their way to London and due to enter service in October. Four fast ferries — two 24 m and two 33 m boats — are also under construction for Sydney company Manly Fast Ferry.