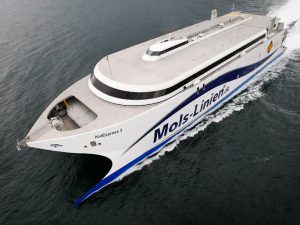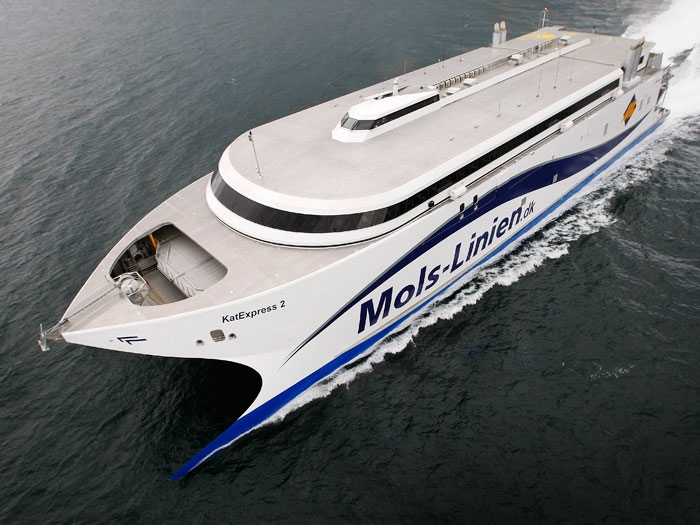 The Hobart shipyard will commence work on construction of the wave piercing catamaran immediately, with delivery scheduled for the first quarter of 2017.
The newbuild super ferry, Incat hull number 088, will be named KatExpress 3, the fast ferry will be an upgraded and more customer-friendly version of near sister-ship vessels KatExpress 1 (Incat hull 066) and KatExpress 2 (Incat 067). The new fast ferry can take up to 1,000 tonnes of cargo, equivalent to up to 1,000 passengers and 417 cars. LikeKatExpress 1 and KatExpress 2, the new fast ferry will carry trucks, campervans, motorcycles and bicycles.
KatExpress 3 is expected to commence operation on the Mols Linien route between Aarhus and Odden and the route between Ebeltoft and Odden in late May 2017.
KatExpress 3 is likely to replace the company's smallest ferry Max Mols, an Incat 91 m vessel (Incat hull 048) built in 1999.
Incat Chairman, Robert Clifford, in Copenhagen Denmark at the Interferry Conference said "A large ship order to a repeat customer is proof positive of the quality and reliability of the vessels our team build in Tasmania. This is the third Incat ship that Mols Linien have added to their fleet in a period of just four years".
Incat Tasmania Managing Director Simon Carter said "We have been working on the project for some time, and although the design team still have some finer details to complete, construction will commence immediately".
"The 250 production staff are currently building four passenger vessels for Manly Fast Ferries, with another six boat order for Sydney Ferries to commence in 2016. This new large ship order will secure work for an expanded workforce for at least a further two years".
In a statement to the Danish Stock Exchange Mols-Linien announced that since the inauguration of the first super ferry it has increased the number of passenger cars it carries by 58 percent in the period from 2011 to 2014.